Who are the richest men and where do they live?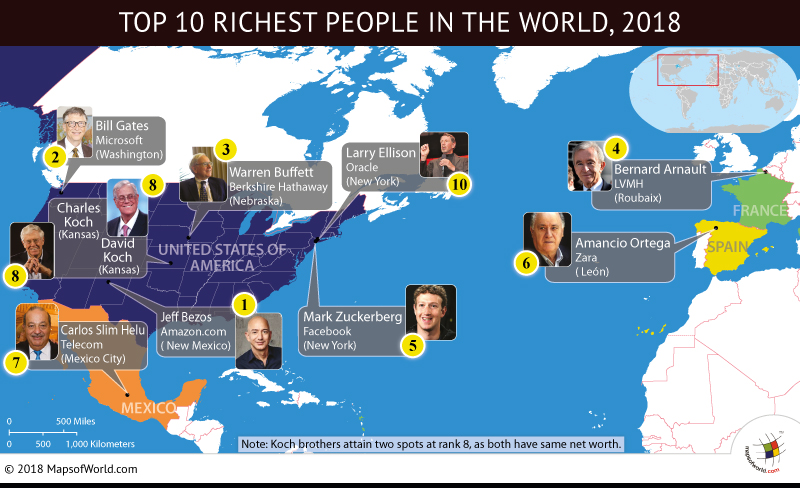 "Success is a lousy teacher. It seduces smart people into thinking they can't lose." ~ Bill Gates
Most of the richest men in this world are self-made, who gradually built some of the largest business empires. Billionaires capitalized on opportunities that life availed them and turned their innovative ideas into huge success. Yes, they were fortunate, but it is often more about the brilliance, knowledge and hard work that brought them to where they are today. These people have also helped creating abundant employment opportunities for people and have invested in the development of the economy. In fact, these billionaires donate their wealth to charity and many non-governmental organizations.
Here we bring you the details about the top ten richest men in this world, as of January, 2018:
1. Jeff Bezos
Having net worth of $112 billion, Jeff Bezos founded the famous online shopping website Amazon.com in 1994, while operating from a garage. The website that initially sold only books, now is one of the most significant retail companies world-wide. The 53-year-old CEO, also purchased The Washington Post in 2013 for $250 million. In June of 2017, he also bought 'Whole foods,' an upscale grocery chain and aims to build even wider e-commerce market. He lives in the United States.
2. Bill Gates
Bill Gates is a name known to many, as he has been amid the top ten richest men, for years. He co-founded Microsoft with Paul Allen, in 1975. Even though he went to Harvard, he had dropped out of college to focus more on developing new operating system. Now his net worth is $90 billion, which is double from 2009. He is known for his hefty donations, and has established 'Bill and Melinda Gates Foundation,' which is the world's largest private charity. He lives in Washington, outside of Seattle, USA.
3. Warren Buffett
Now 87-year-old, Warren Buffet bought the multinational company 'Berkshire Hathaway' in the early 1960's and attained its leadership in 1965. As of January 2018, he has a net worth of $84 billion. He actively contributes to political and economic causes and is also the founder of 'The Giving Pledge' with Bill Gates and Mark Zuckerberg, where billionaires vow to give away at least half of their wealth in their lifetime. He has his residence in Nebraska, USA.
4. Bernard Arnault
A French business investor and magnate, Bernard Arnault is the CEO of world's largest luxury goods company, LVMH. Starting as a civil engineer, he had inherited the company, Groupe Arnault. He ended up buying fashion brand Christian Dior in the year 1980 and is now accountable for numerous fashion brands like Bulgari, Louis Vuitton, Dom Perignon and Sephora. He has a net worth of $72 billion and lives in the fashion capital of the world, Paris.
5. Mark Zuckerberg
Mark Elliot Zuckerberg is the chairman, chief executive officer and co-founder of the hit social networking website Facebook. The first version of Facebook was developed in 2004, when it was used only on college campuses. Now, the platform has over 1.2 billion users. At the age of 34, he is the youngest amid the top ten richest men, having a net worth of $71 billion. He and his wife Priscilla Chan, have pledged to donate 99% of their wealth for charitable causes, and they live in California, USA.
6. Amancio Ortega
The Spanish business man is 82 years old, and has a rags-to-riches story. The co-founder of biggest fashion group Inditex, grew up as the son of a railways worker. The company that was founded in 1985 originated in his living room, where he along with his wife made lingerie and bathrobes. Gradually, by the mid-80s, the name spread all over Spain. The company's flagship store is Zara, which has over 2,200 stores worldwide. His net worth is $70 billion and he is currently living in Coruña, Spain.
7. Carlos Slim
Controlling Latin America's largest mobile telecom firm, América Móvil, Carlos Slim has a net worth of $67.1 billion. He owns more than 200 companies, and has invested in The New York Times, with a share of 17%. Unlike other billionaires, he doesn't believe in charitable donations, and believes that leaders should rather create companies than giving their earnings away. He currently lives in Mexico City.
8. Charles Koch and 9. David Koch
The two brothers inherited the multinational corporation, Koch industries in the year 1967. However, the company was worth only $50 million during that time, but their control led to the swell of profits. As of 2016, the industry is valued at $115 billion. While Charles Koch is the chairman and David Koch is an executive VP, they both have a net worth of $60 billion and belong the United States.
10. Larry Ellison
Co-founder of software company Oracle, Larry Ellison has a net worth of $58.5 billion. He might have resigned in September 2014, yet he remains associated with the corporation. He dropped out of college twice, and moved to California, where he learned computer programming. He also had assisted in building database for the CIA. He also lives in California, USA.
Know more:
Related maps: