What is Human Capital and how well are nations utilizing it?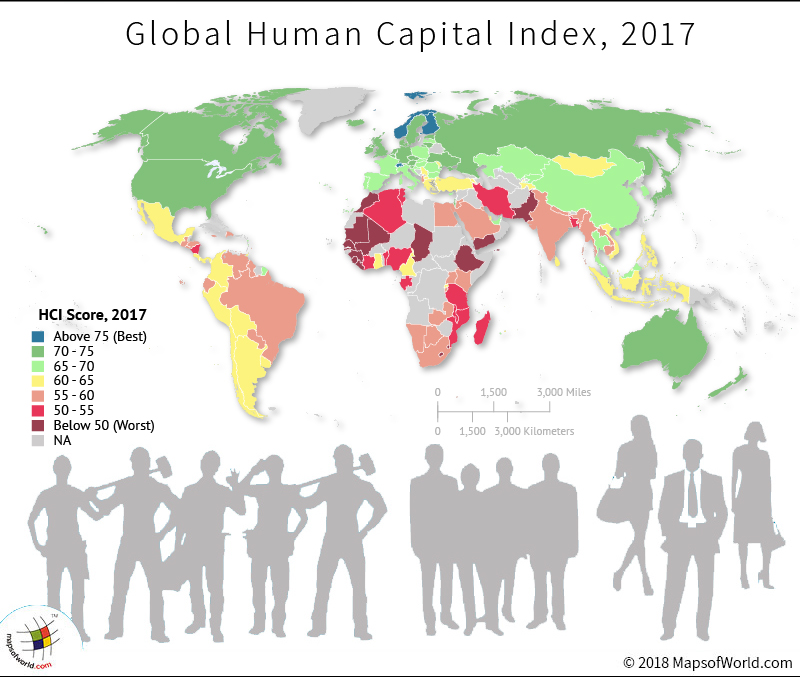 Human capital is the pile of knowledge, personality attributes, and creativity present in a person which could lead to betterment of economy in the long run. Abundant talent prevails in this world, and when it is brought to use, lifestyles can be easier, and nations can develop better. It is the uniqueness and creativity of ideas, that help in innovations. However, many-a-times, potential in a person is not realized due to problems like inequality or the belief of policymakers that investment in highly skilled labor can only bring growth.
World Economic Forum releases the Human Capital Index annually to assess learning and employment outcomes in every country, on a scale which ranges from 0 to 100, with 0 being the worst score and 100 the best. In 2017, the report is released on the principle that all people should be offered equal opportunity to develop their talents. Subsequently, the country's talents resources are measured, so the governments could pay attention into delivering results from it. The Index ranked countries after   assessing the level to which countries have utilized their human capital for profit of the economy and individuals' themselves.
European nations have grabbed the first three ranks, with Norway being at the top having a score of 77.12. It is followed by Finland and Switzerland with a score of 77.07 and 76.48, respectively. The much well-developed and one of the most powerful economy, United States of America did not lag behind so much as well. The country was ranked fourth in the index with a score of 74.84.
Of the developing countries in BRICS, Russia was the best performer with a score of 72.16. On the other hand, India might be an emerging economy, but when it comes to bringing use of the potential in individuals, the county does not fare well. It performed the worst among BRICS nations and had a score of just 55.29.
At the bottom of the Index were African nations: Senegal, Mauritania and Yemen, with scores of 43.33, 41.19 and 35.48, respectively.
The table provides information on how each country scores on the Human Capital Index.
| | | |
| --- | --- | --- |
| Rank | Country | Score |
| 1 | Norway | 77.12 |
| 2 | Finland | 77.07 |
| 3 | Switzerland | 76.48 |
| 4 | United States of America | 74.84 |
| 5 | Denmark | 74.4 |
| 6 | Germany | 74.3 |
| 7 | New Zealand | 74.14 |
| 8 | Sweden | 73.95 |
| 9 | Slovenia | 73.33 |
| 10 | Austria | 73.29 |
| 11 | Singapore | 73.28 |
| 12 | Estonia | 73.13 |
| 13 | Netherlands | 73.07 |
| 14 | Canada | 73.06 |
| 15 | Belgium | 72.46 |
| 16 | Russia | 72.16 |
| 17 | Japan | 72.05 |
| 18 | Israel | 71.75 |
| 19 | Ireland | 71.67 |
| 20 | Australia | 71.56 |
| 21 | Iceland | 71.44 |
| 22 | Czech Republic | 71.41 |
| 23 | United Kingdom | 71.31 |
| 24 | Ukraine | 71.27 |
| 25 | Lithuania | 70.81 |
| 26 | France | 69.94 |
| 27 | South Korea | 69.88 |
| 28 | Latvia | 69.85 |
| 29 | Kazakhstan | 69.78 |
| 30 | Luxembourg | 69.61 |
| 31 | Poland | 69.61 |
| 32 | Bulgaria | 68.49 |
| 33 | Malaysia | 68.29 |
| 34 | China | 67.72 |
| 35 | Italy | 67.23 |
| 36 | Slovakia | 67.14 |
| 37 | Croatia | 66.81 |
| 38 | Cyprus | 66.43 |
| 39 | Hungary | 66.4 |
| 40 | Thailand | 66.15 |
| 41 | Malta | 66.13 |
| 42 | Romania | 66.12 |
| 43 | Portugal | 65.7 |
| 44 | Spain | 65.6 |
| 45 | United Arab Emirates | 65.48 |
| 46 | Kyrgyzstan | 65.14 |
| 47 | Bahrain | 64.98 |
| 48 | Greece | 64.68 |
| 49 | Armenia | 64.46 |
| 50 | Philippines | 64.36 |
| 51 | Mongolia | 64.35 |
| 52 | Argentina | 64.34 |
| 53 | Chile | 64.22 |
| 54 | Bolivia | 64.06 |
| 55 | Qatar | 63.97 |
| 56 | Panama | 63.85 |
| 57 | Tajikistan | 63.79 |
| 58 | Brunei Darussalam | 62.82 |
| 59 | Trinidad and Tobago | 62.54 |
| 60 | Serbia | 62.5 |
| 61 | Costa Rica | 62.38 |
| 62 | Moldova | 62.29 |
| 63 | Uruguay | 62.26 |
| 64 | Vietnam | 62.19 |
| 65 | Indonesia | 62.19 |
| 66 | Peru | 62.17 |
| 67 | Macedonia | 61.82 |
| 68 | Colombia | 61.8 |
| 69 | Mexico | 61.25 |
| 70 | Sri Lanka | 61.19 |
| 71 | Rwanda | 61.06 |
| 72 | Ghana | 61.01 |
| 73 | Cameroon | 60.76 |
| 74 | Mauritius | 60.34 |
| 75 | Turkey | 60.33 |
| 76 | Ecuador | 59.87 |
| 77 | Brazil | 59.73 |
| 78 | Kenya | 59.48 |
| 79 | Barbados | 59.21 |
| 80 | Zambia | 59.08 |
| 81 | Uganda | 58.73 |
| 82 | Saudi Arabia | 58.52 |
| 83 | Jamaica | 58.39 |
| 84 | Laos | 58.36 |
| 85 | Albania | 58.22 |
| 86 | Jordan | 58.15 |
| 87 | South Africa | 58.09 |
| 88 | Guyana | 58.02 |
| 89 | Myanmar | 57.67 |
| 90 | Paraguay | 57.65 |
| 91 | Botswana | 57.56 |
| 92 | Cambodia | 57.28 |
| 93 | Dominican Republic | 57.12 |
| 94 | Venezuela | 56.88 |
| 95 | El Salvador | 56.36 |
| 96 | Kuwait | 56.08 |
| 97 | Egypt | 55.99 |
| 98 | Nepal | 55.92 |
| 99 | Namibia | 55.86 |
| 100 | Guatemala | 55.83 |
| 101 | Honduras | 55.77 |
| 102 | Burundi | 55.45 |
| 103 | India | 55.29 |
| 104 | Iran | 54.97 |
| 105 | Benin | 54.58 |
| 106 | Tanzania | 53.58 |
| 107 | Gabon | 53.37 |
| 108 | Nicaragua | 53.11 |
| 109 | Malawi | 52.32 |
| 110 | Madagascar | 51.96 |
| 111 | Bangladesh | 51.75 |
| 112 | Algeria | 51.51 |
| 113 | Côte d'Ivoire | 51.12 |
| 114 | Nigeria | 51.06 |
| 115 | Tunisia | 50.76 |
| 116 | Mozambique | 50.18 |
| 117 | Sierra Leone | 49.49 |
| 118 | Morocco | 49.47 |
| 119 | Gambia | 48.94 |
| 120 | Liberia | 48.86 |
| 121 | Guinea | 48.01 |
| 122 | Chad | 47.53 |
| 123 | Swaziland | 47.15 |
| 124 | Lesotho | 46.88 |
| 125 | Pakistan | 46.34 |
| 126 | Mali | 46.02 |
| 127 | Ethiopia | 44.44 |
| 128 | Senegal | 43.33 |
| 129 | Mauritania | 41.19 |
| 130 | Yemen | 35.48 |
Know more:
Related maps: