What percentage of the world population is employed in agriculture?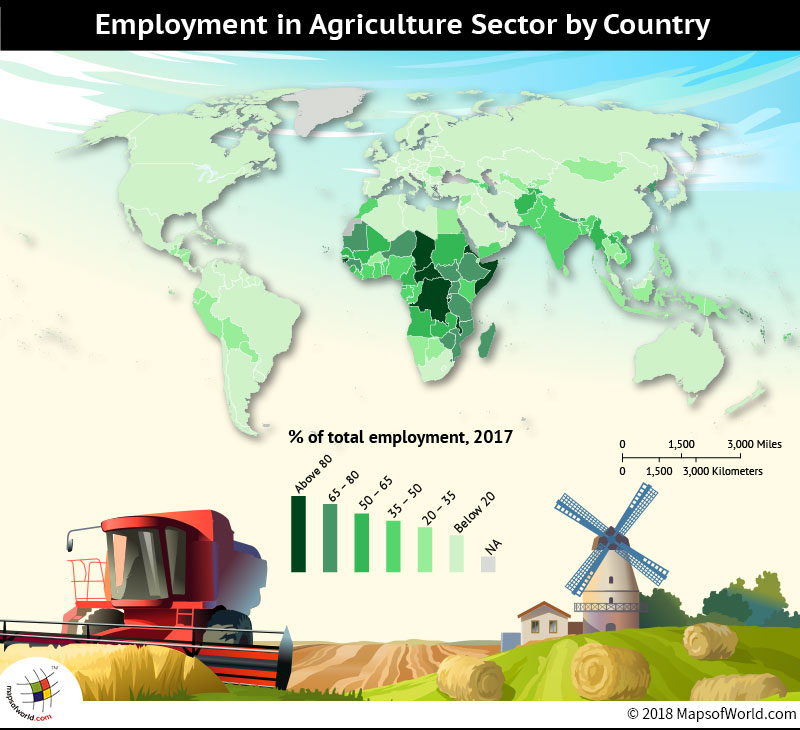 Agriculture — one of the most substantial segments of the world economy, plays an essential role in the rise of the sedentary human civilization. Even though agriculture is contributing to employment of a significant part of the population in majority nations, over the years, the percentage of workers has witnessed a steep decline. According to world-wide estimations, not even five percentage of the population in rich nations is employed in the agricultural sector. Is urbanization and industrialization taking over our agricultural land?
Agriculture is still the backbone of the economy in several nations of Africa. According to data released by the World Bank in 2017, the top ten countries where agriculture plays a vital role in employment are in Africa. Burundi, the landlocked nation on the Eastern side of the continent, has 91% of its population dependent on it. However, only 15% of the total agricultural production goes to the market. Sweat potatoes, beans, bananas and corn, are some major crops produced on the land.
The second largest employment in agriculture was also registered in an African country; Chad with 87% population working on the field. Other nations which follow on the list are; Somalia, Central African Republic, Malawi, Eritrea, Guinea-Bissau, Democratic Republic of the Congo, Niger, Mauritania, Madagascar and Mozambique.
Amid the developing countries of BRICS, it is India where more people are employed by agriculture. The agriculture in India can be traced back to the era of Indus valley civilization. By 2017, 43% of the Indian population is dependent on the agriculture sector for employment.
Meanwhile, many developed countries witness less than 15 percent of their population engaged in the agriculture sector. These nations include Greece, Malaysia, Russia, New Zealand, the United States, the United Kingdom, Germany, Canada, Australia, France, Italy, Japan, Saudi Arabia, South Africa, and many others. At the bottom of the list stand United Arab Emirates, Singapore and Hong Kong, with 0% of its people employed in agriculture.
To get an idea of the percent of population employed in the agriculture sector in each nation, refer to the table.
| | |
| --- | --- |
| Country | 2017 (%age of total employment) |
| Burundi | 91 |
| Chad | 87 |
| Somalia | 86 |
| Central African Republic | 86 |
| Malawi | 85 |
| Eritrea | 84 |
| Guinea-Bissau | 83 |
| Democratic Republic of the Congo | 82 |
| Niger | 76 |
| Mauritania | 76 |
| Madagascar | 74 |
| Mozambique | 73 |
| Nepal | 72 |
| Solomon Islands | 70 |
| Uganda | 69 |
| Swaziland | 69 |
| Zimbabwe | 68 |
| Guinea | 68 |
| Ethiopia | 68 |
| Cabo Verde | 68 |
| Tanzania | 67 |
| North Korea | 67 |
| Rwanda | 66 |
| Vanuatu | 65 |
| South Sudan | 65 |
| Cameroon | 62 |
| Afghanistan | 62 |
| Sierra Leone | 61 |
| Laos | 61 |
| Equatorial Guinea | 60 |
| Mali | 58 |
| Bhutan | 57 |
| Comoros | 55 |
| Zambia | 53 |
| Sudan | 53 |
| Senegal | 53 |
| Tajikistan | 52 |
| Angola | 51 |
| Myanmar | 50 |
| Cote d'Ivoire | 48 |
| Yemen, Rep. | 45 |
| Liberia | 43 |
| India | 43 |
| Benin | 43 |
| South Asia | 43 |
| Pakistan | 42 |
| Gabon | 42 |
| Vietnam | 41 |
| Haiti | 41 |
| Ghana | 41 |
| Georgia | 41 |
| Albania | 40 |
| Fiji | 39 |
| Bangladesh | 39 |
| Togo | 38 |
| Kenya | 38 |
| Nigeria | 37 |
| Morocco | 37 |
| Republic of the congo | 37 |
| Azerbaijan | 37 |
| Armenia | 34 |
| Thailand | 33 |
| Moldova | 33 |
| Tonga | 32 |
| Indonesia | 31 |
| Mongolia | 30 |
| Djibouti | 30 |
| Nicaragua | 29 |
| Guatemala | 29 |
| Peru | 28 |
| Honduras | 28 |
| Burkina Faso | 28 |
| Sri Lanka | 27 |
| Kyrgyzstan | 27 |
| Gambia | 27 |
| Ecuador | 27 |
| Cambodia | 27 |
| Bolivia | 27 |
| Middle income | 27 |
| Philippines | 26 |
| Botswana | 26 |
| World | 26 |
| Timor-Leste | 25 |
| Egypt | 25 |
| Syria | 23 |
| Romania | 23 |
| Uzbekistan | 22 |
| Paraguay | 21 |
| Papua New Guinea | 21 |
| Namibia | 20 |
| Channel Islands | 20 |
| Turkey | 19 |
| Serbia | 19 |
| Jamaica | 19 |
| Iraq | 19 |
| El Salvador | 19 |
| Cuba | 19 |
| Bosnia and Herzegovina | 19 |
| Kazakhstan | 18 |
| China | 18 |
| Sao Tome and Principe | 17 |
| Iran | 17 |
| Macedonia | 16 |
| Colombia | 16 |
| Ukraine | 15 |
| St. Lucia | 15 |
| Panama | 15 |
| Belize | 15 |
| Tunisia | 14 |
| Mexico | 13 |
| Guyana | 13 |
| Algeria | 13 |
| Libya | 12 |
| Greece | 12 |
| Dominican Republic | 12 |
| Costa Rica | 12 |
| Poland | 11 |
| Malaysia | 11 |
| Palestinian | 10 |
| Venezuela | 10 |
| Lesotho | 10 |
| Chile | 10 |
| Brazil | 10 |
| Belarus | 10 |
| Guam | 9 |
| French Polynesia | 9 |
| Uruguay | 8 |
| Turkmenistan | 8 |
| Montenegro | 8 |
| Lithuania | 8 |
| Latvia | 8 |
| Croatia | 8 |
| Russia | 7 |
| Portugal | 7 |
| Oman | 7 |
| New Zealand | 7 |
| Mauritius | 7 |
| Maldives | 7 |
| St. Vincent and the Grenadines | 6 |
| South Africa | 6 |
| Saudi Arabia | 6 |
| Samoa | 6 |
| Bulgaria | 6 |
| Slovenia | 5 |
| South Korea | 5 |
| Ireland | 5 |
| Hungary | 5 |
| Trinidad and Tobago | 4 |
| Switzerland | 4 |
| Spain | 4 |
| Kuwait | 4 |
| Jordan | 4 |
| Italy | 4 |
| Iceland | 4 |
| Finland | 4 |
| Estonia | 4 |
| Cyprus | 4 |
| Bahamas | 4 |
| Austria | 4 |
| United States Virgin Islands | 3 |
| Suriname | 3 |
| Slovakia | 3 |
| Puerto Rico | 3 |
| New Caledonia | 3 |
| Lebanon | 3 |
| Japan | 3 |
| France | 3 |
| Denmark | 3 |
| Czech Republic | 3 |
| Barbados | 3 |
| Australia | 3 |
| United States of America | 2 |
| Sweden | 2 |
| Norway | 2 |
| Netherlands | 2 |
| Canada | 2 |
| North America | 2 |
| United Kingdom | 1 |
| Qatar | 1 |
| Malta | 1 |
| Macao | 1 |
| Luxembourg | 1 |
| Israel | 1 |
| Germany | 1 |
| Brunei Darussalam | 1 |
| Belgium | 1 |
| Bahrain | 1 |
| Argentina | 1 |
| United Arab Emirates | 0 |
| Singapore | 0 |
| Hong Kong | 0 |
Know more:
Related Maps: