What developing country had the most Retail Development: India or China?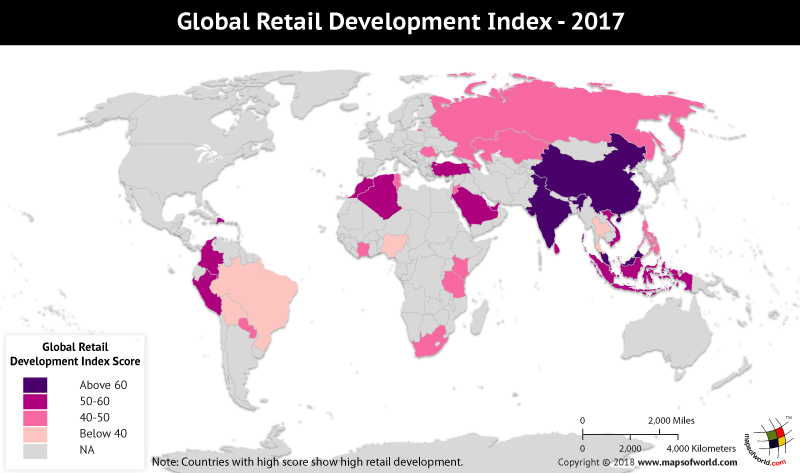 The retail sector is one of the fastest growing and most important sectors of the global economy. The past few years have witnessed stiffening competition with many new players entering the retail market. This has propelled the leading names in the sector to take a fresh look at their way of working and strategies to stay ahead in the competition. This has resulted in better services, and more options for the consumer, thereby making his/her shopping experience more pleasurable.
A.T. Kearney publishes an annual study – The Global Retail Development Index – ranking the top 30 developing countries for the purposes of worldwide retail expansion. With the purpose of aiding the retailers to design global strategies, as well as to identify investment opportunities, the Global Retail Development Index analyzes 25 retail-specific and macroeconomic variables.
The growth of e-commerce has also added a fresh layer to retail development. Many global retailers are re-examining their internet potential and thinking of ways to build up an online presence. Alibaba, the e-commerce giant has introduced a new concept into the market, that is "new retail" which focuses on integrating "brick and mortal" retail for its online channel, via fresh data technology and modern form of logistics.
India has claimed the top position in the 2017 Global Retail Development Index. India surpassed China, which was at the number one position in the previous index, due to its booming economy and the ease of foreign direct investment. At the second spot, China continues to be an influential player in the retail sector. At the third spot is the southeast Asian nation of Malaysia.
Global Retail Development Index
Country
Score
India
71.7
China
70.4
Malaysia
60.9
Turkey
59.8
United Arab Emirates
59.4
Vietnam
56.1
Morocco
56.1
Indonesia
55.9
Peru
54.0
Colombia
53.6
Saudi Arabia
53.6
Sri Lanka
51.8
Dominican Republic
51.7
Algeria
50.1
Jordan
49.0
Kazakhstan
48.4
Cote D'Ivoire
48.4
Philippines
46.8
Paraguay
45.7
Romania
45.6
Tanzania
45.4
Russia
43.2
Azerbaijan
42.9
Tunisia
42.7
Kenya
41.3
South Africa
40.2
Nigeria
39.9
Bolivia
39.6
Brazil
39.3
Thailand
37.8
Know more:
Related Maps: