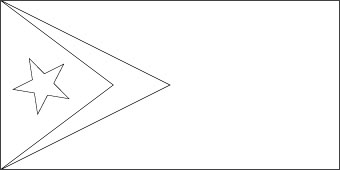 Download Picture of Blank Timor Leste Flag For Kids to Color
The flag has a yellow triangle and a black triangle.
In the center of the black triangle of the Timor Leste flag , there is a white five-pointed star.
The yellow triangle stands for the traces of colonialism in Timor Leste's History, and the black triangle represents the dissimulation that needs to be conquered.
The red background of the Timor Leste flag represents the struggle for national freedom of Timor Leste. The five pointed white star represents peace.
| | |
| --- | --- |
| National symbol(s): | Mount Ramelau |
| National colors: | red, yellow, black, white |
| National anthem: | |
| Name: | "Patria" (Fatherland) |
| Lyrics/Music: | Fransisco Borja DA COSTA/Afonso DE ARAUJO |
| | | |
| --- | --- | --- |
| | Fact about Timor-Leste flag | |
| Country | Timor-Leste (East Timor) |
| --- | --- |
| Designed by | NA |
| Adopted | 28 November 1975 (de facto) 19 May 2002 |
| Revision | NA |
| Design and Colors | A black triangle bearing a white five-pointed star over a larger yellow triangle based on the hoist, on a red field |
| Size Ratio | 1:2 |