Tourist Map of Sweden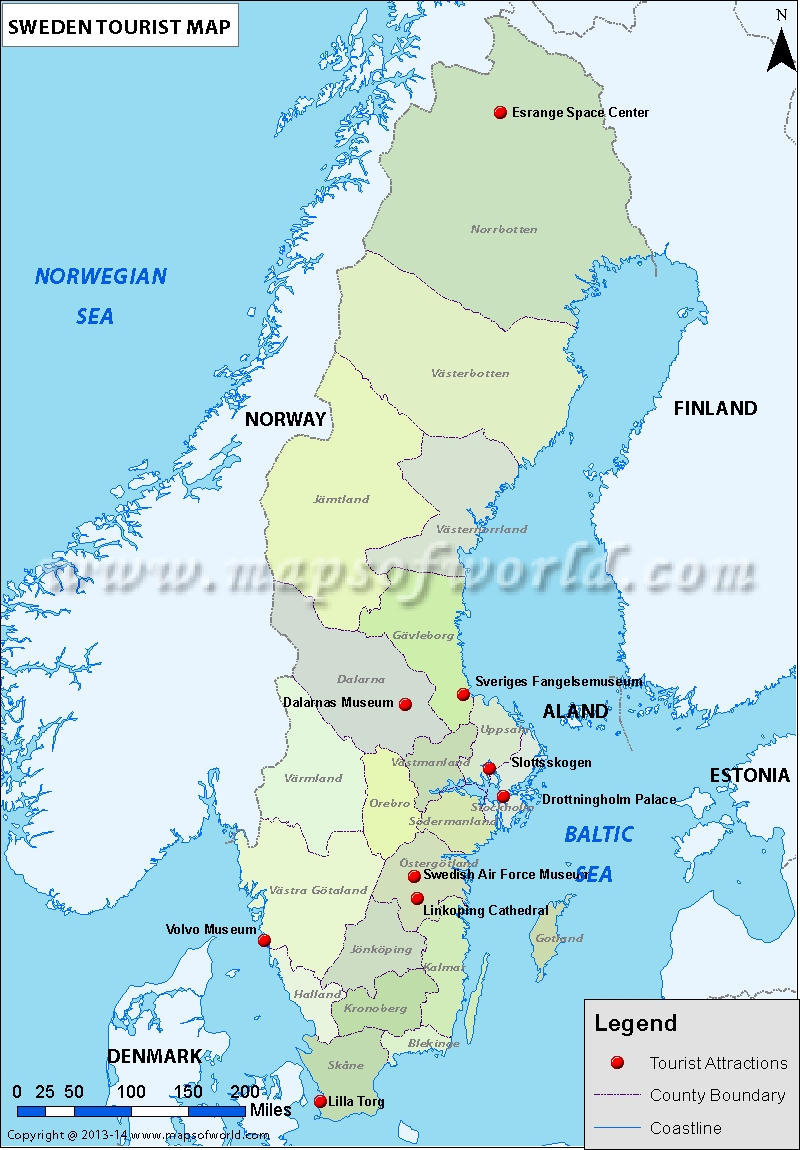 Sweden Tourism has emerged as an profitable revenue earner in the country. Sweden has been a place for tourist attraction. Over the years, there has been a great boom in Sweden Tourism.
Every year people from all over the world come here to enjoy the beautiful sights of this country. Tourists from the neighboring countries like Finland, Denmark and Norway also come here to spend their weekends. According to a report of 2006 it was reported that country had 7, 627,000 tourists. Sweden ranks 21st among the most visited country of the world ( CIA World Book Fact ).
Some of the attractive sites in Sweden which should be visited while on Sweden Tourism includes:
Tanumshede Rock Carvings
Karlskrona's Naval Port
Visby's Hanseatic town
High coast in Angermanland
Iron works of Engelsberg
Oland island's agricultural landscape is famous among the tourists for the geographical characteristics
Gammelstad's Church Village in northern part of Sweden
Drottningholm Palace, the royal domain, theater
Great Copper Mountain's mining area in Falun
In Stockholm, Skogskyrko garden
Transportation System in Sweden is excellent. SJ is the Swedish rail system. SJ provides high and low speed trains all over the country. SJ is connected through rail with Denmark and Norway. Boat service are also available in the country to go to places like Finland, Germany, Helsinki, Rostock. Viking line boats and Silja are available from Stockholm. The Scandinavian Airlines provides good service if you like to travel by air.
Some of the famous hotels in Sweden are as follows:
Lady Hamilton Hotel, Stockholm, Sweden
Clarion Hotel Grand, Helsingborg, Sweden
Grand Hotel Hornan, Uppsala, Sweden
Plaza Umea, Umea, Sweden
Visit this country and cherish the exotic locations.
Famous Travel Destinations
| | |
| --- | --- |
| Sälka | Liseberg is an amusement park |
| Helagsfjället, | Nationalmuseum |
| Norra Sytertoppen | Tivoli Gröna Lund |
| Storsola, | Långholmen prison |
| Gamla stan | Malmö Castle |
| The Vasa Museum | Moderna Museet |
| Siljan Lake | |
| City Name | Population | City Name | Population |
| --- | --- | --- | --- |
| Stockholm | 1372565 | Lund | 82800 |
| Göteborg3 | 549839 | Umeå5 | 79594 |
| Malmö | 280415 | Gävle | 71033 |
| Uppsala | 140454 | Borås | 66273 |
| Västerås | 110877 | Eskilstuna6 | 64679 |
| Örebro4 | 107038 | Södertälje | 64619 |
| Linköping | 104232 | Karlstad | 61685 |
| Helsingborg | 97122 | Täby | 61272 |
| Jönköping | 89396 | Växjö | 60887 |
| Norrköping | 87247 | Halmstad | 58577 |
| Air Port | Location |
| --- | --- |
| Arlanda Airport | Stockholm |
| Skelleftea Airport | Skelleftea |
| Visby Airport | Visby |
| Umeå Airport | Umeå |
| Vellinge Airport | Vellinge |
| Lund Airport | Lund |
| Lidköping-Hovby Airport | Lidköping |
| Kristianstad Airport | Kristianstad |
| Oviken Airport | Oviken |
| Torsby Airport (Fryklanda Airport) | Torsby |
| Sveg Airport | Sveg |
| | |
| --- | --- |
| Gustavsvik Camping | Kinnekulle Camping & Stugby |
| Kalmar Camping – Rafshagsudden | Läcko Camping |
| ÖSTNORA CAMPING | Torsö Camping |
| Korskullen Camping | Laxsjöns Camping & Friluftsgård |
| | |
| --- | --- |
| SÕnfjõllet | Bj÷rnlandet |
| Tresticklan | Tyresta |
| Fõrnebofjõrden | Djur÷ |
| S÷derÕsen | Rogen |
| Fulufjõllet | Tand÷vala |