UEFA Euro Cup 2016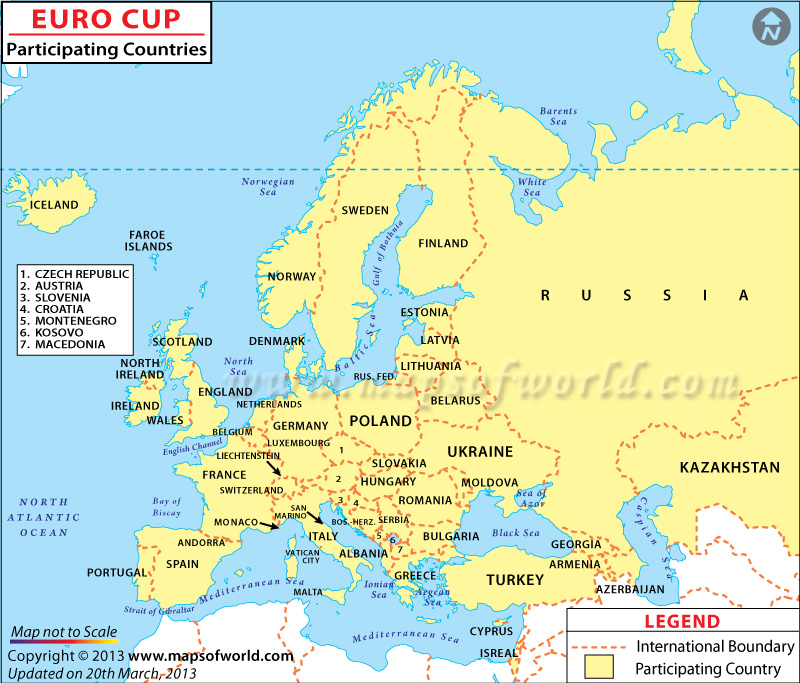 Download match schedule for 2016 Euro Cup in PDF, XLS and DOC formats.
Commonly referred to as UEFA Euro 2016 or Euro 2016, the 2016 UEFA European Championship is the 15th edition of the UEFA European Championship.
Scheduled to take place from 10 June to 10 July 2016, Euro Cup 2016 will be held in France. Since this year's European Championship Final Tournament would be contested by 24 teams, the format would be altered from the one that was used in Euro Cup 2012. Two new groups would be added in the group stage and an extra round would enter the knockout stages.
The six groups viz : A, B, C, D, E and F would continue to have four teams each, with the top two teams from each group reaching the knockout stage. Moreover, the four best third-ranked nations would proceed ahead with the 16 teams entering the newly added round of the 16 knockout stage. Only 8 teams would be reaching out to the group stage. This new tournament format is similar to the one applies to 1986, 1990 and 1994 FIFA World Cup Tournaments, with the only exception that a third-place play-off doesn't exist here. While the 18 referees for Euro Cup 2016 were already announced by UEFA on 15 December 2015, the full referee teams were confirmed by the committee on 1 March 2016.
List of Participating Countries in Football Euro Cup Till Date
| | |
| --- | --- |
| Austria | Latvia |
| Belgium | Netherlands |
| Bulgaria | Norway |
| Croatia | Poland |
| Czech Republic | Portugal |
| Denmark | Romania |
| England | Russia |
| France | Scotland |
| Germany | Slovenia |
| Greece | pain |
| Hungary | Sweden |
| Ireland | Switzerland |
| Italy | Turkey |
| Yugoslavia | Ukraine |
Participating Countries in the 2016 Euro Cup
| | |
| --- | --- |
| Albania | Spain |
| France | Czech Republic |
| Romania | Turkey |
| Switzerland | Croatia |
| England | Belgium |
| Russia | Italy |
| Russia | Republic of Ireland |
| Wales | Sweden |
| Germany | Portugal |
| Ukraine | Iceland |
| Poland | Austria |
| Northern Ireland | Hungary |