ICC Cricket World Cup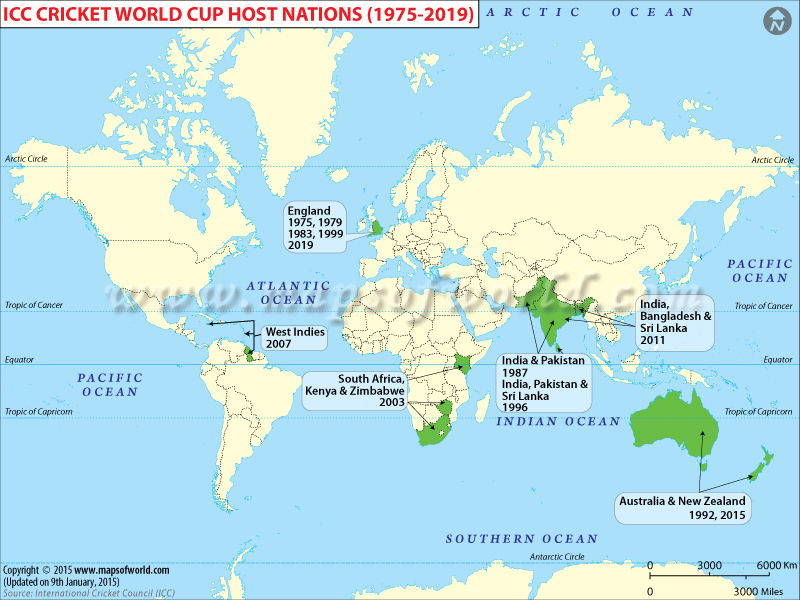 Download Cricket World Cup Schedule in PDF
The 2015 ICC Cricket World Cup will be the eleventh edition of the quadrennial game. This is the second occasion that the tournament is being staged in Australia and New Zealand – the previous occasion was in 1992 when Pakistan led by Imran Khan defeated Graham Gooch's England in the final, which was played at the Melbourne Cricket Ground.
The first ever World Cup was staged in England in 1975. West Indies, under the leadership of Clive Lloyd, defeated the Australians helmed by Ian Chappell. The second World Cup, staged once again in England in 1979, saw a repeat with West Indies, yet again under Clive Lloyd, demolishing the host nation in the final played at the Lord's Cricket Ground, London like the previous edition.
In 1983, the tournament was once again played in England, with Clive Lloyd's Caribbeans once again progressing to the finals, only to be thwarted by Kapil's devils in a memorable final at Lord's.
In 1987, the tournament was played in India and Pakistan. None of the host nations, who were being regarded as possible winners, could progress to the finals. It was Australia who defeated England at Eden Gardens, Kolkata.
The 1996 edition of the World Cup was played in India, Pakistan and Sri Lanka. The tournament saw surprise winners in Sri Lanka, which proceeded to stop Australia in the final played in Gaddafi Stadium, Lahore.
In 1999, the World Cup returned to England, who co-hosted it with Ireland, Wales and Scotland. In the final at Lord's, Steve Waugh's Australia won the second World Cup beating Wasim Akram's Pakistan. The tournament will return to England in 2019.
Africa hosted its first World Cup in 2003 with South Africa being the principal hosts along with Kenya and Zimbabwe. Australia under Ricky Ponting absolutely hammered Saurav Ganguly's India at the Wanderers, Johannesburg to win the team's third World Cup. The sequence was repeated in 2007, when the World Cup was held for the first time in West Indies. Australia, once again under Ponting, managed to beat Sri Lanka in a rain-affected final.
The 2011 edition was hosted by India, Sri Lanka and Bangladesh. At the final played at the Wankhede Stadium, Mumbai, India ended a 28-year wait by trumping Sri Lanka decisively.
| Year | Host Country | Winners | Runners-Up |
| --- | --- | --- | --- |
| 1975 | England | West Indies | Australia |
| 1979 | England | West Indies | England |
| 1983 | England | India | West Indies |
| 1987 | India & Pakistan | Australia | England |
| 1992 | Australia & New Zealand | Pakistan | England |
| 1996 | India, Pakistan & Sri Lanka | Sri Lanka | Australia |
| 1999 | England | Australia | Pakistan |
| 2003 | South Africa, Kenya & Zimbabwe | Australia | India |
| 2007 | West Indies | Australia | Sri Lanka |
| 2011 | Bangladesh, India and Sri Lanka | India | Sri Lanka |
| 2015 | Australia & New Zealand | To be played | To be played |