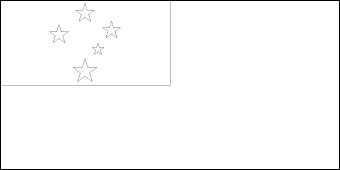 Download Picture of Samoa Flag Outline for kids to color
This flag only had four stars and the fifth was added on 24 February, 1949. The basic design of the flag of Samoa was created in 1948. The red color of the Samoan flag represents courage.
The blue color signifies freedom and white symbolizes purity. The five stars resemble the constellation of the Southern Cross, signifying the stars Alpha, Beta, Gamma, Delta and Eplison.
The Southern Cross signifies Samoa's geographical position in the world map and its association with New Zealand, which also has the Southern Cross on its national flag.
| | |
| --- | --- |
| Official Name: | O le Malo Tutoastasi O Samoa |
| Capital: | Apia |
| Location: | In the western part of the Samoan Archipelago in Polynesia the largest islands are Sagvia and Upolu. |
| Area: | 2, 944 Sq. km. |
| Official Languages: | Samoan English |
| National Flag: | Red with a blue quarter bearing 5 white stars of the Southern cross. |
| National symbol(s): | Southern Cross constellation (five, five-pointed stars) |
| National colors: | red, white, blue |
| National anthem: | |
| Name: | "O le Fu'a o le Sa'olotoga o Samoa" (The Banner of Freedom) |
| Lyrics/Music: | Sauni Liga KURESA |
| Country | Samoa |
| --- | --- |
| Designed by | NA |
| Adopted | 24 February 1949, 1 January 1962 |
| Revision | NA |
| Design and Colors | A red field with a blue rectangle in the canton. The blue rectangle bears the Southern Cross Constellation: four large white stars and one smaller star. |
| Size Ratio | 1:2 |