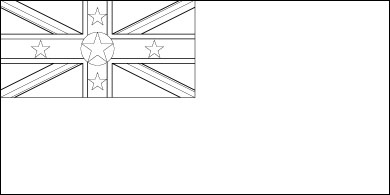 Download Picture of Blank Niue Flag For Kids to Color
Soon after gaining independence from the association with New Zealand in 1974, the country adopted its official flag on 15 th October, 1975.The Niue Flag has a yellow background.
The flag of Niue displays the flag of the Great Britain at the upper left corner towards the hoist-side. The Union Jack bears five yellow stars each of which has five points. Out of the five stars, one is bigger than the rest and this gold star represents the sun over Niue and its affection for New Zealand. The big star is placed on a blue disc where the blue color stands for the Pacific Ocean surrounding the independent island of Niue. The other four smaller stars, on each arm of the horizontal and vertical red bands, represent New Zealand. The four stars also represent the Southern Cross constellation as seen in the flag of New Zealand.
| | |
| --- | --- |
| Official Name: | Niue fekai |
| Capital: | Alofi |
| Location: | It is located 2,400 kilometres north-east of New Zealand in a triangle between Tonga, Samoa, and the Cook Islands. |
| Area: | 260 Sq. km. |
| Official Languages: | Niuean, English |
| National Flag: | The Niue Flag has a yellow background with flag of the Great Britain at the upper left corner towards the hoist-side. |
| Flag Ratio: | 1:2 |
| National Anthem: | Ko e Iki he Lagi |
| National symbol(s): | yellow, five-pointed star |
| National colors: | yellow |
| National anthem: | |
| Name: | "Ko e Iki he Lagi" (The Lord in Heaven) |
| Lyrics/Music: | unknown/unknown, prepared by Sioeli FUSIKATA |
| Country | Niue |
| --- | --- |
| Designed by | NA |
| Adopted | 15. October 1975 |
| Revision | NA |
| Design and Colors | A golden yellow flag, bearing on the upper canton of the hoist thereof the Union Flag, commonly known as the Union Jack, displaying 2 five-pointed yellow stars on the vertical line and on the horizontal line thereof separated by a blue disc containing a larger five-pointed yellow star. |
| Size Ratio | 1:2 |