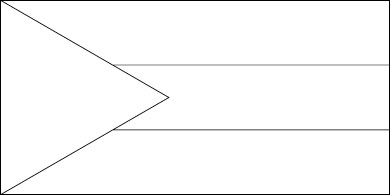 Download Bahamas Flag Outline Picture for kids to color
This North American commonwealth is well known for its lovely natural environment and sunny and sandy locales. It also depicts the social and economic progress made by the country.
Bahamas Flag Description
The Bahamas flag depicts an equilateral triangle that is black in color. It has been placed over a horizontal backdrop. The background is made up of two main colors – gold and aquamarine. The Bahamas flag is among the few national flags that have an approximate 1:2 ratio. Gold and aquamarine are the major colors of the flag.
These two colors are represented in three flat stripes – there are two strips of aquamarine that are punctuated by a golden line. All the three color bands are of equal dimensions.
The national flag of this Caribbean country is full of symbolism. The color black stands for the power and energy of the common people who have pledged to stay united. The triangle is representative of the strength of mind and hard work shown by the people of the Bahamas. The sun and the sea that has come to symbolize the state are correspondingly represented by gold and aquamarine.
| | |
| --- | --- |
| Official Name: | Commonwealth of the Bahamas |
| Proportion: | 1:2 |
| Adopted on: | July 10, 1973 |
| Location of Bahamas: | Atlantic Ocean |
| Capital City of Bahamas: | Nassau |
| Major Cities in the Bahamas: | Freeport, Freetown, West End, Coopers Town |
| Area: | 5,358 square miles |
| Population: | 0.4 million estimate |
| Currency: | Bahamian dollar (BSD) |
| Language of the Bahamas: | English |
| National Anthem: | March On, Bahamaland |
| National symbol(s): | blue marlin, flamingo, Yellow Elder flower |
| National colors: | aquamarine, yellow, black |
| National anthem: | |
| Name: | "March On, Bahamaland!" |
| lyrics/music: | Timothy GIBSON |
| | | |
| --- | --- | --- |
| | Facts about the Bahamas flag | |
| Country | Bahamas |
| --- | --- |
| Designed by | Dr. Hervis Bain |
| Adopted | Jul 10, 1973 |
| Revision | NA |
| Design and Colors | A horizontal triband of aquamarine (top and bottom) and gold with a black chevron based on the hoist side |
| Size Ratio | 1:2 |