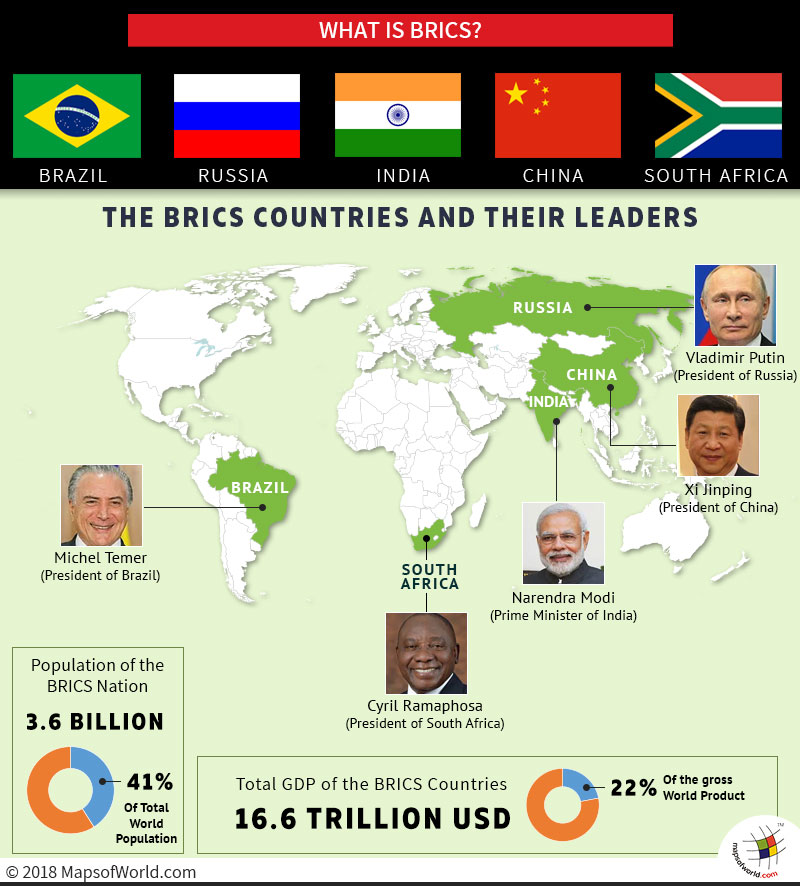 BRICS stands for Brazil, Russia, India, China, and South Africa. The acronym was originally formulated by Goldman Sachs' economist Jim O'Neill in 2001. He grouped together these economies as they represent a sizeable share of the world's population and production. The nations that form the association are scattered in 4 continents: South America (Brazil), Europe (Russia), Asia (India and China), and Africa (South Africa). However, initially South Africa was not part of the BRICS and it was only referred to as BRIC in 2010.
Currently, the leaders which represent the association are Michel Temer (President of Brazil), Vladimir Putin (President of Russia), Narendra Modi (Prime Minister of India), Xi Jinping (President of China) and Cyril Ramaphosa (President of South Africa).
BRICS nations represent a population of over 3.6 billion (41% of the total world population). Together, they account for US$16.6 trillion nominal GDP, which is 22% of the gross world product.
At first, the meeting between the countries was limited to diplomatic coordination involving their respective Foreign Ministers. However, due to increasingly successful talks, the dialogue between the countries soon reached a higher plane. It was decided that the annual summits would be carried out on the levels of Government and the Heads of State. Since 2009, all the BRICS nations have been meeting annually at formal summits. The last summit was hosted by China in September 2017 for 3 days.
BRICS predominantly focuses on the broad spheres of political governance and economic-finance. Its activities are notable in the areas of agriculture, outer space, Internet governance and security, science and technology, culture, tourism, health, intellectual property, social welfare and more. These nations also contribute to enhancing the lending power of IMF (International Monetary Fund). In 2012, all of the countries of the union vowed to donate $75 billion to it.
BRICS are also open to constructive engagement and cooperation with other nations and regional & international organizations for dealing with the international issues.
Visit the following to learn more about International Organizations:
Related Maps: