What countries are part of OPEC?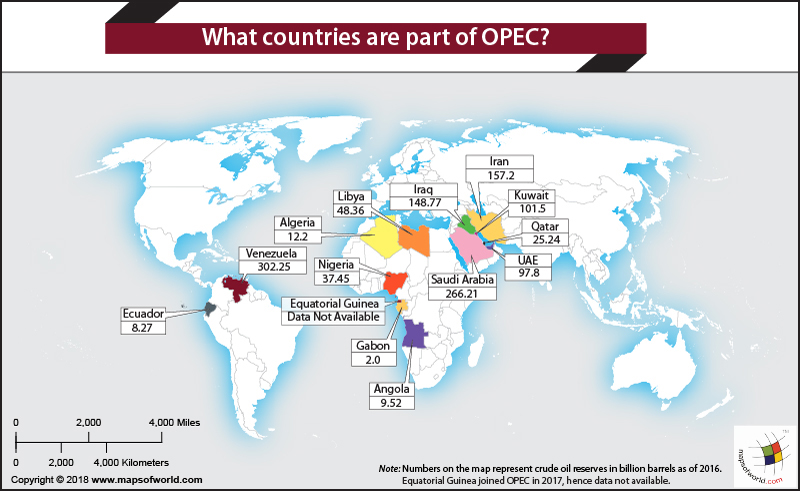 The Organization of the Petroleum Exporting Countries, which is more commonly known by the abbreviation of OPEC, is an international cartel comprising 14 countries that contribute significantly to the world's oil production. According to the 2016 estimate, these 14 nations collectively account for around 44 percent of the oil production in the world. They also account for a whopping 73 percent of the proven oil reserves in the world. To learn about the groups, check our Country Groups section.
The history of the organization dates back to 1960 when 5 nations that were rich in oil reserves – Venezuela, Kuwait, Iraq, Saudi Arabia, and Iran – got together and founded OPEC in the Iraqi capital of Baghdad. By 1965, OPEC had established its headquarters in Vienna, Austria. In the following years, the organization witnessed a growth in its influence as new nations with large reserves of oil joined it. As of 2016, the 14 nations that comprise OPEC are from Africa, South America, and the Middle East. These 14 nations are; Algeria, Angola, Ecuador, Equatorial Guinea, Gabon, Iran, Iraq, Kuwait, Libya, Nigeria, Qatar, Saudi Arabia, United Arab Emirates, and Venezuela. However, membership in the organization is open to all, provided the required criteria are met.
Over the years members have joined the organization and left, only to rejoin again. As of 2018, Indonesia is not a member of OPEC. The nation was an OPEC member from 1962 through 2008, and again from January to November 2016. Similarly, Sudan has already submitted its application to join the group; however, as of now, it is not a member.
Aim of the Organization
The organization aims to ensure that prices in the global oil market remain stable, they also ensure that the oil-producing nations get a stable revenue and consuming countries get an efficient, regular, and reliable economic supply. As oil forms the lifeline of the global economy, OPEC is playing a very influential and significant role in global affairs. In 1973-74, OPEC imposed an oil embargo on the US and industrialized countries. This was in response to their support for Israel in the Yom Kippur War. The embargo had a significant impact on the United States.
As of 2016, Venezuela has the largest proven crude oil reserves at 302.25 billion barrels, followed by Saudi Arabia at 266.21 billion barrels.
Below is the list of crude oil reserves by the country for the year 2016. Equatorial Guinea is not on the list as it joined the organization in 2017:
Country
Crude Oil
(Billion Barrel)
OPEC Share
Venezuela
302.25
0.248
Saudi Arabia
266.21
0.219
Iran
157.2
0.129
Iraq
148.77
0.122
Kuwait
101.5
0.083
United Arab Emirates
97.8
0.08
Libya
48.36
0.04
Nigeria
37.45
0.031
Qatar
25.24
0.021
Algeria
12.2
0.01
Angola
9.52
0.008
Ecuador
8.27
0.007
Gabon
2
0.002
Visit the following to learn more about International Organizations:
Related Maps: