Which Countries Use Dollar As Their National Currency?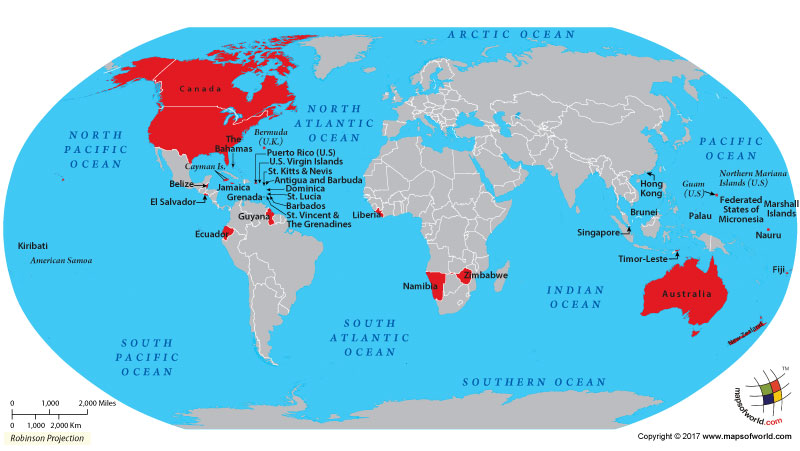 The Dollar is the name of the currencies of a number of different countries. The most important among these is the US Dollar (USD) or the American Dollar. Not only is the US Dollar the main currency of the United States of America, it is the foremost reserve currency held by almost all nations of the world. It is also the standard currency used in the trade of commodities such as petroleum and gold across the world.
Apart from the United States of America, there are a number of countries that use the USD as their national currency as well. This process of adopting the USD as the official currency is known as Dollarization. Despite having adopted the USD these nations may also use their own coins. Here's a list of these countries –
Democratic Republic of Timor-Leste
Ecuador
Federated States of Micronesia
Marshall Islands
Republic of El Salvador
Republic of Palau
Republic of Zimbabwe (follows a multi-currency system)
The following are US overseas territories or unincorporated territories that also use the United States Dollar as their primary currency –
American Samoa
Commonwealth of Puerto Rico
Commonwealth of the Northern Mariana Islands
Guam
United States Virgin Islands
While the US Dollar may not be the official currency, establishments in many other countries do accept the USD in transactions. It is also a commonly used currency in some Dutch territories such as Bonaire, Saba, and Sint Eustatius.
The United States Dollar is undoubtedly the most important currency in use across the globe. There are, however, a number of other currencies that are also called Dollar. Following are the countries and their currencies that are also called Dollar –
Currency
Country
Australian Dollar
 Australia
 Nauru
Bahamian Dollar
 Bahamas
Barbadian Dollar
 Barbados
Belize Dollar
 Belize
Bermuda Dollar
 Bermuda
Brunei Dollar
 Brunei
Canadian Dollar
 Canada
Cayman Islands Dollar
 Cayman Islands
East Caribbean Dollar
 Grenada
 Dominica
Antigua and Barbuda
 Saint Kitts and Nevis
 Saint Lucia
 Saint Vincent and the Grenadines
Fijian Dollar
 Fiji
Guyanese Dollar
 Guyana
Hong Kong Dollar
 Hong Kong
Jamaican Dollar
 Jamaica
Kiribati Dollar
 Kiribati
Liberian Dollar
 Liberia
Namibian Dollar
 Namibia
New Zealand Dollar
 New Zealand
Singapore Dollar
 Singapore
Related Maps: