What are the countries with most nuclear reactors?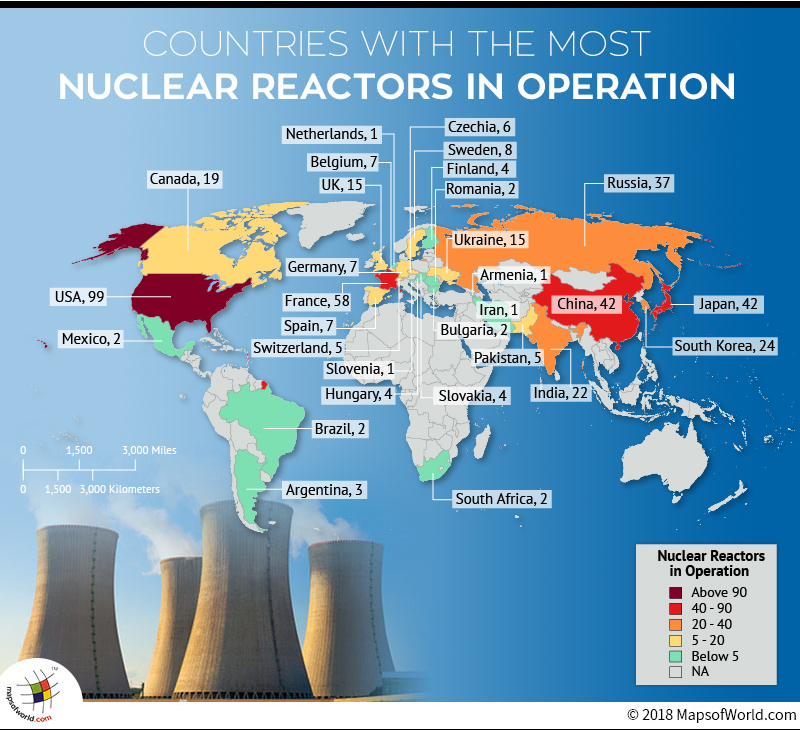 Electrification, that is, the conversion of one form of energy into electricity, is the need of the hour! The rising population and diminishing natural resources make it difficult for all people to have electricity access. Some view nuclear power as the hope for the future.
Nuclear reactors are devices which undertake the nuclear chain reaction at a steady rate. New designs are being innovated, to help in generation of electricity. Many say they are relatively eco-friendly, as they produce smaller amount of carbon dioxide.
It is a fact that despite high security standards of nuclear reactors, accidents can occur. They can have adverse effects on nature as well as the health of human beings. These power plants also pose as targets for terror activities. The radioactive waste produced by these reactors, can be used for building nuclear weapons as well. However, the prospects of advanced technology have led to the belief that in the long-run nuclear reactors could be a boon. Particularly, if the issue of disposing of radioactive waste can be solved.
Currently, there are 453 nuclear reactors in operation in 30 countries around the world. Out of them, the United States has the largest number of nuclear reactors in the world. According to data by the International Atomic Energy Agency, the United States has 99 nuclear reactors in operation, and 61 of them are being operated commercially. One of the adverse and significant nuclear disaster that occurred in USA was the 'Three Mile Island' accident on March 28, 1979, in Pennsylvania, near Harrisburg. The historic growth of U.S. nuclear power industry had come to a halt after the incident.
France has the second highest number of nuclear reactors at 58, and these reactors generate around 75 percent of the electricity of the country. Both China and Japan, currently have 42 nuclear reactors in operation. Fukushima Nuclear Accident which occurred in Japan in March 2011, was one of the catastrophic nuclear disasters that occurred in the 21st century.
The table gives information on the number of nuclear reactors in operation in the 30 nations around the world.
| | |
| --- | --- |
| Country | Number of Nuclear Reactors in Operation |
| UNITED STATES OF AMERICA | 99 |
| FRANCE | 58 |
| CHINA | 42 |
| JAPAN | 42 |
| RUSSIA | 37 |
| SOUTH KOREA | 24 |
| INDIA | 22 |
| CANADA | 19 |
| UKRAINE | 15 |
| UNITED KINGDOM | 15 |
| SWEDEN | 8 |
| BELGIUM | 7 |
| GERMANY | 7 |
| SPAIN | 7 |
| CZECH REPUBLIC | 6 |
| PAKISTAN | 5 |
| SWITZERLAND | 5 |
| FINLAND | 4 |
| HUNGARY | 4 |
| SLOVAKIA | 4 |
| ARGENTINA | 3 |
| BRAZIL | 2 |
| BULGARIA | 2 |
| MEXICO | 2 |
| ROMANIA | 2 |
| SOUTH AFRICA | 2 |
| ARMENIA | 1 |
| IRAN | 1 |
| NETHERLANDS | 1 |
| SLOVENIA | 1 |
Know more:
Related maps: