What are the Major Nuclear Disasters That Occurred Around the World?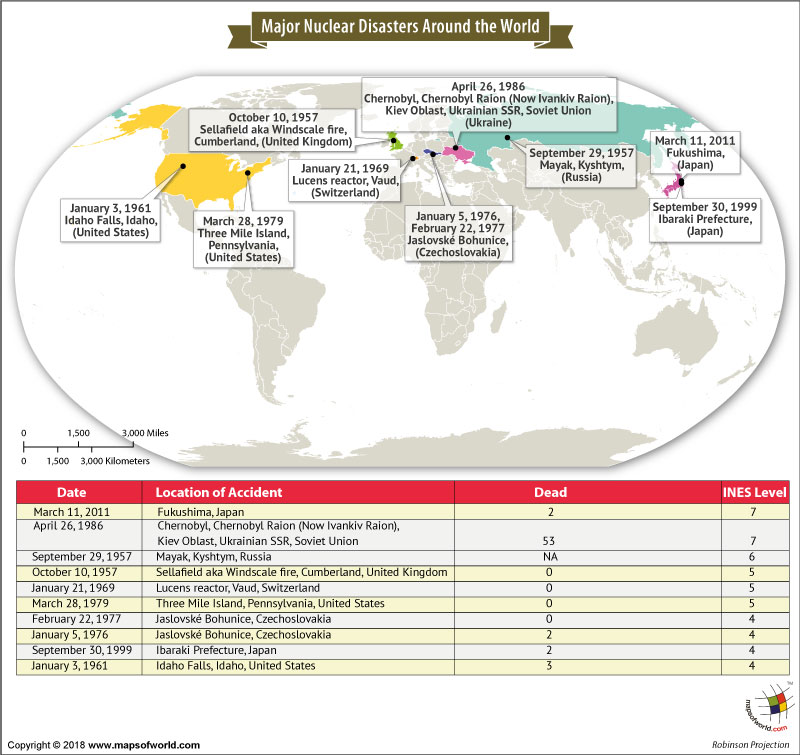 Nuclear power helps in generating 11% of electricity around the world. While it is the second largest source of low-carbon power, it has a dangerous side that can include near melt-downs and radiation leaks. Any nuclear radiation accidents will affect people and the environment for a long time.
The International Atomic Energy Agency (IAEA) is an international organization, established on July 29, 1957 for peaceful use of nuclear energy, and to inhibit its use for any military purpose, including nuclear weapons. International Nuclear and Radiological Event Scale (INES) was introduced by IAEA in 1990 to provide relevant information regarding any nuclear accidents that occur. Each increasing level on this scale represents ten times more severity of an accident than the previous level.
The Chernobyl nuclear accident that occurred on April 26, 1986, in Ukraine is regarded as the worst nuclear accident to date. The disaster resulted in fifty-three deaths, the relocation of 200,000 people, and other long-term ills. It was a major catastrophe that had an adverse effect on the country's economy and the nation suffered loss of an estimated 18 billion rubles.
Technical measures have been adopted to reduce the amount of damage that may occur and to avoid accidents from happening, but to err is human. Fifty-seven accidents have occurred ever since the Chernobyl disaster in different parts of the world.
The most recent nuclear disaster occurred in 2011 in Fukushima, Japan. The accident, known as the Daiichi nuclear disaster is the largest accident since the 1986 Chernobyl disaster. It was caused due to a series of equipment failures, and releases of radioactive materials at the Fukushima I Nuclear Power Plant, from an earthquake and resulting tsunami. Over thirty-seven people were reported to have physical injuries, and many workers were hospitalized with radiation burns.
The most serious accident in the U.S. happened at Three Mile Island in Pennsylvania on March 28, 1979. Large amounts of nuclear reactor coolant escaped into the environment, and it took 12 years to decontaminate and reach low levels of radiations.
Here we have listed the major nuclear disasters of the world according to INES, in reverse chronological order:
| | | | |
| --- | --- | --- | --- |
| Date | Location of accident | Casualty | INES level |
| March 11, 2011 | Fukushima, Japan | 2 | 7 |
| April 26, 1986 | Chernobyl, Chernobyl Raion (Now Ivankiv Raion), Kiev Oblast, Ukrainian SSR, Soviet Union | 53 | 7 |
| September 29, 1957 | Mayak, Kyshtym, Russia | | 6 |
| October 10, 1957 | Sellafield aka Windscale fire, Cumberland, United Kingdom | 0 | 5 |
| January 21, 1969 | Lucens reactor, Vaud, Switzerland | 0 | 5 |
| March 28, 1979 | Three Mile Island, Pennsylvania, United States | 0 | 5 |
| February 22, 1977 | Jaslovské Bohunice, Czechoslovakia | 0 | 4 |
| January 5, 1976 | Jaslovské Bohunice, Czechoslovakia | 2 | 4 |
| September 30, 1999 | Ibaraki Prefecture, Japan | 2 | 4 |
| January 3, 1961 | Idaho Falls, Idaho, United States | 3 | 4 |
Know more about world disasters:
Related Maps: