What are the Nuclear Suppliers Group Member States?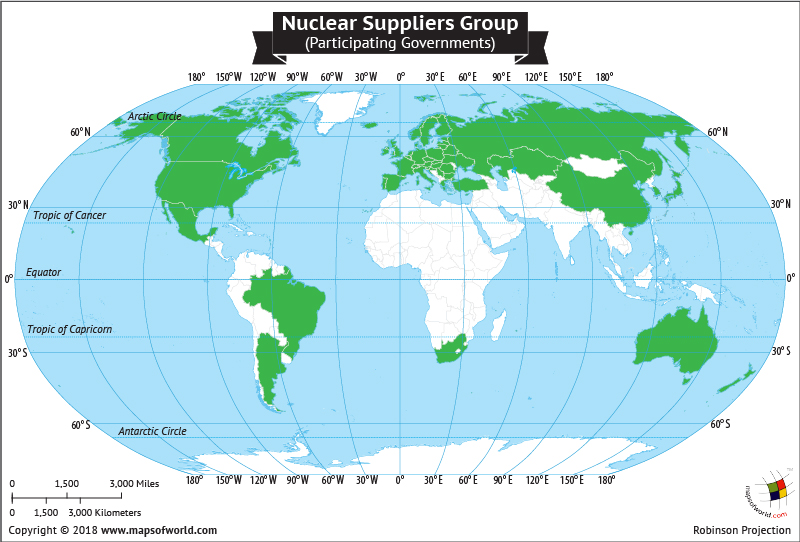 With the primary aim to prevent nuclear proliferation, the 'Nuclear Suppliers Group' was formed in 1974. The objectives are accomplished by controlling the export of equipment, technology, and materials that are essential for the creation of nuclear weapons. The member nations have the capability to export and transport civilian nuclear technology and have pledged that the transfer will only be undertaken under mutually agreed guidelines.
In 1974 India carried out its first nuclear tests. Nuclear Supplier Group was formed in response to these tests. The Group met for the first time in November 1975. In 1978 the International Atomic Energy Agency published the NSG guidelines.
The group comprises of 48 members, five of which are nuclear weapon states. These five nations are the United Kingdom, the United States, China, France, and Russia. The guidelines of the NSG are not binding and all its decisions are made by consensus.
In the initial years, the Nuclear Suppliers Group comprised of seven nations which included West Germany, Japan, the United Kingdom, the United States, France, Canada, and the Soviet Union. By 1976-77, eight more nations were added to the group, and they include; East Germany, Belgium, Czechoslovakia, Poland, the Netherlands, Italy, Switzerland, and Sweden, taking the number of participating governments to 15. The 1990s witnessed changes with the breaking up of Czechoslovakia, and the merger of East and West Germany. In 1991, the Soviet Union also dissolved, and many former members were provided observer status. In 2004, China became a participating nation in the NSG.
Apart from the five nuclear powers, other notable nations that are a part of the NSG are Argentina, Australia, Denmark, Finland, Greece, Iceland, and Ireland.
The table below provides information on the current participating governments in the NSG.
| | |
| --- | --- |
| ARGENTINA | REPUBLIC OF KOREA |
| AUSTRALIA | LATVIA |
| AUSTRIA | LUXEMBOURG |
| BELARUS | MALTA |
| BELGIUM | MEXICO |
| BRAZIL | NETHERLANDS |
| BULGARIA | NEW ZEALAND |
| CANADA | NORWAY |
| CHINA | POLAND |
| CROATIA | PORTUGAL |
| CYPRUS | ROMANIA |
| CZECH REPUBLIC | RUSSIAN FEDERATION |
| DENMARK | SERBIA |
| ESTONIA | SLOVAKIA |
| FINLAND | SLOVENIA |
| FRANCE | SOUTH AFRICA |
| GERMANY | SPAIN |
| GREECE | SWEDEN |
| HUNGARY | SWITZERLAND |
| ICELAND | TURKEY |
| IRELAND | UKRAINE |
| ITALY | UNITED KINGDOM |
| JAPAN | UNITED STATES |
| KAZAKHSTAN | LITHUANIA |
Related Maps: