Which Continent has the Least Landmass?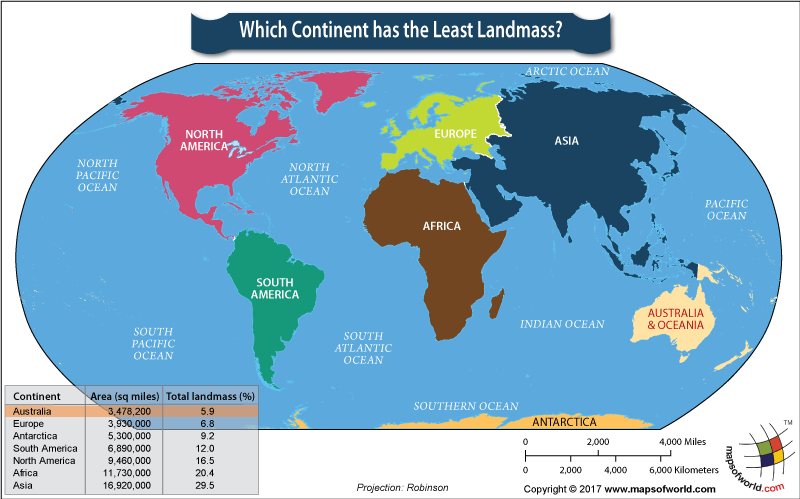 Australia has the least landmass, at 5.9% of the Earth's land. Australia is a single country continent and also the smallest of all the seven continents. But as a county, in terms of area Australia is the sixth largest in the world at 3,478,200 square miles.
There are seven large land masses, or Continents, on earth; Africa, Antarctica, Asia, Australia, Europe, North America and South America. Asia is the largest of all with an area of 16,920,000 square miles and 29.5% landmass. Asia is also the most populated continent, while Australia is one of the least populated.
Australia is rich in biodiversity and is surrounded by the Indian Ocean and Pacific Ocean. It is home to the world's largest coral reef known as The Great Barrier Reef. There are countless species of fish and marine mammals, in the 1,600 miles long ocean ecosystem. The reef is the only living thing on earth visible from space.
The table below shows the difference in size and landmass of all the seven continents:
| | | |
| --- | --- | --- |
| | Area (sq miles) | Total landmass percentage |
| Asia | 16,920,000 | 29.5 |
| Africa | 11,730,000 | 20.4 |
| North America | 9,460,000 | 16.5 |
| South America | 6,890,000 | 12.0 |
| Antarctica | 5,300,000 | 9.2 |
| Europe | 3,930,000 | 6.8 |
| Australia & Oceania | 3,478,200 | 5.9 |
Related Maps: