Which US State Has No Income Tax?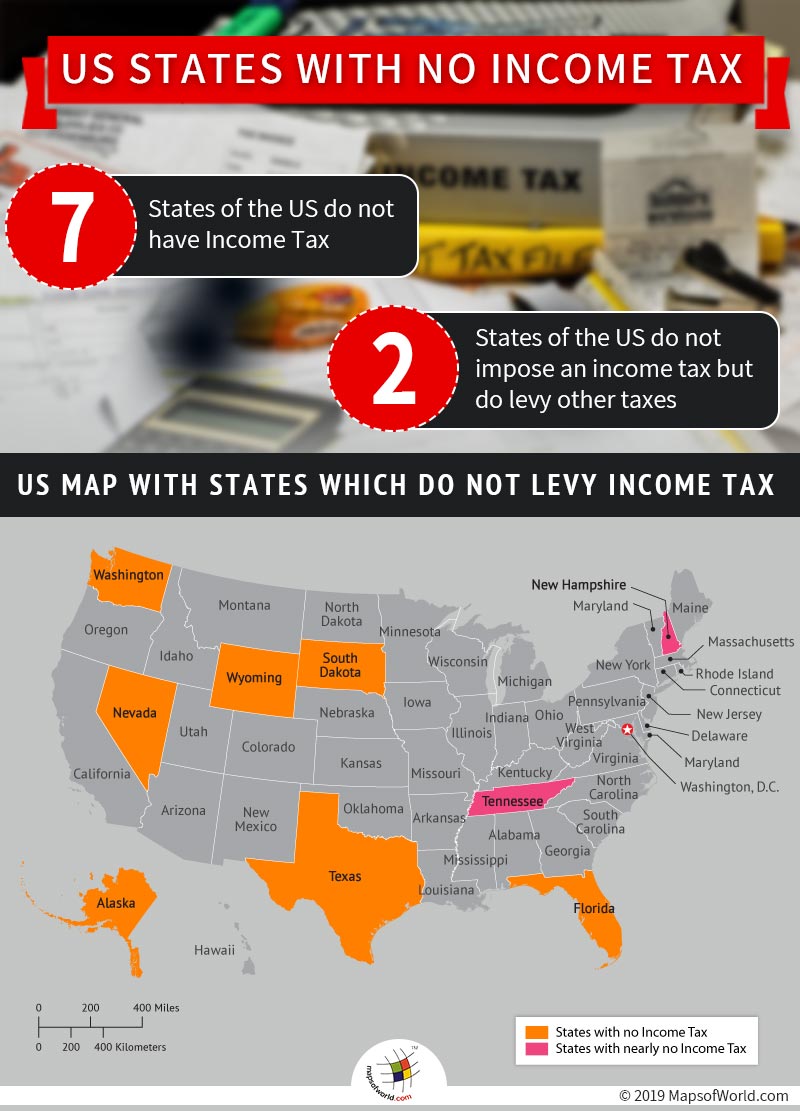 Living in a country where one does not have to pay income taxes seems like an utopian dream. Well, in some places this dream is a reality and seven of these places lie in the United States. Paying taxes is mandatory in the United States, but there are seven states in the country where people do not have to pay income tax. Further, there are two more states which do not impose an income tax but do levy other taxes such as hall tax, sales tax, corporate tax etc. So, read on and get to know the states that do not charge income tax.
Alaska
Alaska is one good destination if you do not like to pay taxes. The largest state in the country, Alaska is one of the seven states that does not impose an individual income tax. On top of that, residents also do not have to pay sales tax. The state derives its finances mainly from federal subsidies and petroleum revenues. Although sales tax is not levied by the state, some municipalities do impose a local sales tax. Apart from this, there are also raw fish tax, liquor & tobacco taxes, gaming taxes, fuel transfer taxes, etc.
Florida
Known for its beautiful beaches and amazing weather, Florida is also a tax-free destination. Though Florida does not impose an individual income tax, it does levy a sales tax, which is as high a 6 percent and is the main source of funding. Despite being an income tax-free state, the economy of Florida is the largest in the world.
Nevada
Nevada, which is famous for its gambling and tourism industry, levies neither individual income tax nor the corporate income tax. But, the state government does derive a substantial amount from sales tax with the statewide tax rate at 6.85 percent. However, the applicable sales tax varies from one county to the other as counties may impose additional rates through the state legislature's approval.
South Dakota
South Dakota does not impose any individual income tax but levies a 4.5 percent state sales tax. The service industry drives the state and is the largest economic contributor. Despite the development of many industries, agriculture, as well as tourism, remain one of the most important sectors of the state.
Texas
Texas is one of the seven states that does not impose an individual income tax. The state of Texas mainly derives its revenues from sales tax and property tax. Currently, the sales tax in the state is pegged at 6.25 percent. Texas is one of the richest states in the country, as well as the world. The Gross State Product is the second highest in the US and the tenth highest in the world.
Washington
Apart from individual sales tax, Washington does not impose a corporate income tax or franchise tax. The state generates its revenues through the sales tax which is 6.5 percent. When combined with a local sales tax, this can significantly vary from one locality to another. Nevertheless, there are state levies, mainly for businesses, such as Business and Occupation Tax.
Wyoming
Wyoming is another state that would appeal to those who do not want to pay taxes. One does not have to pay individual income tax or corporate income tax. The best part is that no tax is levied on the retirement income that has been earned or received from another state. Nevertheless, there is a state tax, which is pegged at 4 percent.
Apart from these seven states, there are two states that have nearly no income tax – Tennessee and New Hampshire. Tennessee has a Hall Income Tax. This is not applicable to salaries, but to most of the dividends and interests. The state also has sales and use tax. New Hampshire, too, does not levy a personal income tax, but does impose a 5 percent tax on income from dividends and interests.
Related Link: Tax Percentage Paid by Businesses in Different Countries
Related Maps: