What is the Tax Percentage paid by businesses in different countries?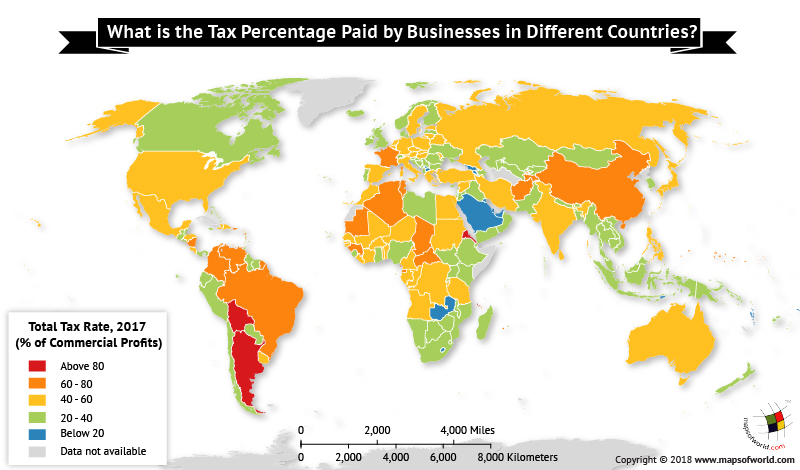 Taxes serve as the basic source of revenue for the governments of several countries, to carry out different functions for the development of a nation. The collected amount is also used to fund public assistance and public service programs.
The total tax rate as percentage of commercial profits is the percentage at which an organization or business is taxed. It is the total amount that a business must pay from their commercial profit, after other exemptions and deductions. This is excluding taxes that are withheld or collected and remitted to tax authorities and varies from country to country.
While in some nations the total tax rate as percentage of commercial profits may be huge, in others it may be minimal.
According to a 2017 data published by the World Bank, Comoros has the highest total tax rate being whopping 216.5 percent. Coming at the second spot is the South American nation of Argentina with a total tax rate of 106 percent. In both Bolivia and Eritrea, the total tax rate stood at 83.7 percent.
Meanwhile nations standing at the bottom of the table with the lowest total tax rates as percentage of commercial profit were United Arab Emirates, Saudi Arabia, Qatar, Georgia, Kuwait, etc. Here the total tax rate was less than 20 percent.
The table below provides information on the total tax rate as percentage of commercial profits in each nation.
| | |
| --- | --- |
| Country Name | Total Tax Rate (% of commercial profits) |
| Comoros | 216.5 |
| Argentina | 106 |
| Bolivia | 83.7 |
| Eritrea | 83.7 |
| Equatorial Guinea | 79.4 |
| Palau | 75.5 |
| Central African Republic | 73.3 |
| Afghanistan | 71.4 |
| Mauritania | 71.3 |
| Colombia | 69.7 |
| Brazil | 68.4 |
| China | 67.3 |
| Algeria | 65.6 |
| Tajikistan | 65.2 |
| Venezuela | 65 |
| Marshall Islands | 64.8 |
| Tunisia | 64.1 |
| Chad | 63.5 |
| Puerto Rico | 63.4 |
| France | 62.2 |
| Guinea | 61.4 |
| Micronesia | 60.5 |
| Nicaragua | 60.2 |
| Costa Rica | 58.3 |
| Cameroon | 57.7 |
| Benin | 57.4 |
| Belgium | 57.1 |
| India | 55.3 |
| Sri Lanka | 55.2 |
| Democratic Republic of Congo | 54.6 |
| Republic of Congo | 54.3 |
| Belarus | 52.9 |
| Mexico | 52.1 |
| Austria | 51.8 |
| Greece | 51.7 |
| Slovakia | 51.6 |
| Gambia | 51.3 |
| Cote d'Ivoire | 50.1 |
| Czech Republic | 50 |
| Morocco | 49.8 |
| St. Kitts and Nevis | 49.7 |
| Angola | 49.1 |
| Sweden | 49.1 |
| Germany | 48.9 |
| Dominican Republic | 48.8 |
| Estonia | 48.7 |
| Togo | 48.5 |
| Grenada | 48.4 |
| Mali | 48.3 |
| Italy | 48 |
| Australia | 47.5 |
| Russia | 47.5 |
| Japan | 47.4 |
| Niger | 47.3 |
| Spain | 46.9 |
| Gabon | 46.8 |
| Hungary | 46.5 |
| Guinea-Bissau | 45.5 |
| Liberia | 45.5 |
| Sudan | 45.4 |
| Egypt | 45.3 |
| Senegal | 45.1 |
| Iran | 44.7 |
| Honduras | 44.4 |
| Tanzania | 44.1 |
| Malta | 43.9 |
| United States | 43.8 |
| Philippines | 42.9 |
| Haiti | 42.8 |
| Lithuania | 42.7 |
| Syrian Arab Republic | 42.7 |
| Antigua and Barbuda | 41.9 |
| Uruguay | 41.8 |
| Burundi | 41.5 |
| Burkina Faso | 41.3 |
| Turkey | 41.1 |
| Netherlands | 40.7 |
| Moldova | 40.5 |
| Poland | 40.5 |
| Azerbaijan | 39.8 |
| Portugal | 39.8 |
| Serbia | 39.7 |
| Papua New Guinea | 39.3 |
| St. Vincent and the Grenadines | 39.3 |
| Malaysia | 39.2 |
| Ethiopia | 38.6 |
| Finland | 38.4 |
| Romania | 38.4 |
| Uzbekistan | 38.3 |
| Madagascar | 38.1 |
| Vietnam | 38.1 |
| Ukraine | 37.8 |
| Djibouti | 37.7 |
| Norway | 37.5 |
| Kenya | 37.4 |
| Albania | 37.3 |
| Panama | 37.2 |
| Sao Tome and Principe | 37 |
| Cabo Verde | 36.6 |
| Trinidad and Tobago | 36.2 |
| Mozambique | 36.1 |
| Latvia | 35.9 |
| Peru | 35.6 |
| El Salvador | 35.5 |
| San Marino | 35.4 |
| Barbados | 35.3 |
| Bhutan | 35.3 |
| Dominica | 35.2 |
| Guatemala | 35.2 |
| Swaziland | 35.2 |
| Paraguay | 35 |
| Nigeria | 34.8 |
| St. Lucia | 34.7 |
| Malawi | 34.5 |
| New Zealand | 34.5 |
| Pakistan | 33.8 |
| Uganda | 33.7 |
| Bangladesh | 33.4 |
| Ghana | 33.2 |
| Rwanda | 33.2 |
| Jamaica | 33.1 |
| South Korea | 33.1 |
| Chile | 33 |
| Fiji | 33 |
| Kiribati | 32.7 |
| Libya | 32.6 |
| Ecuador | 32.5 |
| Guyana | 32.3 |
| Solomon Islands | 32 |
| Zimbabwe | 31.6 |
| Bahamas | 31.5 |
| South Sudan | 31.4 |
| Myanmar | 31.2 |
| Belize | 31.1 |
| Sierra Leone | 31 |
| Slovenia | 31 |
| Iraq | 30.8 |
| United Kingdom | 30.7 |
| Lebanon | 30.3 |
| Maldives | 30.2 |
| Seychelles | 30.1 |
| Indonesia | 30 |
| Iceland | 29.7 |
| Nepal | 29.6 |
| Kazakhstan | 29.2 |
| Kyrgyz Republic | 29 |
| South Africa | 28.9 |
| Switzerland | 28.8 |
| Thailand | 28.7 |
| Jordan | 28.1 |
| Suriname | 27.9 |
| Tonga | 27.5 |
| Bulgaria | 27.1 |
| Israel | 27 |
| Yemen | 26.6 |
| Laos | 26.2 |
| Ireland | 26 |
| Botswana | 25.1 |
| Mongolia | 24.7 |
| Denmark | 24.2 |
| Oman | 23.9 |
| Bosnia and Herzegovina | 23.7 |
| Hong Kong SAR | 22.9 |
| Cyprus | 22.7 |
| Montenegro | 22.1 |
| Mauritius | 21.9 |
| Cambodia | 21.7 |
| Canada | 20.9 |
| Namibia | 20.7 |
| Croatia | 20.6 |
| Luxembourg | 20.5 |
| Singapore | 20.3 |
| Samoa | 19.3 |
| Armenia | 18.5 |
| Georgia | 16.4 |
| United Arab Emirates | 15.9 |
| Saudi Arabia | 15.7 |
| Zambia | 15.6 |
| West Bank and Gaza | 15.3 |
| Kosovo | 15.2 |
| Bahrain | 13.8 |
| Lesotho | 13.6 |
| Kuwait | 13 |
| Macedonia | 13 |
| Qatar | 11.3 |
| Timor-Leste | 11.2 |
| Vanuatu | 8.5 |
| Brunei | 8 |
Know more:
Related Maps: