Where are the Best Places in Idaho to view the Total Solar Eclipse 2017?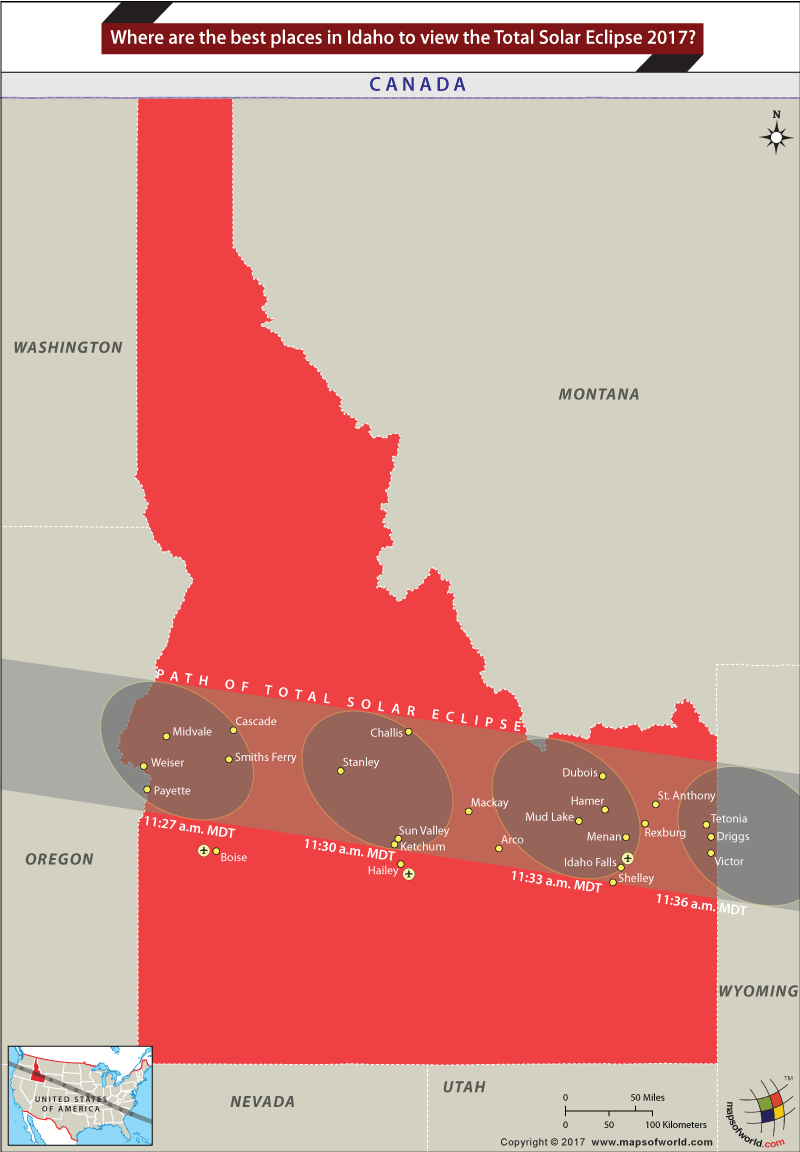 Solar Eclipse 2017 Path Map of Idaho
For the first time since 1918, a total solar eclipse will trace its way through the contiguous US and will travel from the Pacific to the Atlantic coast. This much-awaited event will take place on August 21st, 2017. The sun will be completely blocked out and cities and towns in the path of totality will experience darkness even during the day. After Oregon, the next state that falls in the path of totality of this eclipse is Idaho. The duration of the total eclipse in Idaho is between 1 minute and 2 minutes and 21 seconds, depending on the place of viewing.  The eclipse will be visible between 11:27 am MDT and 11:35 am MDT in various parts of Idaho. Predictions of clear weather make it a popular destination for eclipse chasers.
Best Places to view the Total Solar Eclipse 2017 in Idaho
The following cities, towns, and communities of Idaho will be in the path of totality of this Great American Eclipse –
Arco
Cascade
Challis
Driggs
Dubois
Hamer
Idaho Falls
Ketchum
Mackay
Menan
Midvale
Mud Lake
Payette
Rexburg
Shelley
Smith's ferry
St. Anthony
Stanley
Sun Valley
Tetonia
Victor
Weiser
Cities and towns such as McCall, Rupert, Blackfoot, Boise (capital of Idaho), and Nampa are beyond the path of totality and may witness only a partial eclipse. Crossing over to Idaho through the Snake River Valley, the total eclipse steers clear of the northern parts of the state. If you are going to near any of the following towns or cities, you may want to move closer to the path of totality to be able to witness the eclipse –
Bonner's ferry
Cottonwood
Craig Mont
Downey
Hayden
Kamiah
Kellog
Lewiston
Malad City
Potlatch
Preston
Rogerson
Sandpoint
St. Marines
Wallace
The three major airports that serve the communities that lie on the path of totality are –
Boise Airport (Boise)
Friedman Memorial Airport (Hailey)
Idaho Falls Regional Airport (Idaho Falls)
Here are some of the important attractions of Boise which you may want to look up when in Idaho –
Idaho State Capitol Building
Kathryn Albertson Park
Ann Morrison Park
World Center for Birds
Basque Museum and Cultural Centre
Old Idaho Penitentiary
And here are a few attractions of Nampa, one of the biggest cities in Idaho –
Warhawk Air Museum
Canyon County Historical Museum
Ford Idaho Center
Wilson Springs Ponds
Related Maps: