What are the best places in the US to view total Solar Eclipse 2017?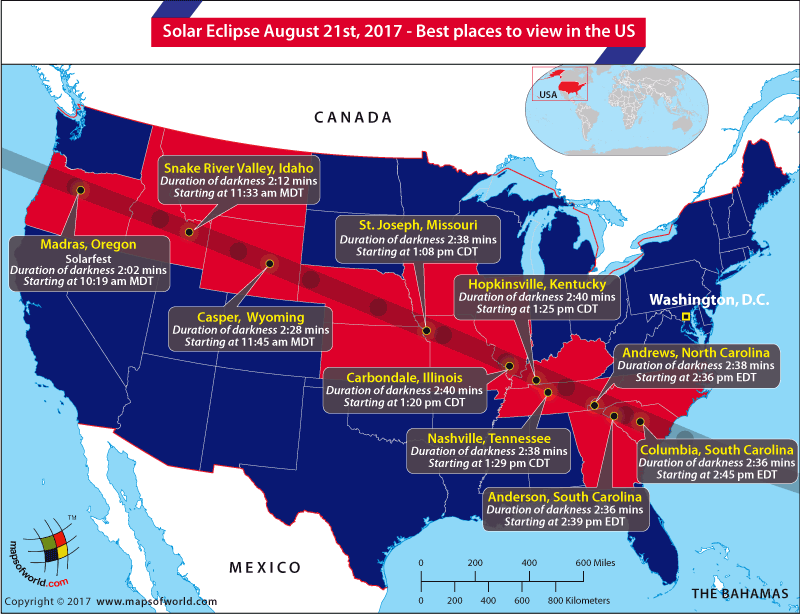 Map of USA – Best places to view Solar Eclipse 2017
The Great American Eclipse, the total solar eclipse that will take place on August 21st, 2017, is the first that will be visible from the United States since 1991. It is the first that will trace a path of totality throughout the contiguous United States since 1979. It is a highly anticipated event that is expected to bring eclipse chasers from all over the world to the US. Though partially visible from many parts of the Americas and Europe, the total eclipse will only be visible from some parts of the US.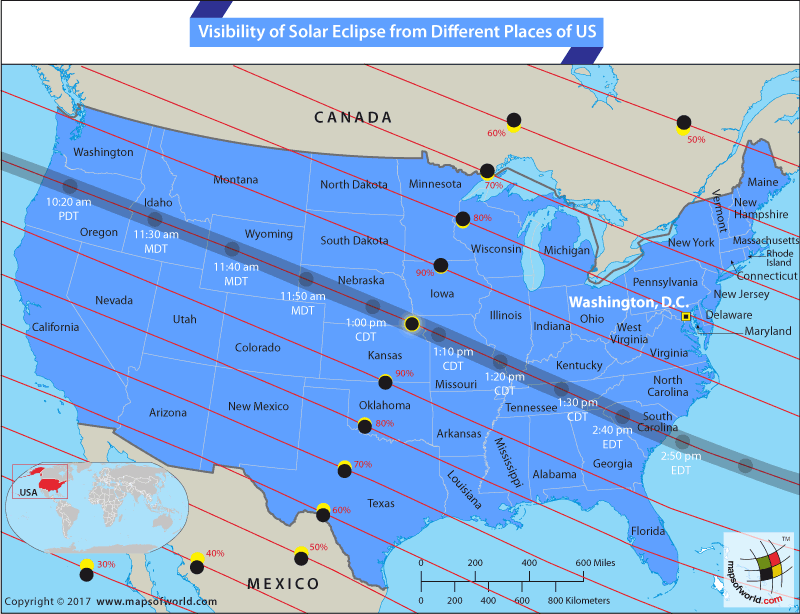 Here are some of the best places to experience the total solar eclipse –
Madras, Oregon – Madras, is right on the path of totality and will experience 2.02 minutes of darkness starting 10:19 am MDT.  Madras is holding Solarfest, an eclipse viewing event.
Snake River Valley, Idaho – Snake River Valley is a great place to view the eclipse from both due to its position in the path of totality and due to the prospects for clear skies on August 21st. The longest duration in the shadow will be 2:12 minutes starting 11:33 am MDT.
Casper, Wyoming – For about 2:28 minutes, starting at 11:45 MDT Casper in Wyoming will be plunged into darkness due to the total solar eclipse. Local events should make the experience an unforgettable one.
St. Joseph, Missouri – St. Joseph in Missouri will experience 2:38 minutes of total eclipse starting at 1:08 pm CDT
Carbondale, Illinois – Though the path of totality of the eclipse will pass through a relatively small area in Illinois, Carbondale is quite near the center and you may view the total eclipse for 2:40 minutes starting 1:20 pm CDT.
Hopkinsville, Kentucky – Hopkinsville in Kentucky is being called the "point of greatest eclipse". Total eclipse starts at 1:25 pm CDT and will last about 2:40 minutes.
Nashville, Tennessee –The capital of Tennessee, Nashville, is near the center of the path of totality. Those who head to Nashville can view the total eclipse for 2:38 minutes starting 1:29 pm CDT.
Andrews, North Carolina – The total eclipse passes through the southwestern fringes of North Carolina. Camping in the Great Smoky Mountains National Park or visiting Andrews at the foothills may be your best choice here. The total eclipse will last for 2:38 minutes from 2:36 pm EDT.
Anderson, South Carolina – Finally, the total eclipse reaches South Carolina on its coast to coast journey. Expect the total eclipse at 2:39 pm EDT for 2:36 minutes.
Columbia, South Carolina – Columbia in South Carolina will experience total eclipse for 2:36 minutes from 2:45 pm EDT.
Related Maps: