Where are the Best Places in Georgia to view the Total Solar Eclipse 2017?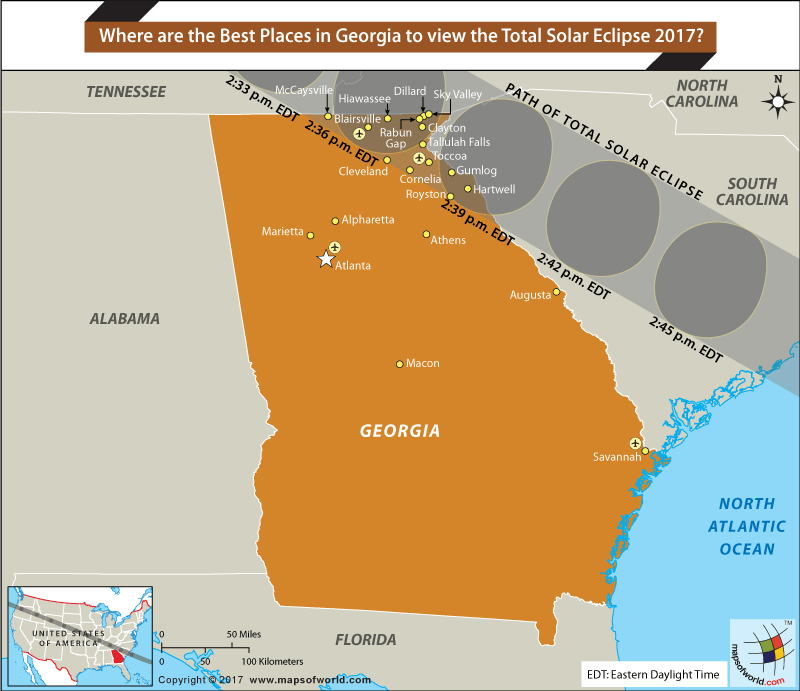 The Great American Eclipse is a total solar eclipse that will be visible from many parts of the United States. Eclipse chasers from all over the world are likely to land in the US to witness this phenomenal journey of the eclipse on August 21st, 2017. Its nearly 99 years ago, in 1918 that the last total solar eclipse made its way across the entire contiguous states.
While a partial eclipse is likely to be visible from almost all parts of the country, Georgia is one of the states in which very few counties lie on the path of the total eclipse. This path of totality runs through the northeastern fringes of the state giving central, western and southern Georgia a miss.
Best Places to view the Total Solar Eclipse 2017 in Georgia
Some of the primary communities and cities that fall on the path of totality include:
Blairsville
Clayton
Cleveland
Cornelia
Dillard
Gumlog
Hartwell
Hiawassee
McCaysville
Rabun Gap
Royston
Sky Valley
Tallulah Falls
Toccoa
This means that if you are located in any of the major cities such as Atlanta, Savannah, Augusta, Marietta, Athens, Alpharetta, and Macon, you may want to move into the path of totality to be able to witness the beauty of a total solar eclipse.
The total eclipse of the sun will first enter the state of Georgia at 2:34 pm EDT and will leave the state at 2:40 pm EDT. Communities towards the outer edge of the path of totality may be able to see the eclipse for a minute. Blairsville will experience 2 minutes of total darkness and Clayton is almost at the center of the path of the eclipse, making it likely to witness 2 minutes and 35 seconds of darkness. Long term weather predictions seem good for eclipse watchers in Georgia but it would be wise to check short term weather warnings to ascertain the best place to catch the eclipse from.
The Hartsfield-Jackson Atlanta International Airport (Atlanta) is an important airport connecting the path of total eclipse in Georgia.
Related Maps: