What are the World's Top 10 Airlines of 2018?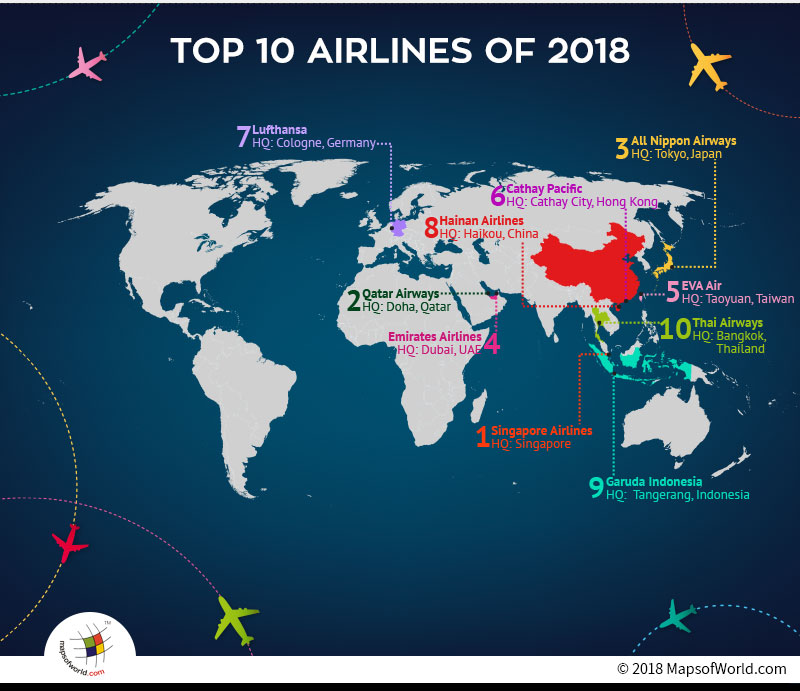 One of the most prestigious 'World Airline Awards' ceremony was organized by Skytrax on July 17th, 2018. It was held at the Langham Hotel in London to declare the results for the best airlines of the year. These awards are also referred as the 'Oscars' of aviation industry.
Travelers from all around the world vote in the survey conducted to determine the passenger satisfaction. All costs of the Survey and Awards are paid by Skytrax itself and the entry or registration of airlines is at no cost. This year, 335 airlines were featured in the results and we bring you the list of the top ten airlines, ranked one to ten.
Singapore Airlines
Hub: Singapore Changi Airport
Headquarters: Airline House
Singapore Airlines emerged as the winner in 2018, making them a four time winning of the award.
The consistency of the airlines is appreciated the most by its customers. It has only been one year that the airline introduced its new first-class suites as well.
Qatar Airways
Hubs: Hamad International Airport
Headquarters:   Qatar Airways Towers, Doha, Qatar
The airline links about 150 international destinations, covering all the continents. Established only in the year 1993, Qatar has more than 43,000 employees and has been a member of Oneworld Alliance since 2013.
ANA All Nippon Airways
Hubs: Tokyo–Narita, Tokyo–Haneda
Headquarters:   Shiodome City Center, Minato, Tokyo, Japan
Founded in year 1952, the airline has 41,930 employees, as of March, 2018. It covers 97 destinations and has a fleet size of 221 passenger planes.
Emirates Airlines
Hub: Dubai International Airport
Headquarters: Garhoud, Dubai, United Arab Emirates
The Dubai-based Emirates Airlines was founded in 1985 and it grabbed the fourth spot. Reaching 143 destinations, Emirates is the largest airline in the Middle East, with a fleet size of 255.
EVA Air
Hubs: Taipei–Taoyuan, Taipei–Songshan
Headquarters: Luzhu, Taoyuan City, Taiwan
EVA Air was one of the first to introduce premium economy class. This Taiwanese airline currently covers 40 destinations in Australia, Asia, North America, and Europe. Founded in 1991, the EVA Air has a fleet size of 74.
Cathay Pacific
Hub: Hong Kong
Headquarters: Cathay City, Hong Kong International Airport, Chek Lap Kok, Hong Kong
Hong Kong's flag-ship carrier Cathay Pacific ranked sixth in the World Airline Awards. Founded in 1946, it is claimed to be world's tenth largest airline in terms of sales. Covering 77 destinations, the airline has a fleet size of 145.
Lufthansa
Hubs: Frankfurt Airport, Munich Airport
Headquarters: Cologne, Germany
Lufthansa is the largest airline in Europe and covers whopping 220 destinations and has a fleet size of 279. Founded in 1955, the airline has 129,424 employees.
Hainan Airlines
Hubs: Beijing, Haikou
Headquarters: No. 7 Guoxing Avenue, Meilan District, Haikou, Hainan
In China, Hainan is the fourth largest airline in terms of fleet size, with the number being 208. Comparatively, a younger airline amid the top ten, Hainan was founded in 1993, and still covers 113 destinations including the subsidiaries.
Garuda Indonesia
Hubs: Soekarno–Hatta International Airport, Ngurah Rai International Airport, Sultan Hasanuddin International Airport, Kualanamu International Airport
Headquarters: Soekarno–Hatta International Airport, Tangerang, Banten, Indonesia
National airline of Indonesia, the airline commenced operations in 1949 and covers 90 destinations, out of which 22 are international. The airlines carries more than 25 million passengers annually.
Thai Airways
Hubs: Bangkok–Suvarnabhumi, Phuket
Headquarters: Chatuchak, Bangkok, Thailand
Grabbing the very last spot in world's top ten airlines of 2018 is Thai Airways, which was founded 58 years ago in 1960. The airline covers 91 destinations and has a fleet size of 82.
Know more:
Related Maps and Info: