What countries have won the World Taekwondo Championships?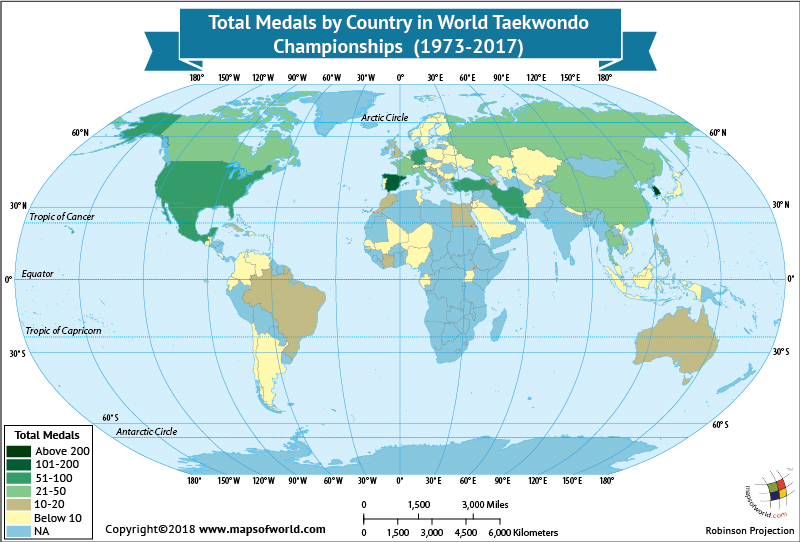 A popular form of martial arts, Taekwondo developed in Korea during the 1940s and 50s. The word 'taekwondo' was formally adopted in 1955 and today Taekwondo is practiced around the world.
Taekwondo includes a number of techniques such as jumping, spinning kicks, head-height kicks, and fast kicking. Taekwondo combines the traditional Korean martial arts, Chinese martial arts, along with Karate.
In addition to Judo, Taekwondo is the other Asian sport that has been a part of the Olympics since 2000. It was also included in the Commonwealth Games in 2010. A number of tournaments are held in Taekwondo, and one of the most popular of these is the World Taekwondo Championship, organized by the World Taekwondo Federation every two years.
The inaugural World Taekwondo Championships was held in Seoul, South Korea in 1973. Since then, the tournament is being hosted all around the world. South Korea has been the most successful nation in Taekwondo, winning a total of 232 medals. Spain is the second most successful nation with 109 medals, while the United States occupies the third spot with a total of 83 medals to date.
Chinese Taipei (Taiwan), Turkey, Mexico, Iran, and Germany have also done quite well at the World Taekwondo Championships winning 80, 65, 64, 54, and 51 medals respectively.
Countries whose medal tally is in between 21 and 50 are; China, France, Russia, the Netherlands, Canada, Thailand, and Italy.
Great Britain, Australia, Egypt, Ivory Coast, Cuba, Brazil, Greece, Azerbaijan, Denmark, the Philippines, Croatia, and Morocco have managed to win between 10 and 20 medals.
Other nations have won a handful of medals, specifically less than ten, and some include; Japan, Sweden, Vietnam, Belgium, Afghanistan, Saudi Arabia, and Colombia to name a few.
 
Know more about world sports:
Related Maps: