What is the US Open controversy about Serena Williams?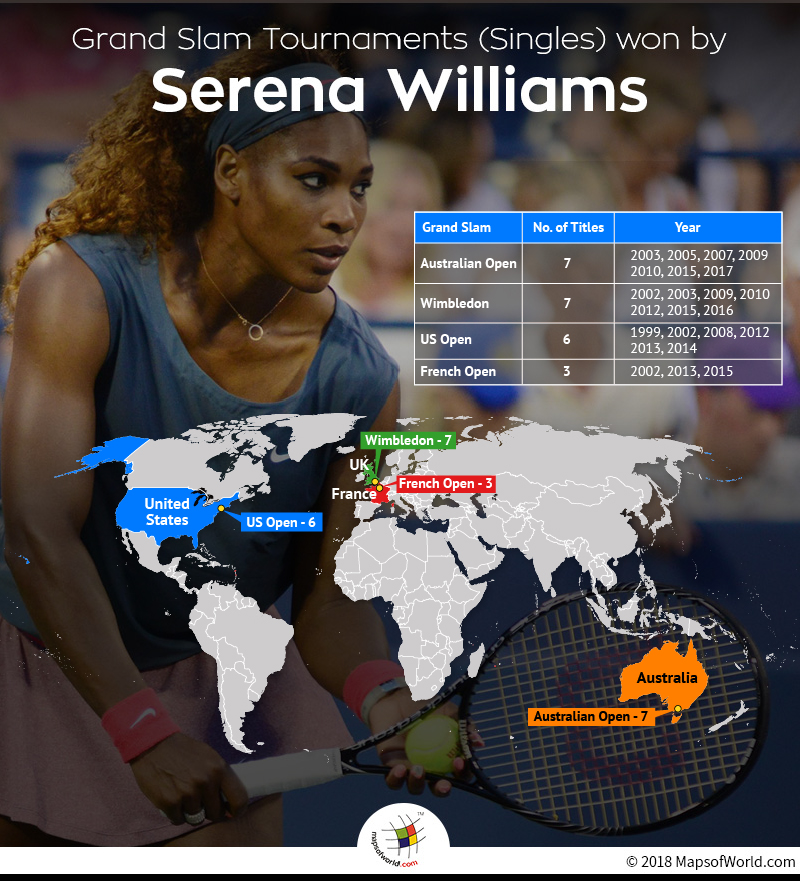 In the US Open 2018, Serena Williams, the 23-time Grand Slam champion, had an outburst at the umpire of the final match, and was given a game penalty. Followed by her racquet smashing and another code violation, the match resulted in the first final victory of Naomi Osaka of Japan. Serena was fined a total of US $17,000. The game was one of the most controversial Grand Slam finals in history.
When the 20-year-old Osaka beat her in the 2018 final, much of the attention was on the argument that erupted between the umpire Carlos Ramos and Williams. Even though, Osaka had a fantastic tournament, many people were focused on blaming the umpire for being unfair to Serena Williams and she herself alleged that she was faced sexism. But Williams was still gracious and hailed the new champion, Naomi Osaka.
Serena Williams is an American professional tennis player, who has been ranked No.1 eight times between the 2002 and 2017. She stands second for winning the greatest number of medals in the Open Era of Women's Tennis Association. A record has been set by her for winning 13 Grand slam singles in the hard court. Williams is known for a great pace and placement in her serves. Her peak serve speed has been clocked at 128.6 mph, which is also the one of the fastest serves of all time amid women players. Despite being a woman of fame, she faced sexism in this realm of life.
Serena Williams was born September 26, 1981, in Michigan, USA, and she was only nine when her family moved to Florida, so that she could attend the tennis academy of Rick Macci. Her father Richard Williams, who is currently an American tennis coach, witnessed his daughters dealing with racism and thus, stopped sending them to academy within few years. He continued coaching his daughters Serena and Venus from home.
It is known that one cannot be an achiever without facing a number of losses. Being high spirited, Williams decided to become a professional only at the age of 14 in 1995, but at some tournaments she was unable to clear the age eligibility rules, while in others she lost to an elder competitor. It was in 1998 Australian Open that Williams made her debut in the main draw. Gradually, she kept improving her performance and won her first woman's single final in 1999 US Open against Lindsay Davenport. What came next was exceptional performances in both doubles and singles matches of Grand Slam.
The final of US Open 2018 was not the first time Serena got stuck in the middle of controversies. She has been a part of rumors regarding match fixing in the 2000 Wimbledon. She has been observed being aggressive, either with her words or by slamming her racquet on the ground. Irrespective of which, she still has a huge fan base all around the world who cheer her and show her support. Serena Williams might have lost her to-be-24th Grand Slam win, she continues to hold a strong ground in women's Tennis.
Below lying table mentions her victories in Grand Slam (Singles) Tournaments: 
Grand Slam Singles results

Australian Open
French Open

Year

Against

Location

Year

Against

Location

2003
Venus Williams
Melbourne Park in Melbourne, Australia
2002
Venus Williams
Stade Roland Garros in Paris, France
2005
Lindsay Davenport
Melbourne Park in Melbourne, Australia
2013
Maria Sharapova
Stade Roland Garros in Paris, France
2007
Maria Sharapova
Melbourne Park in Melbourne, Australia
2015
Lucie Šafářová
Stade Roland Garros in Paris, France
2009
Dinara Safina
Melbourne Park in Melbourne, Australia
2010
Justine Henin
Melbourne Park in Melbourne, Australia
2015
Maria Sharapova
Melbourne Park in Melbourne, Australia
2017
Venus Williams
Melbourne Park in Melbourne, Australia
Wimbledon
US Open

Year

Against

Location

Year

Against

Location

2002
Venus Williams
Wimbledon suburb of London, United Kingdom
1999
Martina Hingis
USTA Billie Jean King National Tennis Center, New York City
2003
Venus Williams
Wimbledon suburb of London, United Kingdom
2002
Venus Williams
USTA Billie Jean King National Tennis Center, New York City
2009
Venus Williams
Wimbledon suburb of London, United Kingdom
2008
Jelena Janković
USTA Billie Jean King National Tennis Center, New York City
2010
Vera Zvonareva
Wimbledon suburb of London, United Kingdom
2012
Victoria Azarenka
USTA Billie Jean King National Tennis Center, New York City
2012
Agnieszka Radwańska
Wimbledon suburb of London, United Kingdom
2013
Victoria Azarenka
USTA Billie Jean King National Tennis Center, New York City
2015
Garbiñe Muguruza
Wimbledon suburb of London, United Kingdom
2014
Caroline Wozniacki
USTA Billie Jean King National Tennis Center, New York City
2016
Angelique Kerber
Wimbledon suburb of London, United Kingdom
Know more:
Related maps: