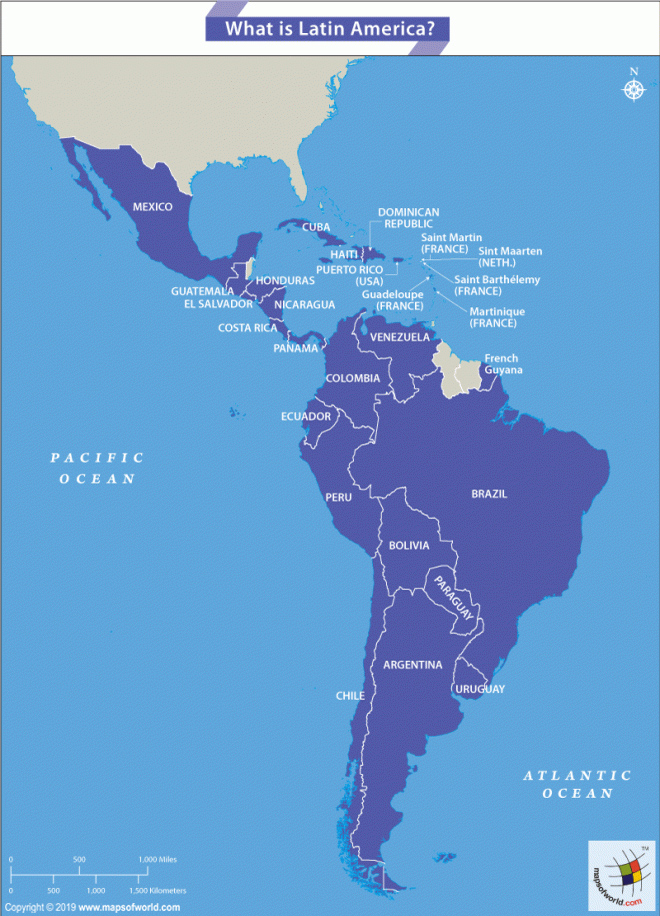 The name Latin America is used to refer to a group of countries and dependencies in the Americas where the Romance languages are predominantly spoken. Quite often, the term Latin America is mistakenly used to collectively refer to the countries in the South American continent. The problem with this reference is that it excludes Mexico which is one of the important Latin American countries. Though geographically located in North America, Mexico's cultural and linguistic affinity with other South American nations such as Brazil and Colombia ensure its addition to the family of Latin American countries.
Latin America and the Caribbean are considered one composite sub-region by the United Nations geo-scheme for the Americas. This sub-region is further divided into –
The Caribbean
Central America
South America
Here's a list of the countries that belong to Latin America and the language spoken in them:
Country/Dominion
Capital
Language(s) Spoken
Argentina
Buenos Aires
Spanish
Bolivia
La Paz (seat of government)
Spanish
Sucre (constitutional capital)
Quechua
Aymara
Brazil
Brasília
Portuguese
Chile
Santiago
Spanish
Colombia
Bogotá
Spanish
Costa Rica
San José
Spanish
Cuba
Havana
Spanish
Dominican Republic
Santo Domingo
Spanish
Ecuador
Quito
Spanish
El Salvador
San Salvador
Spanish
French Guiana (France)
Cayenne
French
Guadeloupe (France)
 Basse-Terre
French
Guatemala
Guatemala City
Spanish
Haiti
Port-au-Prince
French
Honduras
Tegucigalpa
Spanish
Martinique (France)
Fort-de-France
French
Mexico
Mexico City
Spanish
Nicaragua
Managua
Spanish
Panama
Panama City
Spanish
Paraguay
Asunción
Spanish
Peru
Lima
Spanish
Quechua
Aymara
Puerto Rico (USA)
San Juan
Spanish
Saint Barthélemy (France)
Gustavia
French
Saint Martin (France and Netherlands)
Marigot
French
Dutch
Uruguay
Montevideo
Spanish
Venezuela
Caracas
Spanish
It is believed that the term Latin America was coined by the French emperor Napoleon III in the mid-1800s. In his attempt to conquer parts of South America and expand the imperial colonies of France in the continent, he reached the countries that are now counted among the Latin American nations. He found that most of the people in these parts spoke Portuguese, Spanish, and French (as a result of his conquest) – languages that originated from Latin. To strengthen the cultural similarity between France and these countries (and to provide a natural context for his colonial ambitions) Napoleon called them Latin America. The works of José María Torres Caicedo and Francisco Bilbao Barquín also go to show that the writers of the time suggested some similarity between the people of South America and Europe – people they referred to as the "Latin Race". Spanish and French colonialism may have provided the backdrop for such a thought.
Related Link:
Related Maps: