Are The US And Russia Neighbors?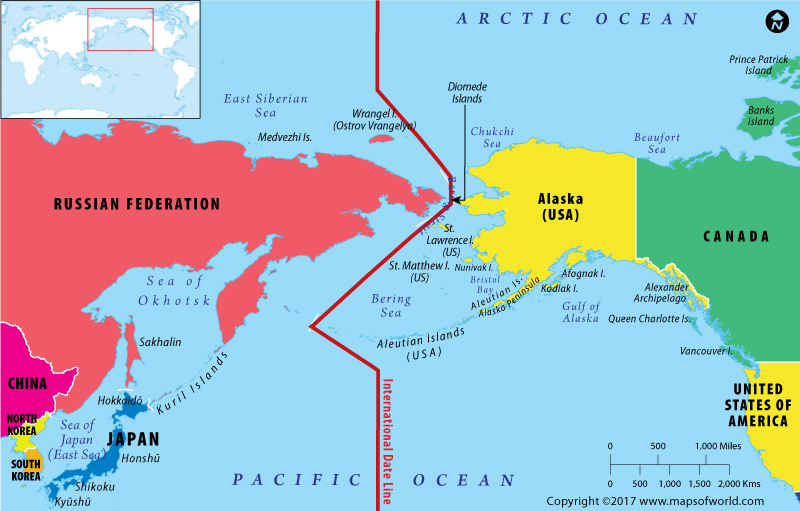 Spread over an area of 6.59 million square miles, Russia is, by far, the largest country in the world. It shares land borders with 14 different countries – Norway and Finland to the northwest, Estonia, Latvia, Lithuania, Poland, Belarus, and Ukraine, to the west, Georgia and Azerbaijan to the southwest, Kazakhstan, Mongolia, China, and North Korea to the south. Russia also shares maritime boundaries with Japan and the United States of America to the east.
This makes Russia and the US neighbors, though the two countries are separated by international waters.
Sarah Palin, the former Governor of Alaska (2006 – 2009) once said about Russia, "They're our next-door neighbors, and you can actually see Russia from land here in Alaska, from an island in Alaska". This is in fact true if we consider that Alaska is separated from Russia by the Bering Strait, a strait in the Pacific Ocean, which is only 55 miles wide at its narrowest point.
Right in the middle of this strait (about two miles apart) are two islands – the Diomede Islands. The one to the east, the Big Diomede Island, is part of Russian territory (Siberia), while the one to the west, Little Diomede, is part of the US state of Alaska. The two islands lie on either side of the International Date Line, though.
It is believed that during the peak winter months when the waters between the two islands freeze, it is possible to walk over from one to the other. It is not certain, however, that anyone would have attempted such a task. During the Cold War, the Siberia-Alaska border was referred to as the 'Ice Curtain'. The two islands on the Bering Strait were heavily militarized at the time, though only a few observation posts remain now.
To understand the proximity between the US and Russia, it is important to look back at the purchase of Alaska itself. The state of Alaska, now an important and integral part of the US, was purchased by the United States from the Tsarist Russian Empire in 1867. The treaty between the US and Russia was ratified by the US Senate on March 30, 1867, and the transfer ceremony was held on October 18 the same year. Most of the Russian population living in Alaska at the time migrated back to the Russian mainland.
Related Links:
Related Maps: