How wide is the United States?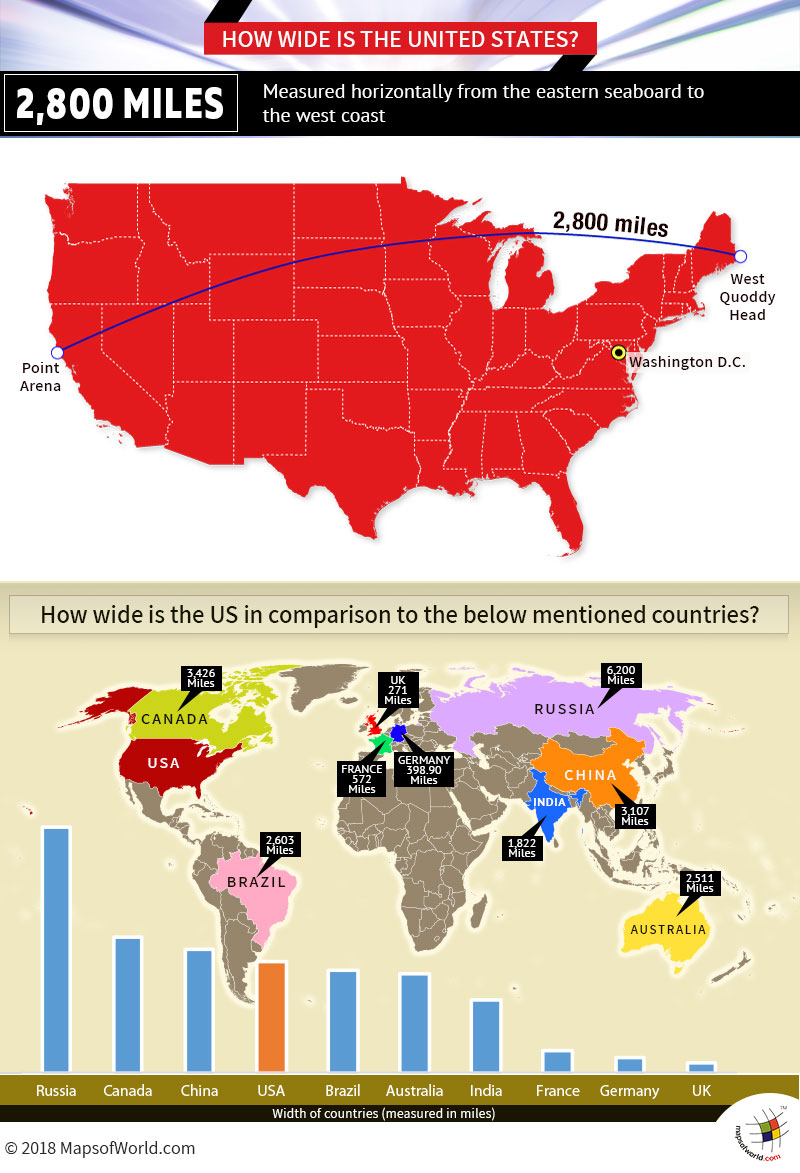 How Big is the USA
Lenght of the United States is 2,800 miles wide when measured horizontally from the eastern seaboard to the west coast (West Quoddy Head in the east to Point Arena in West) and 1,582 miles from north to south. For more informational maps related to USA, check our Thematic Maps section.
| | |
| --- | --- |
| Country     | The approximate horizontal distance (in miles) |
| USA | 2,800 |
| Russia | 6,200 |
| Canada | 3,426 |
| China | 3,107 |
| Brazil | 2,603 |
| Australia | 2,511 |
| India | 1,822 |
| France | 572 |
| Germany | 399 |
| The United Kingdom | 271 |
Only Russia, Canada, and China are wider than the United States. The horizontal distance between the eastern and western borders of Russia is approximately 6,200 miles. Canada is 3,426 miles wide from Cape Spear in the east to the Yukon's border in the west.
China is wider than the U.S. when measured between the Heilong Jiang-Amur River border in the northeast and the Pamir mountains on its western border. China is slightly smaller than Canada in width.
Brazil is smaller in width than the United States, extending 2,603 miles from Recife in the east to Brazil's western border with Peru.
Australia is also slightly smaller in width than the U.S. The horizontal distance between Cape Byron in the east and Steep Point in the west is 2,511 miles.
The U.S. is about two and a half times the size of India, which stands at 1,822 miles wide from its eastern border to the western edge. The distance is around two-thirds of the United States.
The U.S. is four and a half times wider than France, which extends 572 miles from Strasbourg in the east to Brest in the west.
Germany is six times smaller than the U.S., extending 399 miles between the Neisse River in the east to Dusseldorf in the west.
The United States is almost ten times wider than the United Kingdom which extends 271 miles between Ipswich in the east to Wales on the western side.
Visit the following to learn more about the USA:
Related Maps: