What are the popular places to visit in Auckland, New Zealand?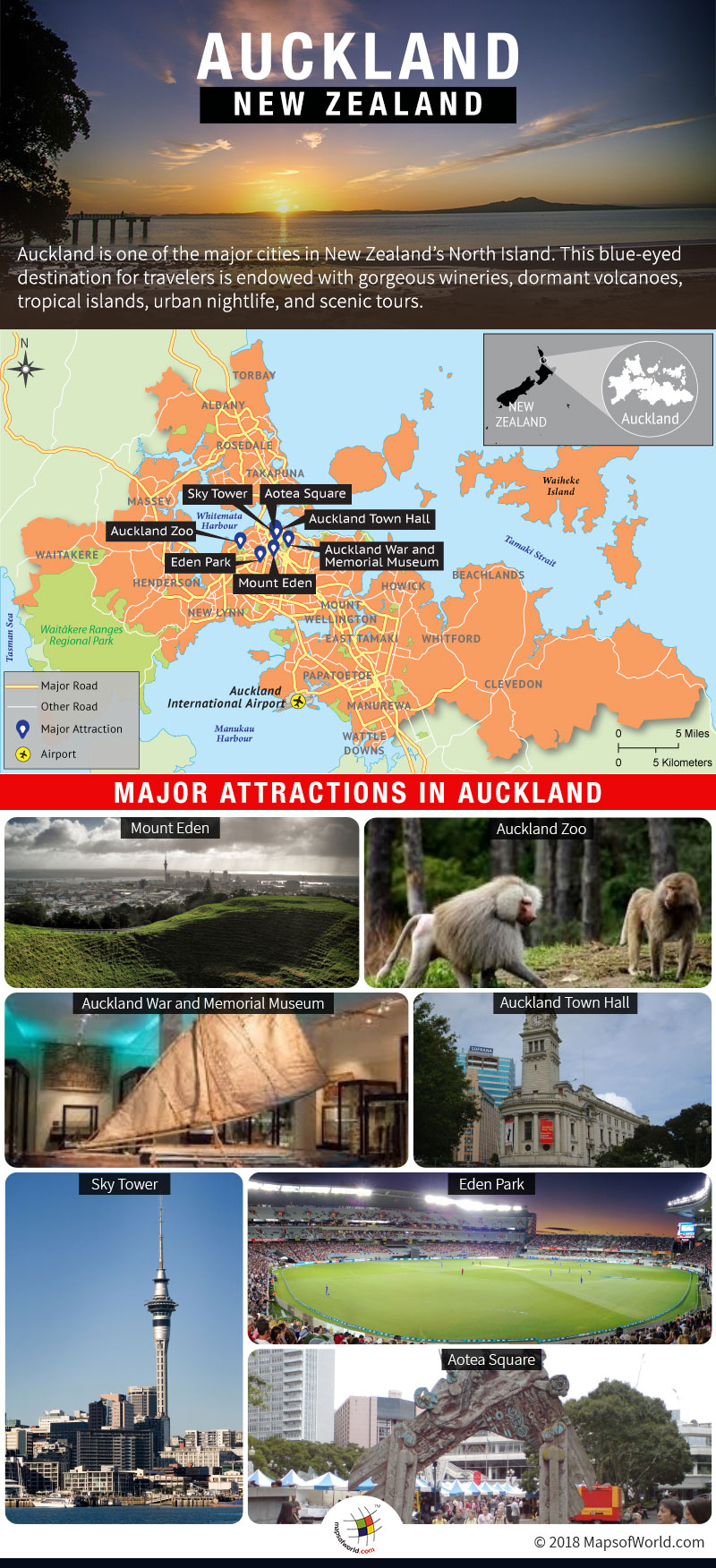 Centuries-old heritage of Maori tribes and an evolving civilization co-exist harmoniously in the city of Auckland. This blue-eyed destination for travelers is endowed with gorgeous wineries, dormant volcanoes, tropical islands, urban nightlife, and scenic tours. From black sand beaches on the West Coast to vineyard restaurants and rainforests, the attractions in the city are not only diverse but also located in proximity to each other.
Facts about Auckland, New Zealand.
Auckland is one of the largest cities in Polynesia in terms of population.

Famous for yachting, Auckland is also called the 'City of Sails.'

The University of Auckland is one of the favorites among international students.

The Auckland Harbour Bridge joins the North Shore with rest of the city's metropolitan area.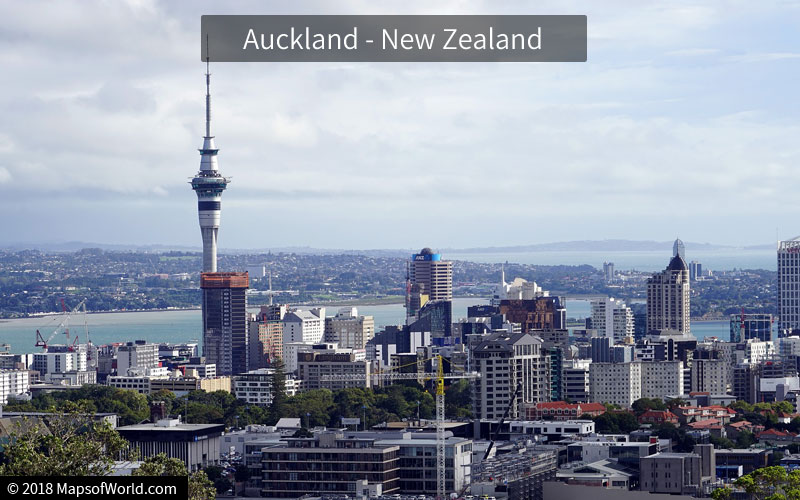 Places to Visit in Auckland
Auckland War Memorial Museum – Its galleries exhibit items reflecting New Zealand's military and natural history. This museum atop the Pukekawa Hill is built in neoclassical style. Culturally significant Maori artefacts and the Cenotaph are the highlights of Auckland War Memorial Museum.
Mount Eden – A dormant volcano with the highest natural point in Auckland, Mount Eden is located about two miles south of the Central Business District (CBD). Visit the suburbs of Mount Eden to explore the Mt. Eden Prison, Mt. Eden Pools, and Marino Gardens.
Eden Park – Renowned for hosting several Rugby and Cricket matches, this is the largest stadium in New Zealand. The stadium attracts sports enthusiasts from all over the world.
Sky Tower – This is an iconic landmark of Auckland city skyline. At 1,076 feet, it is one of the tallest man-made structures in the southern hemisphere. Glass-fronted lifts and observation decks at 630 feet offer an exhilarating 360° view of the city.
Auckland Zoo – Spread over an area of 40 acres, this zoo is home to about 138 animal species. Elephants, sea lions, penguins, and tigers are the prime attractions.
Aotea Square – It is a public square in the heart of central Auckland. It hosts special events, festivals, parades, and rallies around the year. Bronze statues of local officials and fountain are the key features of this square.
Auckland Town Hall – Located on Queen Street and adjacent to Aotea Square, it is one of the most prominent buildings in the city. The Town Hall Organ in the building is one of the most beautiful musical instruments.
Things to Do in Auckland
Embark on Art & Heritage Tours – Join a guided day tour to discover galleries and gardens showcasing Maori taonga. Stroll through Auckland Botanic Gardens and explore New Zealand Maritime Museum and Connells Bay Sculpture Park to get an understanding of local traditions.
Get the Taste of Adventure – Experience bungee jumping from Auckland Harbour Bridge and Sky Towers. Go canyoning, canoeing, and abseiling in national parks nearby. Mount Eden and One Tree Hill are the ideal destinations for hikers, trekkers, and cyclists.
Indulge in Water Sports – Quench your thirst for swimming, surfing, sailing, scuba diving, and fishing on the black sand beaches. Within an hour's drive from Auckland lies the Orewa Beach, Piha Beach, and Oneroa Beach.
Experience Wildlife Safaris – There's no dearth of land and marine creatures in New Zealand. Take a cruise from downtown Auckland to witness marine life featuring dolphins, penguins, and different types of whales. To enjoy birdwatching and encounter Kiwis, visit any one of the national parks in the city.
Try Skiing and Snowboarding – Snowplanet is an indoor ski resort located around 20 miles north of the city. It is the first indoor snow facility in New Zealand.
Go for Shopping – Britomart is one of the busiest shopping hubs in Auckland. Bars, cafes, boutiques, and local farmers' market draw a lot of shoppers to the city. You can also shop at Takapuna, Devonport, Victoria Park Market, and Ponsonby.
Paragliding and Waiheke Island wine tours should find a place in your travel itinerary.
How to Reach Auckland?
By Air – Auckland International Airport is the largest and busiest airport in New Zealand. Airbus Express runs buses between Auckland Airport and the city center. It is a 24-hour service. You can reach the city either via Mt. Eden Road or Dominion Road.
By Road – State Highway 1 passes through Auckland and connects the city with other towns of the North Island. The Central Motorway Junction, also known as 'Spaghetti Junction', is the intersection of State Highway 1 and State Highway 6.
By Train – Auckland has three major train stations – Eastern, Western, and Southern, with two branches to Manukau and Onehunga. Britomart Transport Center is the terminal station for all train lines.
By Water – Auckland Ferry Terminal is the hub of the ferry system that connects central Auckland with nearby island and suburban areas.
Best time to visit Auckland
Warm weather between November and April is perfect for outdoor activities. If you can avoid visiting high-altitude destinations, any time of the year is suitable for a visit.
Accommodations in Auckland
When you are in Auckland, you can choose from several luxury hotels such as Skycity Grand Hotel, Hotel DeBrett, and Cordis. For mid-range hotels, Parnell Inn, Alpers Lodge & Conference Centre, and Kiwi International Hotel are good options. City Travellers Auckland, JUCY Snooze, and Queen Street Backpackers are popular budget accommodations.
Restaurants
From ancient Hāngi methods to modern Kūmara, Maori people love their food as much as they love their culture. Treat yourself at Harbourside Ocean Bar Grill, Clooney Restaurant, Cafe Hanoi, and Kazuya Restaurant. Queen Street, Beach Road, Quay Street, and Saturday morning markets of Otara have some of the top contemporary eateries in Auckland.
Know more:
Related Maps: