What countries have the highest death rate due to diarrhoea?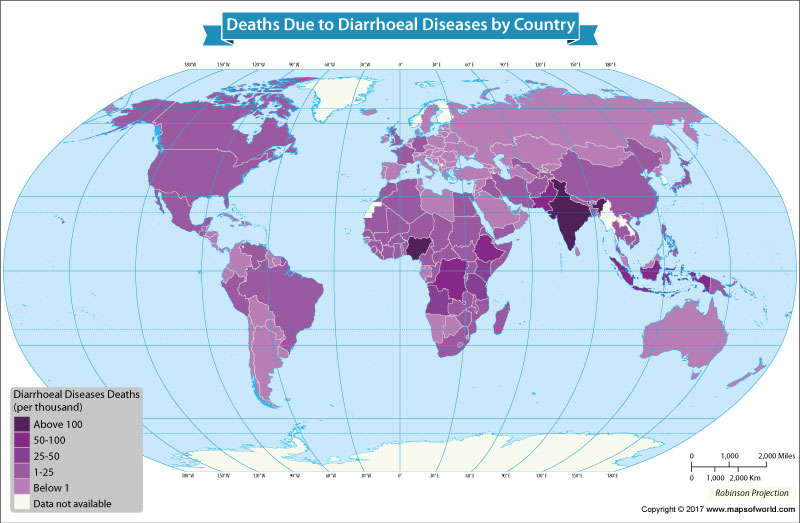 Every year millions of deaths occur around the world due to diarrhoeal diseases. According to estimates, there are some 1.7 billion cases of diarrhoeal diseases every year with some 760,000 children under the age of five falling prey to the disease. It is also the main cause of malnutrition among children aged below five years.
Diarrhoea can be defined as a condition of having, at least, three loose liquid bowel movements every day. This condition may last for a couple of days and may cause dehydration, which occurs due to the loss of fluid from the body. Deaths are mainly reported from severe dehydration. However, diarrhoeal diseases can be prevented through safe drinking water facilities and maintaining adequate hygiene such as washing hands with soap.
According to a World Health Organization data,  India  had the highest number of deaths due to diarrhoeal diseases. In 2015, India reported 431.18 deaths per 1,000 people. The second worst affected country was Nigeria. The African nation reported 186.22 deaths per 1,000 people.
Indonesia, which occupied the third place, did not fare as badly as India and Nigeria. Indonesia reported 66.26 deaths per 1,000 people. Other nations, which reported more than 20 deaths per 1,000, were Tanzania, Kenya, Angola, Congo,  Ethiopia  and Pakistan.
Deaths due to diarrhoeal diseases were low in the European nations due to better hygiene conditions and safe drinking water facilities. According to the World Health Organization data, Germany witnessed 5.96 deaths per 1,000 people in the year 2015, the highest among the European nations.
Countries such as  Montenegro, Estonia, Macedonia, Qatar,  Bahrain, among others, witnessed a 0 death per 1,000 people.
Know more:
Related maps: