An Insight Into the Number of Deaths From Skin Diseases
Next Story
A Look at the Value of Pesticides That Nations Imported in 2014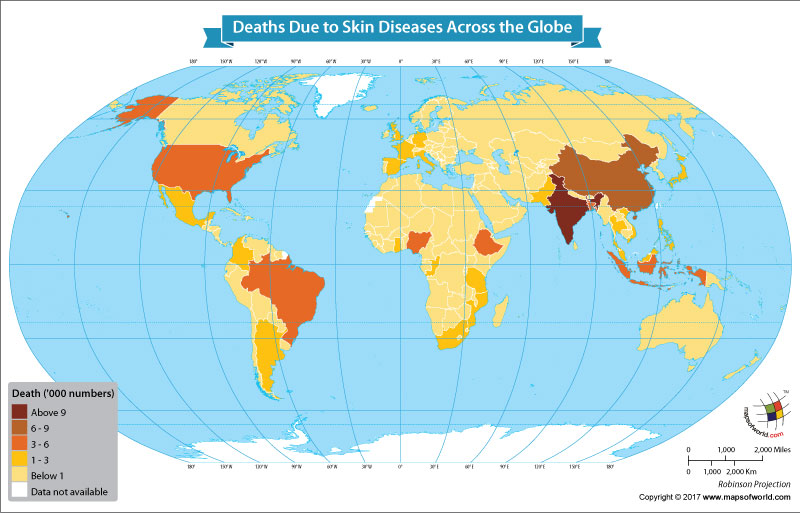 If you have a theme, we have a map.
Contact us for your custom mapping requirements
Skin is one of the most important as well as the largest organ of the human body. The skin is the body's outer covering and protects the ligaments, muscles, bones, as well as the internal organs. Apart from regulating the body temperature, it also allows sensations such as heat, cold, touch etc. However, as is the case with every other organ of the human body, skin may also be at times exposed to diseases, which may vary in symptoms and severity. While some skin diseases may be temporary, others may be permanent. A few skin diseases can also be life-threatening and claim thousands of lives every year. Examples of skin diseases are moles, chickenpox, eczema, psoriasis, warts, skin cancer etc.
According to a data by the World Health Organization, in 2015, skin diseases claimed the largest number of lives in India. An estimated, 11,200 people died from skin diseases in the country during the year. China came at the second place witnessing some 7,000 deaths from skin diseases in 2015. Brazil, with 4,800 deaths was the third most affected nation. The United States is also placed at the top of the table. At the fourth place, the country saw 4,600 people dying from skin diseases in 2015. Other nations which witnessed more than 3,000 deaths were Ethiopia, Nigeria, Indonesia, and Bangladesh.
Nations where between 1,000 and 3,000 people had died from skin diseases in the year 2015 were Pakistan, South Africa, Germany, Argentina, Tanzania, Japan, Italy, Malaysia, France, Spain, and other nations.
Meanwhile, a large number of nations either witnessed few deaths from skin diseases or almost no deaths at all. Some nations where less than 1,000 people had died from the disease were Uganda, Egypt, South Korea, Saudi Arabia, Afghanistan, the Netherlands, Sudan, Sweden, Iraq etc. but, there are some countries where skin diseases are virtually non-existent. Some of these nations are United Arab Emirates, Oman, Swaziland, Barbados, Georgia, Kuwait, Macedonia, Mongolia, Russia, and some other countries.
The table below will provide you information on the number of deaths due to skin diseases in each nation around the world.
| Country | Death ('000) |
| --- | --- |
| India | 11.2 |
| China | 7.0 |
| Brazil | 4.8 |
| United States of America | 4.6 |
| Ethiopia | 3.4 |
| Nigeria | 3.3 |
| Indonesia | 3.2 |
| Bangladesh | 3.1 |
| Mexico | 2.2 |
| Pakistan | 2.0 |
| South Africa | 2.0 |
| United Kingdom | 1.9 |
| Philippines | 1.9 |
| Japan | 1.8 |
| United Republic of Tanzania | 1.6 |
| Argentina | 1.5 |
| Germany | 1.5 |
| Colombia | 1.4 |
| Spain | 1.4 |
| France | 1.3 |
| Vietnam | 1.2 |
| Mozambique | 1.2 |
| Italy | 1.1 |
| Ghana | 1.1 |
| Thailand | 1.0 |
| Democratic Republic of the Congo | 1.0 |
| Malaysia | 1.0 |
| Uganda | 0.9 |
| Kenya | 0.8 |
| Myanmar | 0.8 |
| Burkina Faso | 0.7 |
| Algeria | 0.6 |
| Angola | 0.6 |
| Saudi Arabia | 0.6 |
| Republic of Korea | 0.5 |
| Israel | 0.5 |
| Egypt | 0.5 |
| Zimbabwe | 0.5 |
| Côte d'Ivoire | 0.5 |
| Cameroon | 0.5 |
| Madagascar | 0.5 |
| Australia | 0.5 |
| Malawi | 0.5 |
| Zambia | 0.5 |
| Canada | 0.4 |
| Morocco | 0.4 |
| Tunisia | 0.4 |
| Peru | 0.4 |
| Afghanistan | 0.3 |
| Burundi | 0.3 |
| Turkey | 0.3 |
| Belgium | 0.3 |
| Rwanda | 0.3 |
| Netherlands | 0.3 |
| Chile | 0.3 |
| Sudan | 0.3 |
| South Sudan | 0.3 |
| Somalia | 0.2 |
| Nepal | 0.2 |
| Bolivia | 0.2 |
| Iran | 0.2 |
| Uruguay | 0.2 |
| Cuba | 0.2 |
| Chad | 0.2 |
| Mali | 0.2 |
| Sweden | 0.2 |
| Senegal | 0.2 |
| Czech Republic | 0.2 |
| Iraq | 0.2 |
| Niger | 0.2 |
| Benin | 0.2 |
| Democratic People's Republic of Korea | 0.2 |
| Slovakia | 0.2 |
| Yemen | 0.2 |
| Poland | 0.2 |
| Jamaica | 0.2 |
| Papua New Guinea | 0.1 |
| Singapore | 0.1 |
| Guinea | 0.1 |
| Ecuador | 0.1 |
| Portugal | 0.1 |
| Eritrea | 0.1 |
| Panama | 0.1 |
| Hungary | 0.1 |
| Norway | 0.1 |
| Sierra Leone | 0.1 |
| Switzerland | 0.1 |
| Lebanon | 0.1 |
| Togo | 0.1 |
| Haiti | 0.1 |
| New Zealand | 0.1 |
| Costa Rica | 0.1 |
| El Salvador | 0.1 |
| Serbia | 0.1 |
| Cambodia | 0.1 |
| Guatemala | 0.1 |
| Central African Republic | 0.1 |
| Romania | 0.1 |
| Congo | 0.1 |
| Sri Lanka | 0.1 |
| Libyan Arab Jamahiriya | 0.1 |
| Jordan | 0.1 |
| Mauritania | 0.1 |
| Paraguay | 0.1 |
| Syrian Arab Republic | 0.1 |
| Latvia | 0.1 |
| Namibia | 0.1 |
| Austria | 0.1 |
| Trinidad and Tobago | 0.1 |
| Denmark | 0.1 |
| Botswana | 0.1 |
| Greece | 0.1 |
| Lesotho | 0.1 |
| Nicaragua | 0.1 |
| Gabon | 0.0 |
| Liberia | 0.0 |
| Cyprus | 0.0 |
| Dominican Republic | 0.0 |
| Ireland | 0.0 |
| Lao People's Democratic Republic | 0.0 |
| Mauritius | 0.0 |
| Bulgaria | 0.0 |
| Djibouti | 0.0 |
| United Arab Emirates | 0.0 |
| Oman | 0.0 |
| Swaziland | 0.0 |
| Lithuania | 0.0 |
| Republic of Moldova | 0.0 |
| Uzbekistan | 0.0 |
| Comoros | 0.0 |
| Honduras | 0.0 |
| Suriname | 0.0 |
| Gambia | 0.0 |
| Finland | 0.0 |
| Fiji | 0.0 |
| Russian Federation | 0.0 |
| Equatorial Guinea | 0.0 |
| Bahamas | 0.0 |
| Guinea-Bissau | 0.0 |
| Malta | 0.0 |
| Kyrgyzstan | 0.0 |
| Saint Lucia | 0.0 |
| Venezuela | 0.0 |
| Barbados | 0.0 |
| Slovenia | 0.0 |
| Estonia | 0.0 |
| Solomon Islands | 0.0 |
| Georgia | 0.0 |
| Kuwait | 0.0 |
| Mongolia | 0.0 |
| Grenada | 0.0 |
| Bosnia and Herzegovina | 0.0 |
| Bahrain | 0.0 |
| Belize | 0.0 |
| Bhutan | 0.0 |
| Croatia | 0.0 |
| Cape Verde | 0.0 |
| Qatar | 0.0 |
| Timor-Leste | 0.0 |
| Saint Vincent and the Grenadines | 0.0 |
| Samoa | 0.0 |
| Vanuatu | 0.0 |
| Kazakhstan | 0.0 |
| Turkmenistan | 0.0 |
| Tonga | 0.0 |
| Azerbaijan | 0.0 |
| Albania | 0.0 |
| Guyana | 0.0 |
| Antigua and Barbuda | 0.0 |
| Iceland | 0.0 |
| Federated States of Micronesia | 0.0 |
| Kiribati | 0.0 |
| Tajikistan | 0.0 |
| Luxembourg | 0.0 |
| Maldives | 0.0 |
| Brunei Darussalam | 0.0 |
| Armenia | 0.0 |
| Sao Tome and Principe | 0.0 |
| Ukraine | 0.0 |
| Seychelles | 0.0 |
| Belarus | 0.0 |
| Montenegro | 0.0 |
| Macedonia | 0.0 |
(Data sourced from the World Health Organization)
Recent Posts