What countries have the most beds for mental health patients?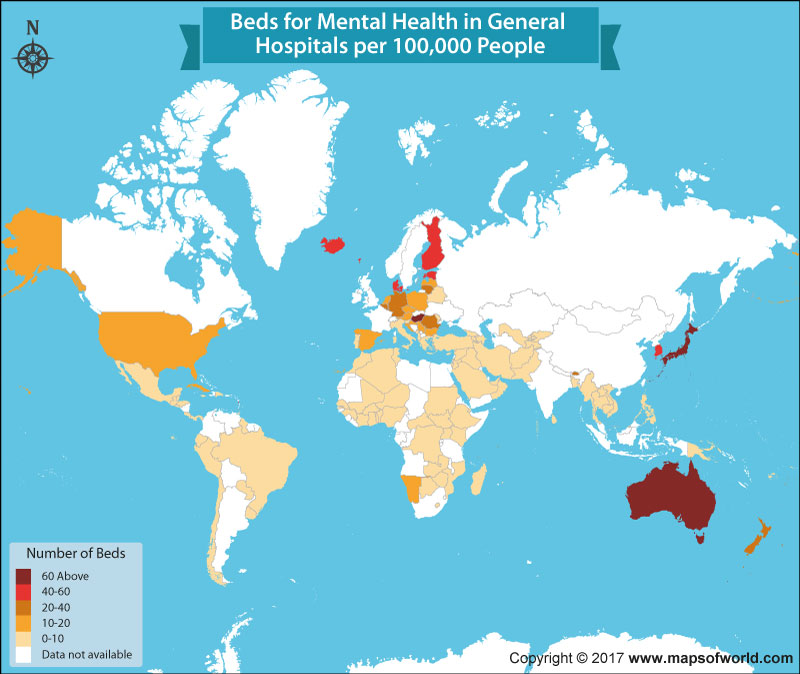 Mental health problems are rampant in the world today and may affect just about anyone. Many people around the world suffer from health problems which range from anxiety and depression, which are quite common, to the extreme ones such as bipolar disorder and schizophrenia. According to the World Health Organization, around a third of the population across the world is suffering from mental health problems.
Countries around the world are grappling with the problems of mental health and are taking significant steps to combat it. However, the effort to combat mental health problems vary from country to country. While some nations have taken steps such as improving the infrastructure and increasing the intake of doctors specialized in mental health, others have not paid much attention to it due to varying factors.
A superior hospital infrastructure is crucial to ensure top-class service to health patients and of prime importance are the hospital beds which should be proportionate to the number of mental health patients admitted to hospitals. In some countries the number of beds per population is just right, while in others it is almost negligible.
Australia  is making concerted efforts to combat mental health problems and in this regard, has taken some very positive steps. According to the Global Health Observatory data repository, which is the World Health Organization's gateway to statistics related to health for its member states, Australia, in 2014, had the most beds for its mental patients. According to the data, in Australia there were 325.47 beds for mental health patients in general hospitals per 100,000 people.
The European nation of Monaco was the only other country, along with Australia, which had more than 100 beds. The data stated that in the tiny country, there were about 149.75 beds per 100,000 people.
Unsurprisingly, of the 19 countries which had more than 20 beds per 100,000 population, eleven were located in  Europe. Apart from Australia, others lying out of Europe but having more than 20 beds included New Zealand, Bhutan, Tonga, South Korea, Dominica and  Japan. Though the United States has a good mental healthcare infrastructure, but the nation had just 11.47 beds per 100,000 people.
Nations such as Swaziland, Suriname,  Timor-Leste, San Marino, Qatar, Haiti and Gambia need to pay more attention as the number of beds for mental health patients in general hospitals per 100,000 people stood at 0 in these countries.
The map above provides a clear view of the number of beds per country per 100,000 people. You can also refer to the table given below for the data.
| Country | Number of Beds (2014) |
| --- | --- |
| Australia | 325.47 |
| Monaco | 149.75 |
| Hungary | 74.57 |
| Japan | 69.16 |
| Dominica | 55.29 |
| Korea, Rep. | 54.53 |
| Denmark | 52.43 |
| Finland | 48.61 |
| Estonia | 47.05 |
| Iceland | 43.53 |
| Luxembourg | 37.82 |
| Germany | 33.96 |
| Lithuania | 33.44 |
| Belgium | 30.44 |
| Seychelles | 26.79 |
| Tonga | 24.58 |
| Romania | 21.26 |
| Bhutan | 20.9 |
| New Zealand | 20.04 |
| Serbia | 19.83 |
| Croatia | 19.71 |
| Austria | 19.53 |
| Grenada | 18.81 |
| Poland | 15.25 |
| Bulgaria | 13.64 |
| Namibia | 12.01 |
| Spain | 11.91 |
| Czech Republic | 11.73 |
| United States | 11.47 |
| Latvia | 10.83 |
| Netherlands | 10.5 |
| Cuba | 10.22 |
| Italy | 9.55 |
| Brunei Darussalam | 9.45 |
| Slovenia | 8.67 |
| Greece | 7.44 |
| Tajikistan | 7.37 |
| Portugal | 7.36 |
| Djibouti | 6.77 |
| Uruguay | 6.14 |
| Panama | 6.06 |
| Chile | 5.82 |
| Micronesia, Fed. Sts. | 5.78 |
| Moldova | 5.37 |
| Botswana | 4.91 |
| Montenegro | 4.83 |
| Belize | 4.71 |
| Lesotho | 4.58 |
| Cyprus | 4.51 |
| Barbados | 4.2 |
| Tunisia | 4.03 |
| Albania | 3.92 |
| Trinidad and Tobago | 3.87 |
| Turkey | 3.84 |
| Sri Lanka | 3.61 |
| Israel | 3.36 |
| Belarus | 3.28 |
| Armenia | 2.51 |
| Guyana | 2.49 |
| Georgia | 2.31 |
| Pakistan | 2.28 |
| Fiji | 2.26 |
| Iran, Islamic Rep. | 2.21 |
| Morocco | 2.08 |
| Zambia | 2 |
| Mauritius | 1.92 |
| Jamaica | 1.79 |
| Kyrgyz Republic | 1.67 |
| Algeria | 1.65 |
| Singapore | 1.41 |
| Iraq | 1.26 |
| Uganda | 1.17 |
| Maldives | 1.14 |
| Vietnam | 1.13 |
| Kenya | 1.1 |
| Zimbabwe | 1.1 |
| Philippines | 1.08 |
| Burkina Faso | 1.02 |
| Congo, Rep. | 0.92 |
| Niger | 0.87 |
| Costa Rica | 0.77 |
| Mali | 0.7 |
| Madagascar | 0.69 |
| Central African Republic | 0.68 |
| Jordan | 0.6 |
| Uzbekistan | 0.58 |
| Thailand | 0.57 |
| Senegal | 0.55 |
| Dominican Republic | 0.52 |
| Guinea | 0.52 |
| Samoa | 0.52 |
| Mozambique | 0.51 |
| Benin | 0.43 |
| Azerbaijan | 0.42 |
| Myanmar | 0.41 |
| Brazil | 0.4 |
| Lao PDR | 0.38 |
| Sudan | 0.38 |
| United Arab Emirates | 0.36 |
| Togo | 0.34 |
| Afghanistan | 0.32 |
| Papua New Guinea | 0.27 |
| Saudi Arabia | 0.27 |
| Oman | 0.26 |
| Peru | 0.25 |
| Bangladesh | 0.24 |
| Paraguay | 0.23 |
| Nigeria | 0.21 |
| El Salvador | 0.19 |
| Ghana | 0.15 |
| South Sudan | 0.14 |
| Mexico | 0.12 |
| Syrian Arab Republic | 0.09 |
| Cambodia | 0.07 |
| Ethiopia | 0.06 |
| Honduras | 0.06 |
| Cote d'Ivoire | 0.05 |
| Ecuador | 0.03 |
| Guatemala | 0.01 |
| Gambia, The | 0 |
| Haiti | 0 |
| Qatar | 0 |
| San Marino | 0 |
| Suriname | 0 |
| Swaziland | 0 |
| Timor-Leste | 0 |
Know more:
Related maps: