What are the Key Facts of Philippines?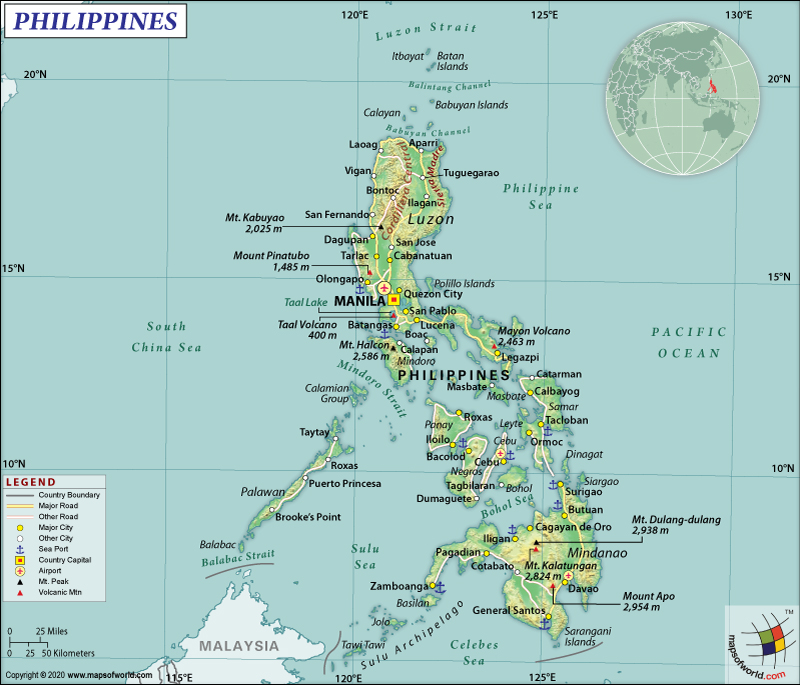 | | |
| --- | --- |
| Official Name | Republic of the Philippines (Republika ng Pilipinas) |
| Continent | Asia |
| Capital | Manila |
| Largest City | Quezon City |
| Coordinates | 13°N 122°E |
| Area | 300,000 square kilometers or 115,831 square miles |
| Land Boundaries | 0 |
| Coastline | 22,549 mi (36,289 km) |
| Currency | Philippine Peso (PHP) |
| Neighboring Countries | No land boundaries, but Taiwan, Vietnam, Borneo, Indonesia are all located across the seas from the Philippines |
| Population | 105,893,381(July 2018) |
| Official Languages | Filipino and English; Eight major dialects – Tagalog, Cebuano, Ilocano, Hiligaynon or Ilonggo, Bicol, Waray, Pampango, and Pangasinan |
| Major Religion | Christianity |
| Independence | June 12, 1898 (Spain); July 4, 1946 (US) |
| National Day |  June 12 |
| National Anthem | Lupang Hinirang |
| Form of Government | Unitary presidential constitutional republic |
| President | Rodrigo Duterte |
| Vice President | Maria Leonor Robredo |
| Prime Minister | NA |
| GDP per capita (PPP) | $8360.5 (World Bank, 2017) |
| GDP per capita (nominal) | $2989 (World Bank, 2017) |
| Literacy Rate | 96.4% |
| Space Agency | Agencies under Department of Science and Technology (DOST) |
| Military Expenditure Ranking (SIPRI) | 45 |
| No. of Olympic Medals | 10 |
| Calling Code | +63 |
| Time Zone | UTC+8 (PST) |
| Internet TLD | .ph |
Where is Philippines?
Philippines is an archipelago in Southeast Asia in the western Pacific Ocean, between the Philippine Sea and the South China Sea, east of Vietnam.
What is the Geography of Philippines?
There are three main geographic groups of islands: Luzon, Visayas, and Mindano. The topography is mostly mountainous with narrow to extensive coastal lowlands. The islands have volcanic origins.
Initially, the Philippine archipelago was reported as having 7,107 islands. However, in 2016, the national mapping authority reported that hundreds of new islands had been discovered and increased the number of islands to 7,641.
Though the country is favorably located in relation to Southeast Asia's main water bodies, such as the South China Sea, Philippine Sea, Sulu Sea, Celebes Sea, and Luzon Strait, its location lies along the Ring of Fire, a belt of active volcanoes and earthquake epicenters bordering the Pacific Ocean. Up to 90% of the world's earthquakes and some 75% of the world's volcanoes occur within the Ring of Fire. Moreover, on an average 9 typhoons make landfall on the islands each year – with about 5 of these bringing destruction. As per some studies, the country is the most exposed in the world to tropical storms.
Mount Mayon, Taal volcano and Mount Apo are some famous peaks in the Philippines. Luzon is the longest mountain range in the Philippines. Pulangi, Mindanao, Agusan Cagayan, and Pampanga are the major rivers in the country. The tropical rain forests of Philippines house a large variety of flora and fauna, but have dwindled due to deforestation.
The climate of Philippines is tropical marine, which is hot and humid for most part of the year. The wet season is due to southwest monsoon from May to October. Rainfall is at its lowest from November to April.
What is the Economy of Philippines?
Philippines is considered one of the emerging markets in Asia, that is in the middle of a transition from predominantly agriculture to the manufacturing and service sectors. Today, the major industries are electronics, aerospace, BPO, food processing, ship building, chemicals, textiles, metals and petroleum refining. Services sector accounts for 58.6% of the GDP, followed by industry: 34%, and primary sector: 7.4%. Philippines is counted among the fastest growing countries of Asia. For example, its GDP grew at the rate of 6 percent between 2011 to 2017. Its major trading partners include Japan, China, US, Singapore, South Korea, Netherlands, Hong Kong, Germany, Taiwan and Thailand. As per the World Bank, its unemployment rate stood at 2.5 percent in 2018.
What is the Transportation System in Philippines?
Philippines has 11 registered air carriers, with around 247 big and small airports. It has only 77 km of railway tracks, but 216,387 km of roadways. Moreover, it has 3,219 km of waterways. Batangas, Cagayan de Oro, Cebu, Davao, Liman, and Manila are its major seaports.
What International Organizations is Philippines part of?
ADB, APEC, ARF, ASEAN, BIS, CD, CICA (observer), CP, EAS, FAO, G-24, G-77, IAEA, IBRD, ICAO, ICC (national committees), ICCt, ICRM, IDA, IFAD, IFC, IFRCS, IHO, ILO, IMF, IMO, IMSO, Interpol, IOC, IOM, IPU, ISO, ITSO, ITU, ITUC (NGOs), MIGA, MINUSTAH, NAM, OAS (observer), OPCW, PCA, PIF (partner), UN, UNCTAD, UNESCO, UNHCR, UNIDO, Union Latina, UNMIL, UNMOGIP, UNOCI, UNWTO, UPU, WCO, WFTU (NGOs), WHO, WIPO, WMO, WTO
Related Links:
Related Maps: