What are the Key Facts of Mauritius?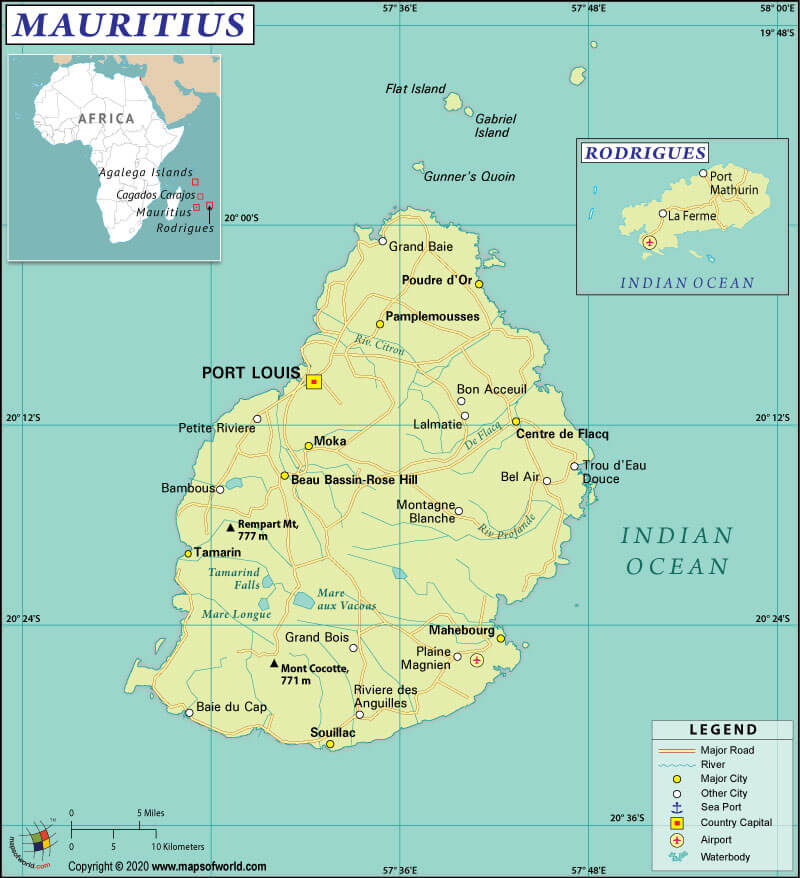 | | |
| --- | --- |
| Official Name | Republic of Mauritius |
| Continent | Africa |
| Capital | Port Louis |
| Largest City | Port Louis |
| Coordinates | -20.283333, 57.550000 |
| Area | 787 sq. mi (2,040 sq. km) |
| Land Boundaries | 0 mi (0 km), Island Country |
| Coastline | 110 mi (177 km) |
| Currency | Mauritian rupee (MUR) |
| Neighboring Countries | Maritime neighbors: Madagascar, Seychelles, French Southern and Antarctic Lands (FR) |
| Population | 1,265,710 (World Bank, 2019) |
| Official Languages | Creole, Bhojpuri, French |
| Major Religion | Hinduism, Christianity |
| National Day | 12 March (Independence and Republic Day) |
| National Anthem | "Motherland" |
| Form of Government | Parliamentary republic |
| President | Prithvirajsing Roopun |
| Prime Minister | Pravind Jugnauth |
| GDP per capita (PPP) | $ 23,942.1 (World Bank, 2019) |
| GDP per capita (nominal) | $ 11,203.5 (World Bank, 2019) |
| HDI | 0.796 (2019), Rank: 66 |
| Literacy Rate (%) | 91.33 % (UNESCO, 2018) |
| Space Agency | NA |
| Military Expenditure Ranking | 143 (SIPRI, 2019) |
| No. of Olympic Medals | 1 (as of 2018) |
| Driving Side | left |
| Calling Code | 230 |
| Time Zone | UTC+4 (MUT) |
| Internet TLD | .mu |
Where is Mauritius?
Mauritius (whose official name is the Republic of Mauritius) is a Southern African country located around 800 km (500 mi) east of Madagascar in the Indian Ocean. This island nation is situated around 2,000 km (1,200 mi) off the African continent's south-east coast.
What is the Geography of Mauritius?
Mauritius spreads across a total area of 2,040 sq. km (787 sq. mi). Out of the total area, 2,030 sq. km (783 sq. mi) is land and 10 sq. km (4 sq. mi) is water. The total area includes the Agalega Islands, Rodrigues, and Cargados Carajos Shoals (Saint Brandon). The Republic of Mauritius has no land boundary but has a 177 km (110 mi) long coastline.
While the highest point is Mont Piton at 828 m (2716.5 ft), the lowest point is the Indian Ocean at 0 m (0 ft).
Mauritius's terrain is characterized by a small coastal plain that rises to discontinuous mountains, which encircle the central plateau. The mountains in the country are the remnants of a giant volcano that erupted many millions of years back.
Bassin Blanc is one of the most beautiful scenic attractions in Mauritius. It is a volcanic cone nestling a picturesque lake. The coral reefs (such as at Pointe aux Caves) located very close to the shore have produced the Cliff coast.
Major mountain ranges in Mauritius include Moka Range, Black River Range, Savanne Range, and Grand Port Range. The highest mountains in the country are Little Black River Peak (Black River), Mount Rempart (Black River), Mont Cocotte (Savanne), etc.
Some of the mountains have distinct features such as Pieter Both Mountain and Le Pouce Mountain. While Le Pouce Mountain has a thumb shape, Pieter Both Mountain has a rock perched top. One of the most impressive volcanic structures of Mauritius is the Trou aux Cerfs volcano.
The Central Plateau was formed due to the flow of lava from several small volcanoes and therefore is located inside the ring of mountain ranges. In the southwest part of the country, the Central Plateau is higher. However, it gradually extends into an undulating landscape as you move towards the north and east.
Fast-flowing streams (from the highly humid Central Plateau) deeply dissect the volcanic landscape. On the Central Plateau, broad and open river valleys are present. They form spectacular waterfalls and deep gorges as they cross the mountain rims, and the most spectacular one is the "Sept Cascades" waterfall (located on River Tamarin).
Chamarel, Mont Blanc, and many others are colored earth formed after the weathering of the compacted volcanic ash. Beautiful Black River Gorges were formed over millions of years as water flowed down from the Black River.
In the Northern Plains (located in the north of Mauritius), you will find the coastal plains (located outside the mountains ranges). Quick flowing lavas from multiple volcanoes, including Forbach Hill, Butte aux Papayes, and Mont Piton have formed the coastal plains.
Volcanic flow of lava (from Curepipe Point) on the Central Plateau forms other plains such as Savanne Plains, Grand Port, and Flacq Plains. The major islets in Mauritius are Ile d'Ambre, Ile aux Cerfs, and Ile de l'Est.
Major Rivers of Mauritius are Rivière du Rempart, Rivière Francoise, Rivière du Poste de Flacq, Rivière Sèche, etc. There are ten man-made reservoirs in the country including Mare aux Vacoas, Mare Longue, La Ferme, Piton du Milieu, La Nicoliere, and others.
What is the Climate of Mauritius?
A mild tropical maritime climate across the year is found in Mauritius. There are two seasons in the country: a warm, humid summer (November-April) and a relatively cool dry winter (June-September). The two transition months in the country are October and May. The difference in temperature in the two seasons is just 4.3 °C (39.74 °F). While the average temperature in summer is 24.7 °C (76.46 °F), the average temperature in winter is 20.4 °C (68.72 °F).
January and February are the warmest months, and during these two months, the average daily maximum temperature reaches 29.2 °C (84.56 °F). July and August are the coldest months, and during these two months, the average night minimum temperature drops to 16.4 °C (61.52 °F).
The average yearly rainfall in Mauritius is 2010 mm (79.1 inches). While February and March are the wettest months, October is the driest month. Around 67% of the yearly rainfall takes place during summer. The average rainfall in summer is 1,344 mm (52.9 inches). However, the average rainfall in winter is 666 mm (26.2 inches).
The average daily sunshine in Mauritius is 6.5-8 hours. While the high grounds on the island get 6 hours of sun, the coastal regions get 7.5-to-more-than-8-hours of the sun in summer. While the Central Plateau on the island receives 5 hours of sun, the coastal areas get 7.5 hours in winter.
What is the Economy of Mauritius?
Mauritius's economy has transformed since 1968 from a low-income, agricultural-based economy to a diversified, upper-middle-income economy. The most booming economy sectors are tourism, industrial, textiles and apparel, sugar, and financial sectors.
In 2019, the nominal GDP of Mauritius increased by 3.551% to US$14.18 billion. Major exports are Processed Fish, Raw Sugar, Knit T-shirts, Non-Knit Men's Shirts, and Non-Knit Men's Suits. Major imports are Refined Petroleum, Non-fillet Frozen Fish, Cars, Packaged Medicaments, and Petroleum Gas.
The unemployment rate (modeled a per ILO estimate) in Mauritius was dropped from 9.524% in 2005 to 6.674% in 2019. The Youth Unemployment Rate in the country was 23.879% in 2019. The poverty rate (measured at US$ 5.5 per day 2011 PPP line) in Mauritius dropped from 17.2% in 2012 to 12.1% in 2017.
What is the Transportation System of Mauritius?
Mauritius has five airports, out of which two have paved runways, and 3 have unpaved runways. Major airports are Sir Seewoosagur Ramgoolam International Airport (Plaine Magnien) and Sir Gaëtan Duval Airport (Plaine Corail).
The total roadways in Mauritius are 2,428 km (1508.7 mi) long, out of which 2,379 km (1478.2 mi) is paved, and 49 km (30.4 mi) is unpaved. The country has 99 km (61.5 mi) of expressways.
Port Louis is the major seaport in Mauritius. There are 28 merchant marine vessels in the country, out of which 1 is general cargo, 4 are oil tankers, and 23 are other types of vessels.
What International Organizations is Mauritius Part of?
WTO, IMF, UN, WHO, NAM, UNESCO, ILO, ACP, AfDB, AOSIS, AU, C, CD, COMESA, FAO, G-77, IAEA, IBRD, ICAO, ICCt, ICRM, IDA, IFAD, IFC, IFRCS, IHO, IMO, IMSO, InOC, Interpol, IOC, IOM, IPU, ISO, ITSO, ITU, MIGA, OIF, OPCW, PCA, SADC, UNCTAD, UNIDO, UNWTO, UPU, WCO, WIPO, WMO, CPLP (associate), ICC (NGOs), ITUC (NGOs), SAARC (observer), WFTU (NGOs)
Related Maps: