Is Rome and Romania the same?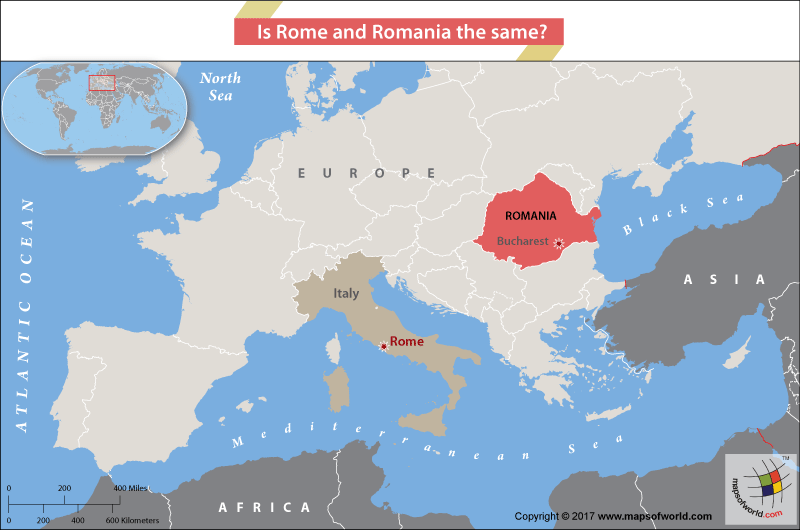 Rome and Romania are two different places. Rome is a city, the capital of Italy, the country and the Lazio Region. It is located on the banks of the Tiber River, and the Vatican City is located within Rome – a city within another city. Rome is also a special commune, and is located in the center of the Italian Peninsula, about 15 miles from Tyrrhenian Sea. Romania, on the other hand, is a sovereign country in southeastern Europe. It is bordered by Ukraine, Moldova, the Black Sea, Bulgaria, Serbia, and Hungary. Bucharest, the sixth largest city in the continent is its capital. Other important cities in Romania include Cluj-Napoca, Timișoara, Iași, Constanța, and Craiova. The Danube, the second longest river in Europe flows across several countries before finally emptying into the Black Sea in Romania.
The distance between Rome and Bucharest, the capital of Romania, is about 1,168 miles (by road).
The similarity in names may come from the fact that Romania was a part of the Roman Empire, of which Rome was the capital city. Ethnically the people of Romania are different from the Romans, and from the Roma (Romani) people and the Slavs. Romans, the people of Rome, speak Italian which is the official language of the Italy, but the people of Romania, the Romanians, speak Romanian which is a Romance language.
According to ancient mythological accounts, the city of Rome was founded in about 753 BCE but other accounts say that the region had been lived in by settlers much earlier. It soon rose as the nucleus of a strong and resilient empire that came to be known as the Romania. In historical accounts, however, the state of Romania was referred to as the Roman Empire.
Between the first and the second centuries CE, the tensions between the Roman Empire and the Geto-Dacians, who inhabited parts of modern day Romania simmered. Sometime in the second century, the prosperity and plenitude of the Geto-Dacian civilization (under King Decebalus) came to be perceived as a threat to the Roman Emperor Trajan. The Romans triumphed in the eventual showdown, and the Romans included much of the land into their newly formed province of Dacia. Making much of the southern plains of (modern day) Romania, and the Transylvanian Basin, part of the Roman Empire, and providing it with much of its gold and riches until the Empire withdrew in about 275 CE. The province of Dacia, however, retained the name of the Eastern Roman Empire (which is now known as the Byzantine Empire) – Romania.
Related Maps: