How common is obesity among adults?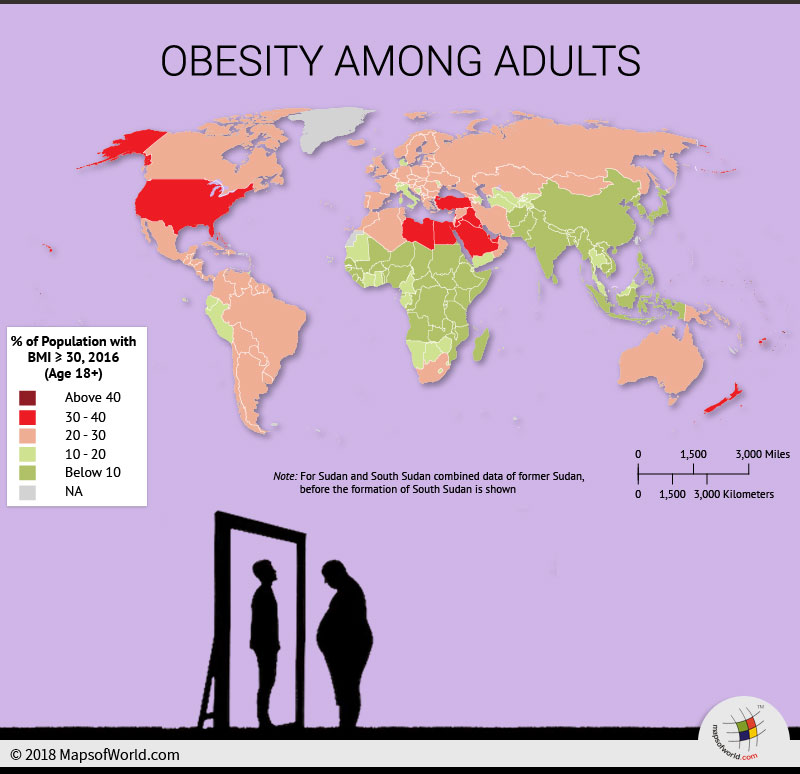 Paradoxically coexisting with a global concern of malnutrition, the obesity among adults is a growing epidemic. It is so deeply embedded in the lifestyles that it is easily neglected. It surpasses regional boundaries and affects all socioeconomic groups from both developing and developed countries. Despite global recognition of this public health problem and substantial efforts the problem of obesity is growing.
Obesity is defined as a condition in which an individual gains weight exceeding the normal stated levels, negatively affecting their health. It is a leading chronic factor resulting in non-communicable diseases. According to the World Health Organization (WHO), the Body Mass Index of an individual is a way to measure the obesity. The Body Mass Index is calculated by dividing a person's weight in pounds by height in feet and inches. A BMI of 25 and 30 are classified as overweight and obese.
The causes of obesity are varying from physiological to environmental factors.
Genetics-

  An important component in the fat distribution of the body. Genetic discrepancies predispose obesity. A genetic condition of Prader-Willi syndrome causes a wide range of physical and behavioral symptoms, including an excessive appetite and overeating leading to weight gain.

Food habits

– The indulgence of people into highly processed foods, constituting additives to increase their shelf life and taste good, affects the accumulation of fat. Hence, the over involvement of the youth in food cooked outside affects their nutrition levels, thrusting obesity levels.

Physical inactivity

– The preference for commuting by vehicles than walking and an overall decline in physical activity leads to concomitant increase in weight. This forms a vicious cycle of weight gain and physical inactivity.

Medical conditions

– In certain cases of hypothyroidism, the thyroid gland doesn't produce enough hormone, leading to excessive weigh gain. Also, in the case of Cushing's syndrome, an intake of steroid medicines leads to early signs of weight gain in the back, chest and stomach regions.
Obesity has numerous co-morbid conditions related with it. It is the leading cause for  type 2  diabetes, due to an increase of insulin resistance, which disturbs the glucose tolerance. It is also associated with body fat distribution. Individuals with peripheral fat distribution have more insulin sensitivity than those with a central fat distribution.
Blocking the blood flow and inflaming excess fatty tissue, obesity is a leading cause of heart attacks and strokes. The increased risk of blockages leads to a  high blood pressure. These additional fat tissues need oxygen and nutrients to live, which requires the blood vessel to circulate more blood. This increases the workload of the heart and surges blood pressure levels.
Osteoarthritis  is the pain in the knees, joints and hip area due to the stress applied by the extra weight. Obese people have more chances of developing these conditions with lesser options of replacements.
It has been largely reported that women are more obese than men around the world. Obese women tend to develop a variety of  cancers  like breast cancer, colon cancer, gallbladder and uterus. Whereas obese men have a higher risk of colon cancer and prostate cancers.
Additionally, there are  psychological effects  related with obesity. The mental stress and consequences of obesity leads to lower self-esteem and anxiety leading to depression and associated eating disorders. Being overweight leaves these individuals with low energy levels, and gravitate towards low activity lifestyles and become sedentary
The pandemic of obesity is prevalent across the world, with the United States earning the highest rank with most obese adults. This rampant obesity reflects the country's decline in the quality of life offered and the policy measures taken to combat it. It is even the poor in America that are obese due to a large availability of processed and canned foods which possess high contents of refined sugar.
In this backdrop, the WHO began sounding the alarms with public awareness campaigns to sensitize the policy makers, private sector partners, medical professionals as well as the masses.
Below lying table depicts the adult obesity population of various countries:
| | |
| --- | --- |
| Country | % of population aged 15 years and over |
| United States of America | 38.2 |
| Mexico | 32.4 |
| New Zealand | 30.7 |
| Hungary | 30.0 |
| Australia | 27.9 |
| United Kingdom | 26.9 |
| South Africa | 26.5 |
| Canada | 25.8 |
| Chile | 25.1 |
| Finland | 24.8 |
| Costa Rica | 24.4 |
| Germany | 23.6 |
| Ireland | 23.0 |
| Luxembourg | 22.6 |
| Turkey | 22.3 |
| Latvia | 21.3 |
| Czech Republic | 21.0 |
| Colombia | 20.9 |
| Brazil | 20.8 |
| Russia | 19.6 |
| Slovenia | 19.2 |
| Iceland | 19.0 |
| Belgium | 18.6 |
| Estonia | 18.0 |
| Israel | 17.8 |
| Lithuania | 17.3 |
| Greece | 17.0 |
| Poland | 16.7 |
| Spain | 16.7 |
| Portugal | 16.6 |
| Slovakia | 16.3 |
| France | 15.3 |
| Denmark | 14.9 |
| Austria | 14.7 |
| Netherlands | 12.8 |
| Sweden | 12.3 |
| Norway | 12.0 |
| Switzerland | 10.3 |
| Italy | 9.8 |
| China | 7.0 |
| Indonesia | 5.7 |
| South Korea | 5.3 |
| India | 5.0 |
| Japan | 3.7 |
Know more:
Related maps: