What is the percent of agricultural land in the world?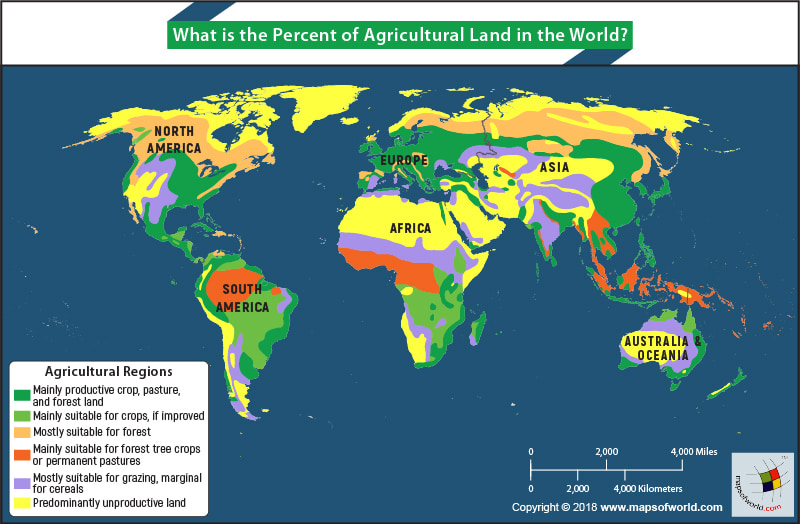 As of 2015, 37.3% of the total estimated land was available for agriculture.
71% of the Earth's surface is covered by water – 139 million sq. miles; the balance 29% is the land area – 57.5 million sq. miles. Of this total land, 71% is habitable land – 40.15 million sq. miles.
Approximately, 50% of the habitable land – 20.7 million sq. miles is used for agriculture. The following tables present details of the land use patterns.
Global land use:
| | |
| --- | --- |
| Land Area | 50.22 million sq. miles |
| Arable land | 5.50 million sq. miles |
| Permanent crops | 636,416 sq. miles |
| Permanent meadows and pastures | 12.64 million sq. miles |
| Forest | 15.44 million sq. miles |
| Primary forest | 4.93 million sq. miles |
| Other naturally regenerated forests | 9.37 million sq. miles |
| Planted forest | 1.13 million sq. miles |
| Other lands | 16.04 million sq. miles |
| Inland water | 1.76 million sq. miles |
| Total area equipped for irrigation | 1.28 million sq. miles |
Major region-wise land use: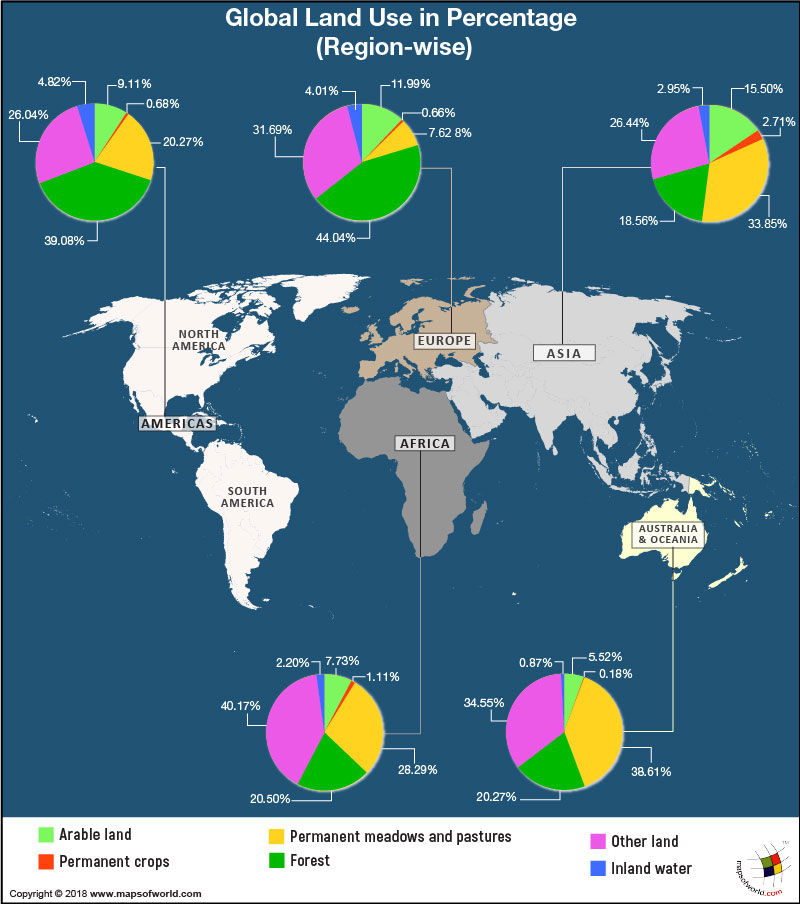 | | |
| --- | --- |
| Land Area | 11.44 million sq. miles |
| Agricultural area | 4.37 million sq. miles |
| Arable land | 907,992 sq. miles |
| Permanent crops | 130,853 sq. miles |
| Permanent meadows and pastures | 3.32 million sq. miles |
| Forest | 2.40 million sq. miles |
| Primary forest | 521,423 sq. miles |
| Other naturally regenerated forests | 1.82 million sq. miles |
| Planted forest | 63,027 sq. miles |
| Other lands | 4.72 million sq. miles |
| Inland water | 258,468 sq. miles |
| Total area equipped for irrigation | 61,085 sq. miles |
| | |
| --- | --- |
| Land Area | 14.97 million sq. miles |
| Agricultural area | 4.73 million sq. miles |
| Arable land | 1.43 million sq. miles |
| Permanent crops | 107,305 sq. miles |
| Permanent meadows and pastures | 3.18 million sq. miles |
| Forest | 6.14 million sq. miles |
| Primary forest | 2.78 million sq. miles |
| Other naturally regenerated forests | 3.14 million sq. miles |
| Planted forest | 225,255 sq. miles |
| Other lands | 4.09 million sq. miles |
| Inland water | 757,833 sq. miles |
| Total area equipped for irrigation | 201,719 sq. miles |
| | |
| --- | --- |
| Land Area | 11.98 million sq. miles |
| Agricultural area | 6.42 million sq. miles |
| Arable land | 1.91 million sq. miles |
| Permanent crops | 333,959 sq. miles |
| Permanent meadows and pastures | 4.17 million sq. miles |
| Forest | 2.29 million sq. miles |
| Primary forest | 452,670 sq. miles |
| Other naturally regenerated forests | 1.34 million sq. miles |
| Planted forest | 497,450 sq. miles |
| Other lands | 3.26 million sq. miles |
| Inland water | 364,364 sq. miles |
| Total area equipped for irrigation | 909,201 sq. miles |
| | |
| --- | --- |
| Land Area | 8.54 million sq. miles |
| Agricultural area | 1.80 million sq. miles |
| Arable land | 1.06 million sq. miles |
| Permanent crops | 58,394 sq. miles |
| Permanent meadows and pastures | 677,968 sq .miles |
| Forest | 3.92 million sq. miles |
| Primary forest | 1.07 million sq. miles |
| Other naturally regenerated forests | 2.51 million sq. miles |
| Planted forest | 330,267 sq. miles |
| Other lands | 2.82 million sq. miles |
| Inland water | 356,978 sq. miles |
| Total area equipped for irrigation | 100,714 sq. miles |
Oceania
| | |
| --- | --- |
| Land Area | 3.27 million sq. miles |
| Agricultural area | 1.46 million sq. miles |
| Arable land | 182,510 sq. miles |
| Permanent crops | 5,895 sq. miles |
| Permanent meadows and pastures | 1.27 million sq. miles |
| Forest | 669,976 sq. miles |
| Primary forest | 103,703 sq. miles |
| Other naturally regenerated forests | 549,357 sq. miles |
| Planted forest | 16,911 sq. miles |
| Other lands | 1.14 million sq. miles |
| Inland water | 28,915 sq. miles |
| Total area equipped for irrigation | 12,590 sq. miles |
Region-wise allocation of land for agriculture – percent of total land (2015):
| | |
| --- | --- |
| South Asia | 56.70% |
| East Asia and Pacific (excluding high-income countries) | 48.90% |
| Central Europe and the Baltics | 47.80% |
| East Asia and the Pacific | 47.60% |
| Euro Area | 43.80% |
| European Union | 43.50% |
| Sub-Saharan Africa | 42.20% |
| Sub-Saharan Africa (excluding high-income countries) | 42.20% |
| Latin America and the Caribbean (excluding high-income countries) | 38.00% |
| Latin America and the Caribbean | 37.70% |
| Middle East and North Africa | 33.30% |
| Middle East and North Africa (excluding high-income countries) | 22.90% |
| North America | 25.70% |
| Pacific Island Small States | 13.40% |
Visit the following to learn more about World Agriculture:
Related Maps: