What countries have the highest electric car stock?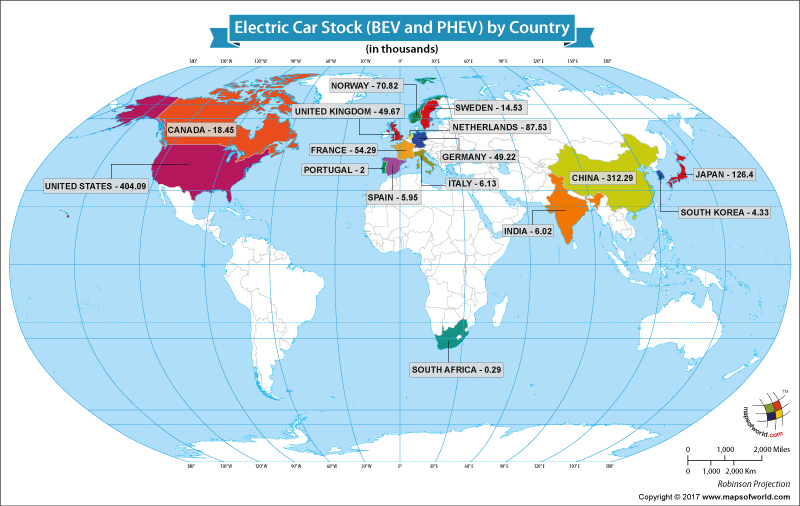 The past few years have witnessed an increase in the number of electric cars. In the year 2015, there were an estimated 1.26 million electric cars on the road. In 2014, the world's electric car stock stood at about half of what it is today. Though the electric car stock has been witnessing a steady increase since the year 2010; however, around 80 percent of the electric cars on the roads worldwide are located in the five countries of Japan, China, Norway, the United States, and the Netherlands. In seven nations around the world, the market share of electric cars increased above one percent. These seven nations are China, Norway, the United Kingdom, Sweden, the Netherlands, France, and Denmark.
According to the International Energy Agency, the United States had the largest electric car stock in the world in the year 2015. This included both the battery electric vehicles and the plug-in hybrids electric vehicles. According to the agency, the stock in the United States stood at 404,090. China had the second largest electric car stock. Here the figure stood at 312,290. In Japan, which was at the third place, the electric car stock stood at 126,400 in the year 2015.
The Netherlands and Norway were the countries with the fourth and fifth largest electric car stocks in 2015. The stocks in both these countries stood at 87,530, and 70,820, respectively. In France, the United Kingdom and Germany, the electric car stock stood at 54,290, 49,670, and 49,220 respectively. In Canada and Sweden the number stood at 18,450, and 14,530. In other countries such as South Africa, Portugal, South Korea, Spain, India and Italy, the number of electric car stocks ranged between 290 and 6130.
The table below will provide you with the number of electric car stocks in each nation.
| Country | Stock in Thousands |
| --- | --- |
| United States | 404.09 |
| China | 312.29 |
| Japan | 126.4 |
| Netherlands | 87.53 |
| Norway | 70.82 |
| France | 54.29 |
| United Kingdom | 49.67 |
| Germany | 49.22 |
| Canada | 18.45 |
| Sweden | 14.53 |
| Italy | 6.13 |
| India | 6.02 |
| Spain | 5.95 |
| South Korea | 4.33 |
| Portugal | 2 |
| South Africa | 0.29 |
Know more:
Related maps: