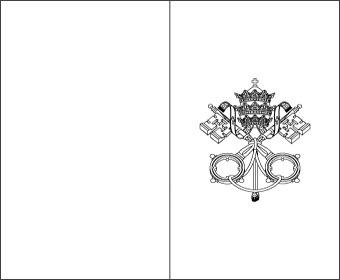 Download Picture of Blank Holy Sees Flag For Kids to Colorr
Introduction
The flag of Holy See (Vatican City State) features two vertical stripes of yellow (mast side) and white with the coat of arms of the Holy See, made up of the traversed keys of Saint Peter with the three-leveled papal crown on top, in the middle of the white stripe.
The traversed keys comprise a silver and a golden key, where the silver key is positioned to the left side. The yellow shade symbolizes the religious strength of the pope while the white shade, his universal authority. The two keys represent the keys to heaven.
The shades of silvery-white and gold are the shades of the keys of St Peter. The motif in the middle of the white stripe demonstrates these keys underneath the papal tiara. A red cord binds the keys as one. The ensign, similar to that of Switzerland, is square in shape.
Protocol
The flag is hoisted or demonstrated across the world in Roman Catholic cathedrals and establishments, typically together with the flag of the country where the cathedral or establishment is situated. The traversed keys were the arms of the Pontifical States, indicating the significance of the Pontifical States to Vatican City.
History
The Holy See (Vatican City State) flag was officially approved on June 7, 1929. In this year, the Lateran Treaty was ratified by Pope Pius XI with Italy, forming a new sovereign province ruled by the Holy See. The flag of the Holy See was introduced in 1825 and has been designed on the ensign of the previous Papal States.
| | |
| --- | --- |
| National symbol(s): | crossed keys beneath a papal tiara |
| National colors: | yellow, white |
| National anthem: | |
| Name: | "Inno e Marcia Pontificale" (Hymn and Pontifical March); often called The Pontifical Hymn |
| Lyrics/Music: | Raffaello LAVAGNA/Charles-Francois GOUNOD |
Adopted On
June 7, 1929
Name
Flag of Holy See (Vatican City State), Holy See (Vatican City State) Flag, Official Flag of Holy See (Vatican City State)
Stands for
The yellow shade stands for the religious strength of the Pope, the white color stands for his universal authority. The two keys stand for the keys to heaven.
Proportion
1:1
Colors
Yellow and White