What are the Key Facts of Vatican City?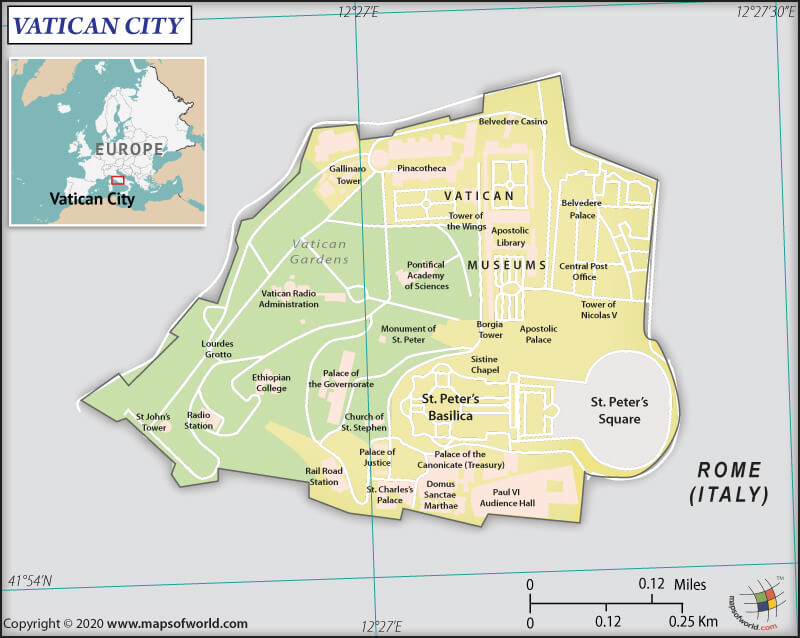 | | |
| --- | --- |
| Official Name | The Holy See (Vatican City State) |
| Continent | Europe |
| Capital | Vatican City |
| Largest City | Vatican City |
| Coordinates | 41.903421, 12.453258 |
| Area | 0.17 sq. mi (0.44 sq. km) |
| Land Boundaries | 2.11 mi (3.4 km) |
| Coastline | 0 mi (0 km) Landlocked |
| Currency | Euro (€) (EUR) |
| Neighboring Countries | Italy |
| Population | 1,000 (2019 est.) |
| Official Languages | Italian |
| Major Religion | Christianity |
| National Day | 11 February (Foundation Day) |
| National Anthem | "Inno e Marcia Pontificale" |
| Form of Government | Ecclesiastical elective monarchy |
| Sovereign | Pope Francis |
| Secretary of State | Pietro Parolin |
| GDP per capita (PPP) | NA |
| GDP per capita (nominal) | NA |
| HDI | NA |
| Literacy Rate (%) | NA |
| Space Agency | NA |
| Military Expenditure Ranking | NA (SIPRI, 2019) |
| No. of Olympic Medals | 0 |
| Driving Side | right |
| Calling Code | 379 |
| Time Zone | UTC+1 (CET), Summer (DST)UTC+2 (CEST) |
| Internet TLD | .va |
Where is Vatican City?
Vatican City (whose official name is the Vatican City State) is the Holy See's independent city-state in Southern Europe. This independent city-state is enclaved within Italy's Rome.
What is the Geography of Vatican City?
Vatican City is spread across a total area of 0.17 sq. mi (0.44 sq. km), making it the smallest independent state globally. Out of the whole area, 0.17 sq. mi (0.44 sq. km) is land area, and 0 sq. mi (0 sq. km) is the water area.
The Vatican City State's total land boundary is 2.1 mi (3.4 km) long. It shares its entire border with Italy. As Vatican City is landlocked, it has no coastline. The highest point of this country is Vatican Gardens (Vatican Hill, an insignificant knoll rising above the Vatican Gardens in the extreme northwest of the Vatican City), whose elevation is at 255.9 ft (78 m). The lowest point is the Saint Peter's Square at 62.3 ft (19 m).
The terrain of Vatican City is urban, low hill. It sits on a small hill (which has always been known as Vatican Hill) in Rome's center (Italy). No rivers or lakes are there within the boundary but is located on the west bank of the Tiber River.
What is the Climate of Vatican City?
Vatican City has a temperate climate with an average annual temperature hovering around 60.0 °F (15.6 °C).
The month of summer starts in May and continues till August. It remains hot and dry during the summer. The month of July remains the warmest month, with the average temperature hovering around 75.0 °F (23.9 °C). Historically, the highest temperature recorded in Vatican City was 100.0 °F (37.8 °C).
The winter season starts in September and continues until May. It remains rainy and snowy during winter. The month of January remains the coldest month, with an average temperature hovering around 8.3 °C (47.0 °F). Historically, the lowest temperature recorded in Vatican City was -7.2 °C (19.0 °F).
Vatican City's average annual precipitation is 31.6 inches (802.6 mm). While October gets the maximum amount of rainfall with an average monthly precipitation of 4.5 inches (114.3 mm), July receives the least precipitation with an average monthly precipitation of 0.6 inches (15.2 mm).
April, September, and October are the best months of visiting Vatican City.
What is the Economy of Vatican City?
Vatican City has an estimated GDP per capita of $21,198, making it one of the world's top 20-wealthiest nations (in terms of per capita income).
The Holy See financially supports itself based on a wide range of sources including sale of stamps, coins, medals, and tourist mementos; fees for admission to museums and publication sales; donations from Catholic individuals, dioceses, and institutions; real estate income; investments, and many more.
Total income generated from these sources helps the Vatican City help fund the diplomatic missions across the world, Vatican bureaucracy (called the Roman Curia), and media outlets.
The country has a non-budgetary fund called Peter's Pence. It is collected as annual collections from dioceses and direct donations. This fund is used directly by the Pope for charity purposes, provides relief to disaster-ridden places, and aiding churches in developing countries.
A separate Vatican City State budget is also there. It includes Vatican museums and post office, which is financially supported by the admission fees to museums and publication sales and sale of stamps, coins, medals, and tourist souvenirs. During 2010-11, revenues increased significantly because of expanded operating hours and a growing number of visitors.
The country suffered financial difficulties (just like other European countries) in 2012, forcing it to review its spending to cut costs to reverse the $20 million budget deficit of 2011. This resulted in the generation of a modest surplus in 2012. However, the decreasing value of gold drove the economy to post a $32 million deficit in 2013.
As part of a broader campaign to reform the Holy See's finances, Pope FRANCIS had created the Secretariat of the Economic in February 2014 to oversee the financial and administrative operations of the Holy See.
The average income and the standard of living of the lay workers in Vatican City can be compared to that of the employees in Rome. Both the health and pension provisions are good. As the lands within the Vatican City's borders are the Holy See's private domains, no citizen of the Vatican or any other individual can own property in this country.
Many laypersons work in the Vatican's secretarial, domestic, trade, and service jobs. The Civil Guards enjoy higher salaries and family allowances than that of the Swiss Guards. The cardinals of the Curia are the most highly paid Vatican officials. They are paid in terms of gold and silver coins. Interestingly, 2/3rd of their first-month income is deducted and kept aside to meet their funeral expenses.
What is the Transportation System of Vatican City?
The transportation system in Vatican City is small, with no airports or highways. No public transport is available in this independent city-state of the Holy See. A short railway facility and a heliport facility are made available only during special occasions. As the country is tiny, it can be walked around within an hour.
The Vatican City Heliport is present in the city-state's western corner. It is used only by the official visitors and officials of the Holy See. There are no airports available in the world's smallest city-state.
To reach the Vatican City, you can use the two airports of Rome. They are Rome–Fiumicino International Airport "Leonardo da Vinci" (Fiumicino, Italy) and Ciampino International Airport "G. B. Pastine" (Ciampino, Italy).
A short, 2,795 ft (852 m) standard gauge railway facility is available. It connects to surrounding Italy's railway network at the Saint Peter's station in Rome and is predominantly used for transporting freight. Rome Metro line A passes through the Vatican City with halts at two metro stations: Ottaviano and Cipro-Musei Vaticani.
What International Organizations is Vatican City part of?
IAEA, Interpol, IOM, ITSO, ITU, OPCW, OSCE, UNCTAD, UNHCR, UPU, WIPO, WTO (observer), CE (observer), ITUC (NGOs), OAS (observer), Schengen Convention (de facto member), SICA (observer), UN (observer), Union Latina (observer), UNWTO (observer)
Related Links:
Related Maps: