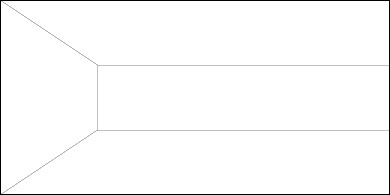 Download Picture of Blank Kuwait Flag For Kids to Color
Kuwait Flag Description
The flag of Kuwait is a rectangular flag, twice as long as it is wide, and is divided horizontally into three bands of green, white, and red from top to bottom.
Along the left, or hoist side, a black trapezoid angles inward from the outer corners to the outsides of the white band, where it flattens.
Each of the colors on the flag has a symbolic meaning, and together, they make up the pan-Arab colors, a combination of colors that is used throughout the Arab world. These pan-Arab colors have been used since the Arab Revolt, and represent the various dynasties that once ruled the region. The red represents the Hashemites, the green is for the Fatimid dynasty, the white represents the Ummayad dynasty, and the black is for the Abbasid dynasty, or possibly the prophet Mohammed.
On Kuwait's flag, green represents the regions fertile lands and meadows, and white represents purity and deeds. The red represents blood, and the valor of the soldiers who have fought for Kuwait, and the black symbolizes the defeat of enemies.
The colors and their meanings are derived from a poem written by Safie Al-Deen Al-Hali. The current flag of Kuwait was officially adopted on September 7, 1961, after Kuwait was established as an independent nation.
| | |
| --- | --- |
| National symbol(s): | golden falcon |
| National colors: | green, white, red, black |
| National anthem: | |
| Name: | "Al-Nasheed Al-Watani" (National Anthem) |
| Lyrics/Music: | Ahmad MUSHARI al-Adwani/Ibrahim Nasir al-SOULA |