When is Father's Day Celebrated Around the World?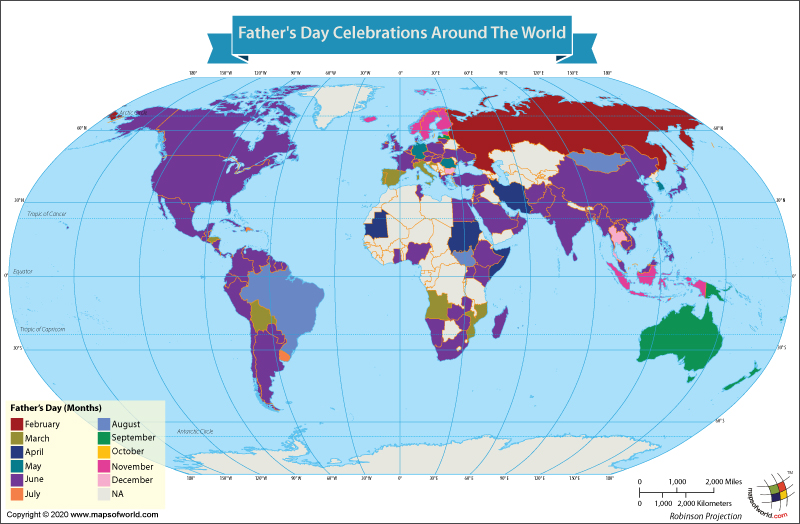 Father's Day Around the World
Father's Day around the world is celebrated to recognize the contribution of fathers to their families and society. It is a celebration of the paternal bond.
Father's Day Europe
The celebration dates to the Middle Ages, when Catholic Europe used to celebrate Father's Day on March 19, as the feast day of St. Joseph. It was the Portuguese and Spanish explorers that brought the celebrations to Latin America, which has led to some nations still celebrating Father's Day on March 19.
However, the day is observed on different dates or months around the world.
The United States celebrates Father's Day on the third Sunday of June. The history of Father's Day dates to the early 20th century. The first-ever event in honor of fathers was organized by a West Virginian church in 1908, to honor the 362 men killed in a coal mine explosion in Monongah. This event was a one-time commemoration. In 1909, Sonora Smart Dodd tried to establish a day for male parents in honor of her father who was a widower and had raised six children. She drummed up support and on June 19, 1910, the first Father's Day was celebrated in Washington state. Thereafter, Father's Day gained popularity in the country. Later in 1924, President Calvin Coolidge called upon state governments to celebrate the day and since then, it is celebrated on the third Sunday of June.
In fact, the majority of nations across the world celebrate Father's Day on the third Sunday of June. Some of these nations are; Canada, China, Ethiopia, France, Greece, Hungary, India, Japan, Malaysia, Mexico, the Netherlands, Nigeria, Singapore and the United Kingdom. Switzerland and Lithuania celebrate Father's Day on the first Sunday in June, while Poland celebrates it on June 23. There are some other nations which celebrate the day in June but on different dates.
Russia celebrates Father's Day on February 23.
Uruguay and Dominican Republic celebrate Father's Day in July, whereas Brazil, Mongolia, South Sudan, and a few other nations celebrate it in August.
In Australia and New Zealand, Father's Day is observed on the first Sunday in September, while Finland, Iceland, Norway Sweden, and others celebrate it on the second Sunday in November.
Father's Day Dates Around the world.
| Occurrence | Month | Country |
| --- | --- | --- |
| Feb 23 | February | Russia |
| Mar 19 | March | Andorra |
| Mar 19 | March | Croatia |
| Mar 19 | March | Mozambique |
| Mar 19 | March | Angola |
| Mar 19 | March | Honduras |
| Mar 19 | March | Portugal |
| Mar 19 | March | Italy |
| Mar 19 | March | Spain |
| Mar 19 | March | Bolivia |
| Mar 19 | March | Liechtenstein |
| May 08 | May | South Korea |
| Second Sunday in May | May | Romania |
| Third Sunday in May | May | Tonga |
| Ascension Day | May | Germany |
| First Sunday in June | June | Switzerland |
| First Sunday in June | June | Lithuania |
| Jun 05 | June | Denmark |
| Second Sunday in June | June | Belgium |
| Second Sunday in June | June | Austria |
| Third Sunday in June | June | Afghanistan |
| Third Sunday in June | June | Albania |
| Third Sunday in June | June | Antigua and Barbuda |
| Third Sunday in June | June | Argentina |
| Third Sunday in June | June | Aruba |
| Third Sunday in June | June | Bahamas |
| Third Sunday in June | June | Bahrain |
| Third Sunday in June | June | Bangladesh |
| Third Sunday in June | June | Barbados |
| Third Sunday in June | June | Belize |
| Third Sunday in June | June | Bermuda |
| Third Sunday in June | June | Brunei |
| Third Sunday in June | June | Canada |
| Third Sunday in June | June | Cambodia |
| Third Sunday in June | June | Chile |
| Third Sunday in June | June | China |
| Third Sunday in June | June | Colombia |
| Third Sunday in June | June | Costa Rica |
| Third Sunday in June | June | Cuba |
| Third Sunday in June | June | Curaçao |
| Third Sunday in June | June | Cyprus |
| Third Sunday in June | June | Czech Republic |
| Third Sunday in June | June | Dominica |
| Third Sunday in June | June | Ecuador |
| Third Sunday in June | June | Ethiopia |
| Third Sunday in June | June | France |
| Third Sunday in June | June | Ghana |
| Third Sunday in June | June | Greece |
| Third Sunday in June | June | Guyana |
| Third Sunday in June | June | Hungary |
| Third Sunday in June | June | India |
| Third Sunday in June | June | Ireland |
| Third Sunday in June | June | Jamaica |
| Third Sunday in June | June | Japan |
| Third Sunday in June | June | Kenya |
| Third Sunday in June | June | Kuwait |
| Third Sunday in June | June | Laos |
| Third Sunday in June | June | Madagascar |
| Third Sunday in June | June | Malaysia |
| Third Sunday in June | June | Maldives |
| Third Sunday in June | June | Malta |
| Third Sunday in June | June | Mauritius |
| Third Sunday in June | June | Mexico |
| Third Sunday in June | June | Myanmar |
| Third Sunday in June | June | Namibia |
| Third Sunday in June | June | Netherlands |
| Third Sunday in June | June | Nigeria |
| Third Sunday in June | June | Oman |
| Third Sunday in June | June | Pakistan |
| Third Sunday in June | June | Panama |
| Third Sunday in June | June | Paraguay |
| Third Sunday in June | June | Peru |
| Third Sunday in June | June | Philippines |
| Third Sunday in June | June | Puerto Rico |
| Third Sunday in June | June | Qatar |
| Third Sunday in June | June | Saint Lucia |
| Third Sunday in June | June | Saint Vincent and the Grenadines |
| Third Sunday in June | June | Saudi Arabia |
| Third Sunday in June | June | Singapore |
| Third Sunday in June | June | Slovakia |
| Third Sunday in June | June | South Africa |
| Third Sunday in June | June | Sri Lanka |
| Third Sunday in June | June | Suriname |
| Third Sunday in June | June | Trinidad and Tobago |
| Third Sunday in June | June | Tunisia |
| Third Sunday in June | June | Turkey |
| Third Sunday in June | June | Uganda |
| Third Sunday in June | June | Ukraine |
| Third Sunday in June | June | United Kingdom |
| Third Sunday in June | June | United States |
| Third Sunday in June | June | Venezuela |
| Third Sunday in June | June | Vietnam |
| Third Sunday in June | June | Zambia |
| Third Sunday in June | June | Zimbabwe |
| Jun 17 | June | El Salvador |
| Jun 17 | June | Guatemala |
| Jun 21 | June | Lebanon |
| Jun 21 | June | Egypt |
| Jun 21 | June | Jordan |
| Jun 21 | June | Palestine |
| Jun 21 | June | Syria |
| Jun 21 | June | United Arab Emirates |
| Jun 22 | June | Guernsey |
| Jun 22 | June | Isle of Man |
| Jun 22 | June | Jersey |
| Jun 23 | June | Nicaragua |
| Jun 23 | June | Poland |
| Last Sunday in June | June | Haiti |
| Second Sunday in July | July | Uruguay |
| Last Sunday in July | July | Dominican Republic |
| Aug 08 | August | Taiwan |
| Aug 08 | August | Mongolia |
| Second Sunday in August | August | Brazil |
| Second Sunday in August | August | Samoa |
| Last Monday in August | August | South Sudan |
| First Sunday in September | September | Australia |
| First Sunday in September | September | Fiji |
| First Sunday in September | September | New Zealand |
| First Sunday in September | September | Papua New Guinea |
| Second Sunday in September | September | Latvia |
| First Sunday in October | October | Luxembourg |
| Second Sunday in November | November | Estonia |
| Second Sunday in November | November | Finland |
| Second Sunday in November | November | Iceland |
| Second Sunday in November | November | Norway |
| Second Sunday in November | November | Sweden |
| 11/12/17 | November | Indonesia |
| 12/05/17 | December | Thailand |
| 12/26/17 | December | Bulgaria |
| Between August 30 and September 30 | | Nepal |
| Apr 21 | April | Iran |
| Apr 21 | April | Somalia |
| Apr 21 | April | Sudan |
| Apr 21 | April | Mauritania |
(Data Sourced from Wikipedia)
Related Links:
Related Map: