What is the Hottest Continent?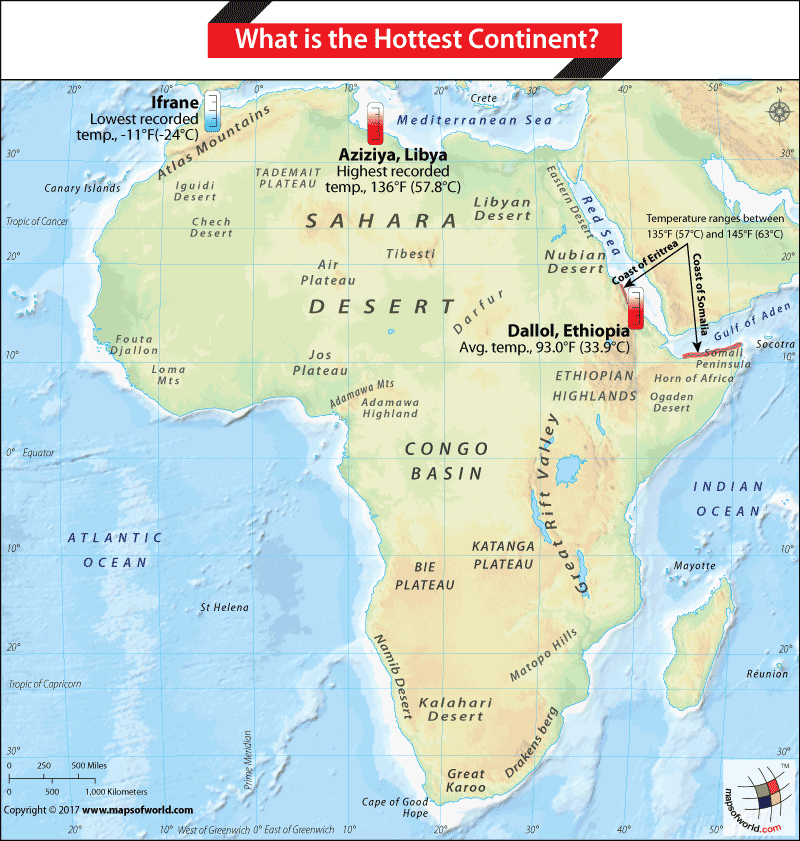 Africa is the hottest continent in the world.
The world's second largest, and the second most populated continent, Africa is also the hottest. It was believed that town of Aziziya, in Libya witnessed the world's hottest temperature on September 22nd, 1913, at a whopping 136.0°F (57.8°C); however, the claim has now been debunked, and replaced with Death Valley in California, being the hottest single place on earth.
Nevertheless, Africa continues to be the hottest Continent, with Dallol, a locality in Ethiopia, having the distinction for record high average temperature for an inhabited location on Earth. Dallol witnesses an average temperature of 93.0°F (33.9°C) throughout the year. Temperatures along the Red Sea coast of Eritrea and the Gulf of Aden coast of Somalia can get uncomfortably hot during the afternoon hours. Here temperatures can range between 135°F (57°C) and 145°F (63°C).
The climate of Africa is quite diverse. It ranges from tropical to subarctic. The northern half of the continent is mainly a desert of arid region, while in the central and southern parts have dense jungle regions and savanna plains. Around 60% of the land surface of Africa comprises dry lands and deserts, such as Sahara Desert and the Danakil Desert. These places experience exceedingly high temperatures making Africa the hottest continent in the world. In the Sahara Desert, which is the largest hot desert in the world, temperatures in excess of 100°F (37.78 °C) are quite common.
Despite, an extremely hot continent, Africa has also witnessed freezing temperatures. On February 11th, 1935, Ifrane, in Morocco witnessed the lowest temperature in Africa at minus 11°F (minus 24°C).
Related Maps and Info: