Is Poland a Member of the European Union?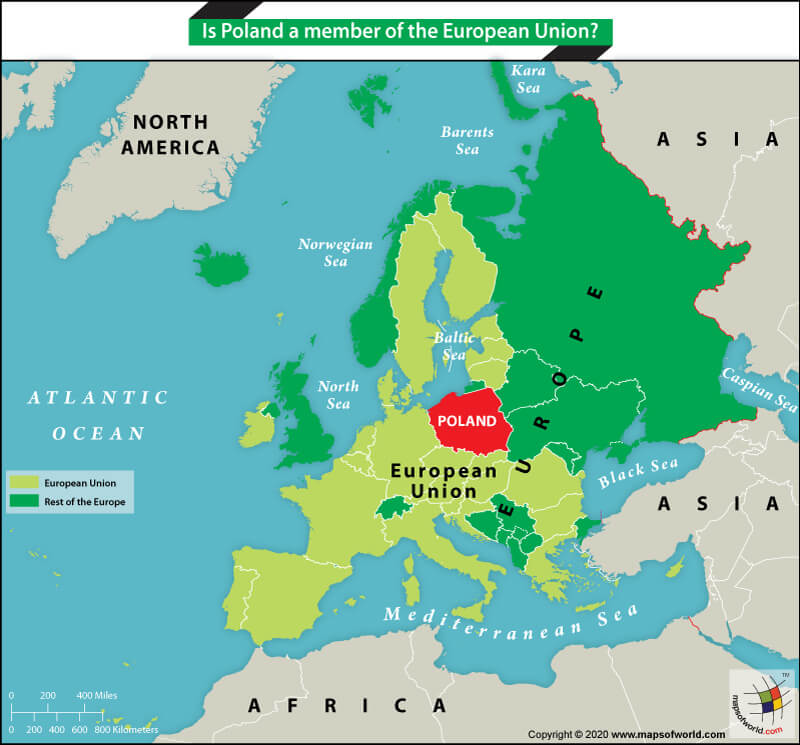 Poland has been a member of the European Union since May 1, 2004.
This acceptance as a member state of the EU came nearly a decade after its initial application, which was made on April 8, 1994, in Greece. Poland is, however, one of the nine EU member states that are not part of the Eurozone. That means the country has not adopted the Euro as its currency and continues to use the Zloty. In fact, Poland is not even part of the European Exchange Rate Mechanism (ERM II), which is a prerequisite to joining the Eurozone.
On April 16, 2003, the (then) EU members signed the Treaty of Accession 2003 with ten new countries (that would soon be inducted into the ranks of the European Union) in Athens. These nations – Cyprus, the Czech Republic, Estonia, Hungary, Latvia, Lithuania, Malta, Poland, Slovakia, and Slovenia – are often called the A10 due to the simultaneous accessions signed by them.
Poland's contribution to the policy-making efforts and administration of the EU has been a significant one. In 2011, Poland held the revolving presidency of the EU Council. The country also holds 51 seats in the European Parliament. As a member of the EU, Poland has gained significantly as well. As of 2013, Poland was the largest recipient of funds from the EU – estimated at € 16.2 billion.
Poland's peaceful existence as a member of the European Union has been disturbed in the wake of the European refugee crisis (Migrant Crisis). The number of Asylum seekers arriving in the EU has seen a considerable rise since 2015. Most of these foreign migrants come from Muslim-majority countries such as Syria, Afghanistan, and Iraq. In 2019, the 27 EU member states received 676,300 new asylum applications, an increase of 11.2 % compared with 2018. While the EU is in favor of a liberal approach towards accepting asylum seekers, the Polish administration has been largely circumspect in accepting refugees. This is because the intelligence reports suggest that a small percentage of Islamic State militants may also enter these countries posing as refugees. In 2015, Poland had agreed to accept thousands of asylum seekers, but the next year the new government enacted a new anti-migrant law that forced the administration to change its stand. Brussels responded by threatening to penalize nations that turned away refugees. Following the Manchester attack, Poland claimed that it would remain part of the EU but will not be "blackmailed" into taking refugees.
Related Links:

Related Maps: