Is the Republic of Ireland Part of the EU?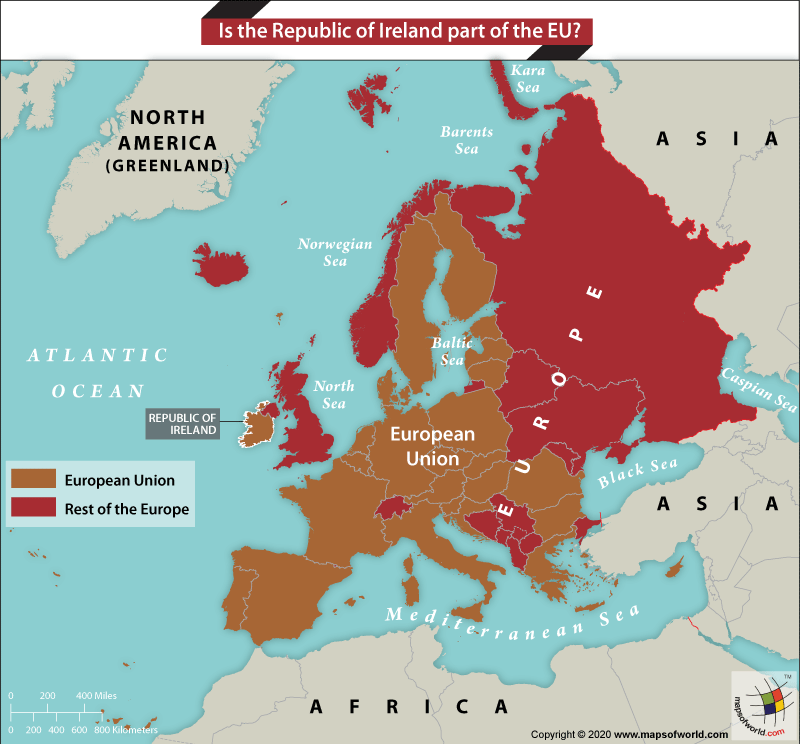 Is Ireland in Europe?
The Republic of Ireland commonly referred to as Ireland is a country in north-western Europe with its capital in Dublin. It has been a member nation of the European Union since 1973 when it joined the European Economic Council (EEC). The EEC is the predecessor of the European Union, and all members of the EEC became EU members with the Maastricht Treaty coming into force on November 1, 1993.
Not only is the Republic of Ireland a member of the European Union, but, is also a member of the Eurozone. This means that since January 1, 1999, the Euro is the official currency of the country, and it also participates in the free trade market, which is made up of Eurozone members.
Ireland has also held the revolving presidency of the EU Council seven times between the years 1975 and 2013. The country holds 11 seats in the European Parliament.
Since it acceded to the EEC in 1973, the Republic of Ireland has been a significant beneficiary of the funds and grants available to the member countries. Ireland's contribution to the EU budget has historically been less than its receipts.
In 1973, for example, Ireland had received €50 billion worth of funds. In 2014, however, for the first time, Ireland contributed more than it received. Having provided about €1.69 billion to the EU Budget, it stood to gain about €1.52 billion (primarily for payment to farmers). Due to Britain's exit from the EU, Ireland's contribution to the EU budget will likely go up.
With Brexit becoming a reality, the relations between the Republic of Ireland and the UK will undergo a lot of changes.
The economic and political relationship between the two countries considerably depended on their membership in the EU. Some of the issues arising out of this situation have been addressed in the new Ireland/Northern Ireland protocol. It provides solutions that aim to avoid a hard border between Ireland and Northern Ireland on the island of Ireland.
Check out this – Map of Ireland and Other 40 Related Irish Maps for more maps and info about Ireland.
 Related Links:
Related Maps: