Is the United Kingdom No Longer a Part of Europe?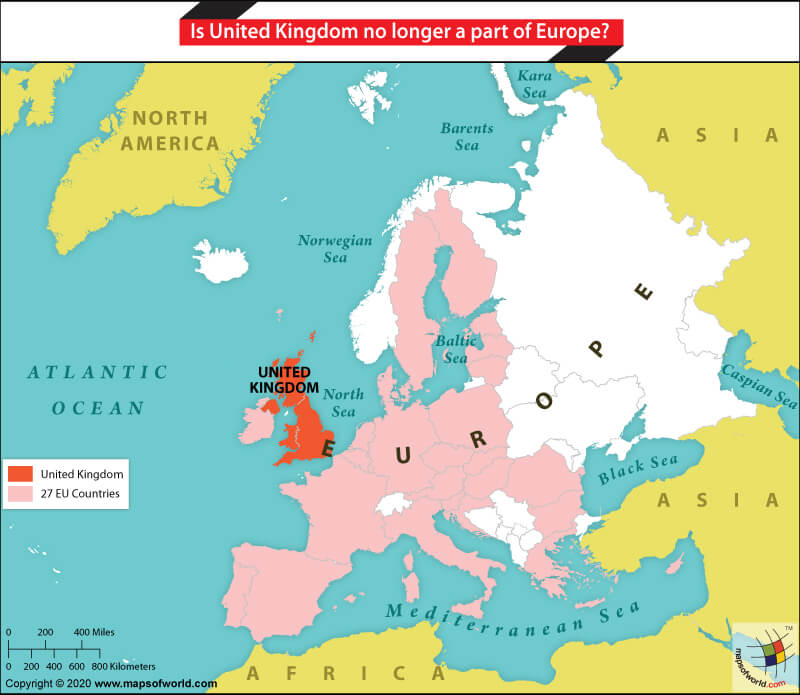 The United Kingdom was, is, and will always be a part of the continent known as Europe.
The UK, however, left the European Union on January 31, 2020. The withdrawal of the UK from the European Union (EU) is a result of a historic referendum that was held on June 23, 2016. In this referendum, popularly called the Brexit (Britain's exit), the majority of the British populace voted in favor of leaving the EU.
Europe is the second smallest of the earth's continents – Asia, Africa, North America, South America, Antarctica, Europe, and Australia. Europe and Asia are, in fact, fused together in one big landmass called Eurasia. Apart from the main peninsula, Europe is made up of numerous islands and archipelago.
The British Isles is one of the largest of these archipelagoes, with over 6,000 islands and includes the United Kingdom and the Republic of Ireland. The United Kingdom is a sovereign state that is made up of four distinct countries – England, Scotland, Wales, and Northern Ireland. Thus, geographically, the UK has always been and will always be a part of Europe.
The European Union is different from the continent of Europe, as it refers to a partnership formed originally by 28 nations from the continent of Europe. This collaboration allows these countries to function as a single unit in matters of trade, travel, and immigration. Most of these countries also use the Euro as their common currency.
The UK joined the European Economic Community (EEC) on January 1, 1973. When the Maastricht Treaty came into force in November 1993, the European Union came into being with the EEC members as its original members. The UK had been an active and important member of the EU and has contributed considerably to the EU budget as well.
The UK, however, did not adopt the Euro. Following the Brexit, UK Prime Minister Theresa May triggered Article 50 – the process of withdrawal from the EU – by sending a letter to Donald Tusk, President of the European Council. It initiated the process of Brexit. But in the following years, the withdrawal process was delayed further. The general elections in June 2017 resulted in a hung parliament, thereby extending the implementation of Article 50 process. Eventually, after the general elections held in December 2019, the withdrawal process was finally resolved. And on January 30, 2020, at 11 p.m. (GMT), the UK left the EU.
Now the European Union is left with 27 members.
Related Links:

Related Maps :