What Countries are facing the Threat of Dementia?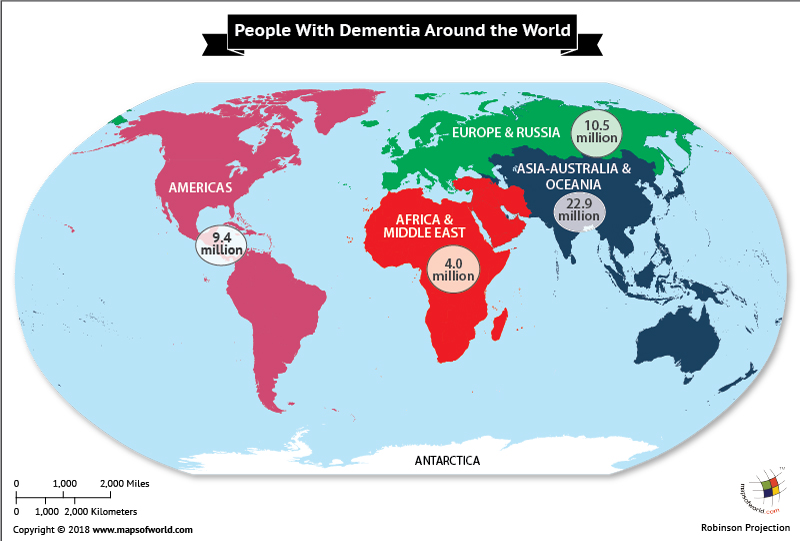 Dementia is a serious disease of the brain that is affecting a significant section of the population around the world. People suffering from it witness a gradual decrease in their ability to think and remember. Thus, people with dementia face difficulties while performing their day-to-day activities. They may also suffer from emotional and language problems and a decrease in motivation. There are over 100 forms of dementia and the most common type is Alzheimer's disease. Other forms are vascular dementia, Lewy body dementia, and frontotemporal dementia.
This disease is one of the common causes why elders face disability. They are physically and chemically restrained to a great degree when they suffer from it.
According to a report by the Alzheimer's Disease International, there were an estimated 46 million people suffering from dementia across the world in 2015. The figure is believed to have been close to 50 million people in 2017. The figure will increase by the year 2050 and by that time approximately 130 million people across the globe would be suffering from dementia. However, some regions witness more people suffering from dementia as compared to other regions.
According to the report, Asia (excluding the Middle East) and Oceania has the largest number of people living with dementia in 2015. Here the figure stood at approximately 22.9 million.
The Americas, which included both North and South America, had approximately 9.4 million people suffering from dementia in 2015, while in Europe, including all of Russia, the figure was around 10.5 million during the same year. Meanwhile in Africa and the Middle East, there were around four million people living with dementia in 2015, the least among all the regions.
There are several myths revolving regarding dementia. For example, during the 1960s and 1970s, aluminum emerged as a possible suspect in Alzheimer's and people started believing that it could be one of the reasons. Studies have failed to confirm any role for aluminum in causing Alzheimer's. It is also not true that only elderly can get affected by this disease, as many young people may also suffer.
Nevertheless, there is a growing awareness about dementia and governments are making efforts to combat it. Treatment and support for dementia patients are available, but unfortunately there is no known cure for this disease yet.
(Data sourced from the Alzheimer's Disease International)
Know more about World health:
Related maps: