What is the Daylight Saving Time around the World?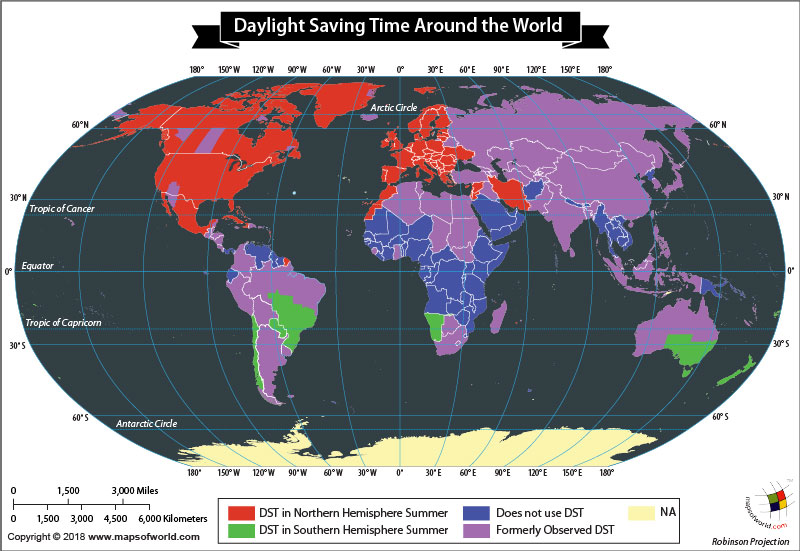 Daylight Saving Time, which is popularly referred by its acronym DST, is a practice wherein clocks in some nations are changed during summer months to make better use of the daylight. The practice involves advancing clocks during summer months to extend an hour of daylight. In countries where daylight saving time is followed, clocks are set forward by an hour at the start of spring. In autumn, clocks are 'turned back,' or adjusted to the standard time. Every country that follows DST has its own dates for when to adjust their clock.
Who discovered Daylight Saving time?
Benjamin Franklin is erroneously considered as inventor of daylight-saving time, but actually it was George Hudson, a New Zealand based entomologist, who proposed the modern DST. He introduced a two-hour daylight-saving shift in a paper that he presented to the Wellington Philosophical Society in 1895.
There are also many publications that credit the daylight-saving time to William Willett, an English builder. He was out on a pre-breakfast ride in 1905 when he observed that many people in London slept through a major part of the summer day. Two years later, he published a proposal stressing on advancing the clock during summer months, but his idea never became a reality during his lifetime.
The Recognition of Daylight Saving Time
In 1916, at the height of World War I, Germany became the first nation to adopt daylight saving time. With war raging, it was essential to conserve energy and Germany found DST a viable solution. Sometime later, the United Kingdom also embraced DST. Russia adopted DST in 1917, while the United States followed in 1918. Some countries did away with DST in the years following the end of WW I, but returned to observe it again during WW II. It was only during the 1970s energy crisis, that DST became a common practice in North America and Europe.
Nations in the Southern Hemisphere
There are a couple of nations in the Southern Hemisphere that also use daylight saving time. These nations are; Fiji, Namibia, New Zealand, Paraguay, Samoa, and Tonga. DST is partially observed across the nations in Australia, Brazil, and Chile. In Australia, New South Wales, Victoria, Tasmania, Australian Capital Territory, Jervis Bay Territory, South Australia and Lord Howe Island observe DST. Similarly, in Brazilian regions where DST is observed are Rio de Janeiro, Santa Catarina, Mato Grosso, Federal District Brasilia, São Paulo, Paraná, Goiás, the Rio Grande do Sul, Mato Grosso do Sul, Espírito Santo, and Minas Gerais. Chile uses DST, except for the Magallanes region, which last observed DST in December 2016.
Nations in Northern Hemisphere
Meanwhile, the list of nations and territories in the Northern Hemisphere using DST is quite long. A few nations and territories include; Austria, Belgium, Bermuda, Cuba, Denmark, Greenland, Iran, Morocco, Spain, the United Kingdom, and others. Most of the United States uses DST barring Hawaii and Arizona (except the Navajo Nation Community). In Canada, DST is not observed in some regions in Quebec, a major part of Saskatchewan, and areas in British Columbia and Nunavut (Southampton Island). In Greenland, Danmarkshavn and Pituffik don't follow DST, while the rest does.
Nations that don't observe DST
Afghanistan, Bahrain, Cambodia, Equatorial Guinea, Ethiopia, Kenya, Maldives, North Korea, Qatar, Swaziland, the United Arab Emirates, and others, do not observe DST. However, there are quite a few countries and territories which at one point in time did observe daylight saving time. Some of these are; India, Japan, Hong Kong, Armenia, China, Colombia, Egypt, Malaysia, and a couple of others.
The table below provides information on the use of DST around the world.
| | |
| --- | --- |
| Country/Territory | DST |
| Australia | Southern hemisphere summer |
| Brazil | Southern hemisphere summer |
| Chile | Southern hemisphere summer |
| Fiji | Southern hemisphere summer |
| Namibia | Southern hemisphere summer |
| New Zealand | Southern hemisphere summer |
| Paraguay | Southern hemisphere summer |
| Samoa | Southern hemisphere summer |
| Tonga | Southern hemisphere summer |
| Akrotiri and Dhekelia (UK) | Northern hemisphere summer |
| Albania | Northern hemisphere summer |
| Andorra | Northern hemisphere summer |
| Austria | Northern hemisphere summer |
| Bahamas | Northern hemisphere summer |
| Belgium | Northern hemisphere summer |
| Bermuda (UK) | Northern hemisphere summer |
| Bosnia and Herzegovina | Northern hemisphere summer |
| Bulgaria | Northern hemisphere summer |
| Canada | Northern hemisphere summer |
| Croatia | Northern hemisphere summer |
| Cuba | Northern hemisphere summer |
| Cyprus | Northern hemisphere summer |
| Czech Republic | Northern hemisphere summer |
| Denmark | Northern hemisphere summer |
| Estonia | Northern hemisphere summer |
| Faroe Islands (DK) | Northern hemisphere summer |
| Finland | Northern hemisphere summer |
| France | Northern hemisphere summer |
| Germany | Northern hemisphere summer |
| Greece | Northern hemisphere summer |
| Greenland (DK) | Northern hemisphere summer |
| Guernsey (UK) | Northern hemisphere summer |
| Haiti | Northern hemisphere summer |
| Holy See | Northern hemisphere summer |
| Hungary | Northern hemisphere summer |
| Iran | Northern hemisphere summer |
| Ireland | Northern hemisphere summer |
| Isle of Man (UK) | Northern hemisphere summer |
| Israel | Northern hemisphere summer |
| Italy | Northern hemisphere summer |
| Jersey (UK) | Northern hemisphere summer |
| Jordan | Northern hemisphere summer |
| Kosovo | Northern hemisphere summer |
| Latvia | Northern hemisphere summer |
| Lebanon | Northern hemisphere summer |
| Liechtenstein | Northern hemisphere summer |
| Lithuania | Northern hemisphere summer |
| Luxembourg | Northern hemisphere summer |
| Macedonia | Northern hemisphere summer |
| Malta | Northern hemisphere summer |
| Mexico | Northern hemisphere summer |
| Moldova | Northern hemisphere summer |
| Monaco | Northern hemisphere summer |
| Montenegro | Northern hemisphere summer |
| Morocco | Northern hemisphere summer |
| Netherlands | Northern hemisphere summer |
| Norway | Northern hemisphere summer |
| Poland | Northern hemisphere summer |
| Portugal | Northern hemisphere summer |
| Romania | Northern hemisphere summer |
| Saint Pierre and Miquelon (FR) | Northern hemisphere summer |
| San Marino | Northern hemisphere summer |
| Serbia | Northern hemisphere summer |
| Slovakia | Northern hemisphere summer |
| Slovenia | Northern hemisphere summer |
| Spain | Northern hemisphere summer |
| Sweden | Northern hemisphere summer |
| Switzerland | Northern hemisphere summer |
| Syria | Northern hemisphere summer |
| Ukraine | Northern hemisphere summer |
| United Kingdom | Northern hemisphere summer |
| United States | Northern hemisphere summer |
| Western Sahara | Northern hemisphere summer |
| Algeria | Formerly Observed DST |
| Argentina | Formerly Observed DST |
| Armenia | Formerly Observed DST |
| Azerbaijan | Formerly Observed DST |
| Bangladesh | Formerly Observed DST |
| Barbados | Formerly Observed DST |
| Belarus | Formerly Observed DST |
| Belize | Formerly Observed DST |
| Bolivia | Formerly Observed DST |
| Botswana | Formerly Observed DST |
| Cape Verde | Formerly Observed DST |
| Chad | Formerly Observed DST |
| China | Formerly Observed DST |
| Colombia | Formerly Observed DST |
| Cook Islands | Formerly Observed DST |
| Costa Rica | Formerly Observed DST |
| Dominican Republic | Formerly Observed DST |
| Egypt | Formerly Observed DST |
| El Salvador | Formerly Observed DST |
| Falkland Islands (UK) | Formerly Observed DST |
| Georgia | Formerly Observed DST |
| Ghana | Formerly Observed DST |
| Guatemala | Formerly Observed DST |
| Honduras | Formerly Observed DST |
| Hong Kong (CN) | Formerly Observed DST |
| Iceland | Formerly Observed DST |
| India | Formerly Observed DST |
| Indonesia | Formerly Observed DST |
| Iraq | Formerly Observed DST |
| Jamaica | Formerly Observed DST |
| Japan | Formerly Observed DST |
| Kazakhstan | Formerly Observed DST |
| Kyrgyzstan | Formerly Observed DST |
| Lesotho | Formerly Observed DST |
| Libya | Formerly Observed DST |
| Macau (CN) | Formerly Observed DST |
| Madagascar | Formerly Observed DST |
| Malaysia | Formerly Observed DST |
| Martinique (FR) | Formerly Observed DST |
| Mauritius | Formerly Observed DST |
| Midway (US) | Formerly Observed DST |
| Mongolia | Formerly Observed DST |
| New Caledonia (FR) | Formerly Observed DST |
| Nicaragua | Formerly Observed DST |
| Pakistan | Formerly Observed DST |
| Peru | Formerly Observed DST |
| Philippines | Formerly Observed DST |
| Puerto Rico (US) | Formerly Observed DST |
| Russia | Formerly Observed DST |
| Sierra Leone | Formerly Observed DST |
| Singapore | Formerly Observed DST |
| South Africa | Formerly Observed DST |
| South Korea | Formerly Observed DST |
| South Sudan | Formerly Observed DST |
| Sri Lanka | Formerly Observed DST |
| Sudan | Formerly Observed DST |
| Tajikistan | Formerly Observed DST |
| Taiwan | Formerly Observed DST |
| Tunisia | Formerly Observed DST |
| Turkey | Formerly Observed DST |
| Turkmenistan | Formerly Observed DST |
| Turks and Caicos (UK) | Formerly Observed DST |
| Uruguay | Formerly Observed DST |
| Uzbekistan | Formerly Observed DST |
| Vanuatu | Formerly Observed DST |
| Afghanistan | Does not use DST |
| American Samoa (US) | Does not use DST |
| Angola | Does not use DST |
| Anguilla (UK) | Does not use DST |
| Antigua and Barbuda | Does not use DST |
| Aruba (NL) | Does not use DST |
| Bahrain | Does not use DST |
| Benin | Does not use DST |
| Bhutan | Does not use DST |
| Bonaire (NL) | Does not use DST |
| British Virgin Islands (UK) | Does not use DST |
| Brunei | Does not use DST |
| Burkina Faso | Does not use DST |
| Burma | Does not use DST |
| Burundi | Does not use DST |
| Cambodia | Does not use DST |
| Cameroon | Does not use DST |
| Cayman Islands (UK) | Does not use DST |
| Central African Republic | Does not use DST |
| Christmas Island (AU) | Does not use DST |
| Cocos Island (AU) | Does not use DST |
| Comoros | Does not use DST |
| Congo | Does not use DST |
| Curacao (NL) | Does not use DST |
| Democratic Republic of Congo | Does not use DST |
| Djibouti | Does not use DST |
| Dominica | Does not use DST |
| East Timor | Does not use DST |
| Ecuador | Does not use DST |
| Equatorial Guinea | Does not use DST |
| Eritrea | Does not use DST |
| Ethiopia | Does not use DST |
| French Guyana (FR) | Does not use DST |
| French Polynesia (FR) | Does not use DST |
| French Southern and Antarctic Lands (FR) | Does not use DST |
| Gabon | Does not use DST |
| Gambia | Does not use DST |
| Grenada | Does not use DST |
| Guadeloupe (FR) | Does not use DST |
| Guam (US) | Does not use DST |
| Guinea | Does not use DST |
| Guinea-Bissau | Does not use DST |
| Guyana | Does not use DST |
| Heard and McDonald Islands (AU) | Does not use DST |
| Ivory Coast | Does not use DST |
| Kenya | Does not use DST |
| Kiribati | Does not use DST |
| Kuwait | Does not use DST |
| Laos | Does not use DST |
| Liberia | Does not use DST |
| Malawi | Does not use DST |
| Maldives | Does not use DST |
| Mali | Does not use DST |
| Marshall Islands | Does not use DST |
| Mauritania | Does not use DST |
| Micronesia | Does not use DST |
| Montserrat (UK) | Does not use DST |
| Mozambique | Does not use DST |
| Nauru | Does not use DST |
| Nepal | Does not use DST |
| Niger | Does not use DST |
| Nigeria | Does not use DST |
| Niue | Does not use DST |
| North Korea | Does not use DST |
| Northern Mariana Islands (US) | Does not use DST |
| Oman | Does not use DST |
| Palau | Does not use DST |
| Panama | Does not use DST |
| Papua New Guinea | Does not use DST |
| Pitcairn Islands (UK) | Does not use DST |
| Qatar | Does not use DST |
| Rwanda | Does not use DST |
| Saba (NL) | Does not use DST |
| Saint Barthélemy (FR) | Does not use DST |
| Saint Kitts and Nevis | Does not use DST |
| Saint Helena, Ascension and Tristan da Cunha (UK) | Does not use DST |
| Saint Lucia | Does not use DST |
| Saint Martin (FR) | Does not use DST |
| Saint Vincent and the Grenadines | Does not use DST |
| Sao Tome and Príncipe | Does not use DST |
| Saudi Arabia | Does not use DST |
| Senegal | Does not use DST |
| Seychelles | Does not use DST |
| Sint Eustatius (NL) | Does not use DST |
| Sint Maarten (NL) | Does not use DST |
| Solomon Islands | Does not use DST |
| Somalia | Does not use DST |
| South Georgia Islands (UK) | Does not use DST |
| South Sandwich Islands (UK) | Does not use DST |
| Suriname | Does not use DST |
| Swaziland | Does not use DST |
| Tanzania | Does not use DST |
| Thailand | Does not use DST |
| Tokelau (NZ) | Does not use DST |
| Togo | Does not use DST |
| Trinidad and Tobago | Does not use DST |
| Tuvalu | Does not use DST |
| Uganda | Does not use DST |
| United Arab Emirates | Does not use DST |
| United States Virgin Islands (US) | Does not use DST |
| Venezuela | Does not use DST |
| Vietnam | Does not use DST |
| Wallis and Futuna (FR) | Does not use DST |
| Yemen | Does not use DST |
| Zambia | Does not use DST |
| Zimbabwe | Does not use DST |
Know more about world:
Related Maps: