What Countries are in Western Europe?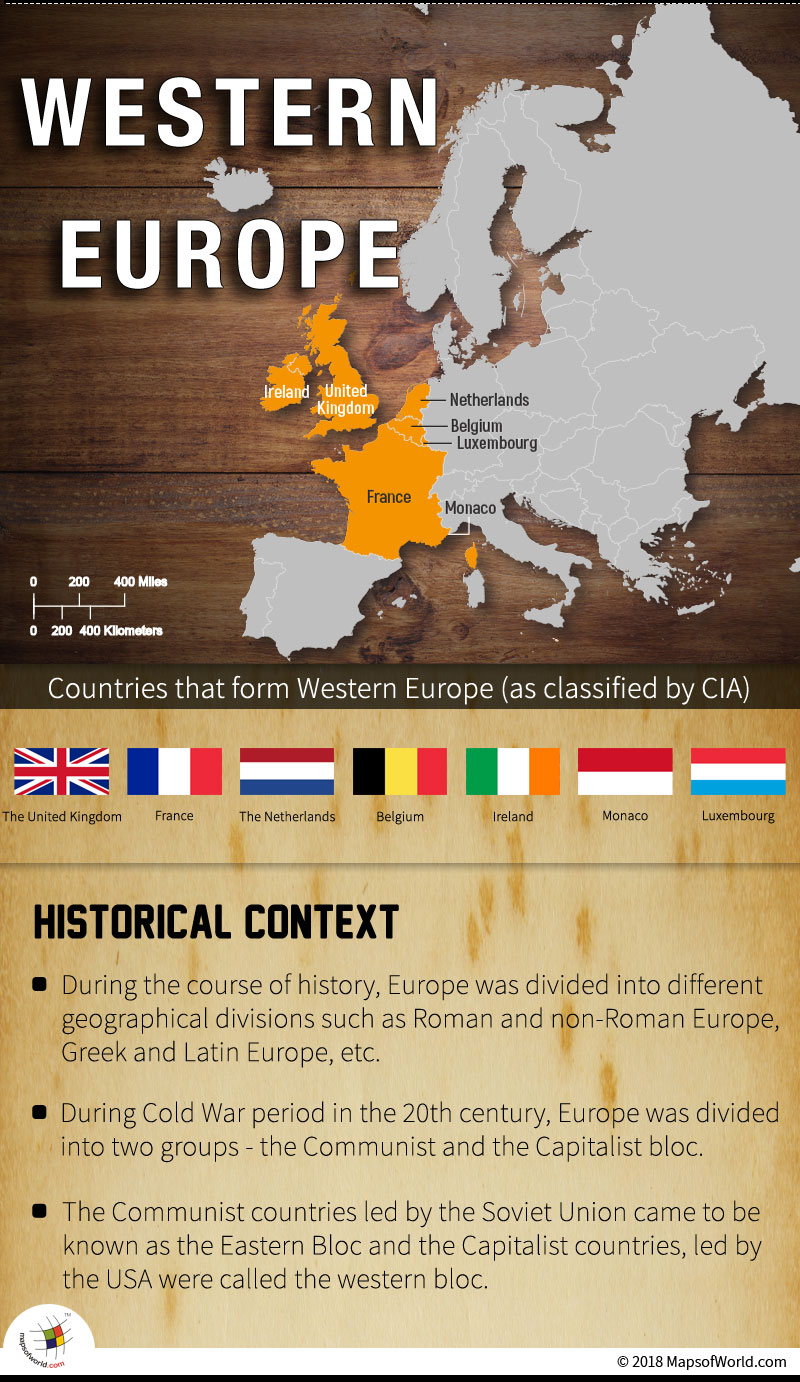 There are seven countries that form a part of Western Europe, as per a classification by the CIA. These seven nations are the United Kingdom, France, the Netherlands, Belgium, Ireland, Monaco, and Luxembourg. Europe is divided into six geographical divisions – Northern Europe, Central Europe, Eastern Europe, Southeastern Europe, Western Europe, and Southern Europe. Western Europe covers the western part of the continent.
However, it is hard to define as to what countries are located in Western Europe since there are various definitions.
Historical context
During the course of history, Europe was divided into different geographical divisions such as Roman and non-Roman Europe, Greek and Latin Europe, etc. During Cold War period in the 20th century, Europe was divided into two groups – the Communist and the Capitalist bloc. The Communist countries led by the Soviet Union came to be known as the Eastern Bloc and the capitalist countries, led by the USA and opposed to the Soviet Union, were called the western bloc. However, with the disintegration of the Soviet Union and the fall of Communism, the boundary between the Eastern and Western Europe has blurred.
Economy
Western Europe comprises some of the most prosperous countries of the world. A founding Member of the European Union, Luxembourg is the richest in the world in terms of GDP per capita. Luxembourg, along with Switzerland, is also a favorable destination for professionals as it has the highest average wage across the globe. A highly developed country, the United Kingdom ranks at the fifth spot in the world in terms of nominal GDP and is the ninth largest economy in terms of purchasing power parity. While Belgium holds the top position on the Social Progress Index, France is a tourist delight and receives around 80 million visitors from around the world every year.
Know more:
Related Maps: